Celebrity Chef Geoffrey Zakarian Fine Cuisine & Culinary Magic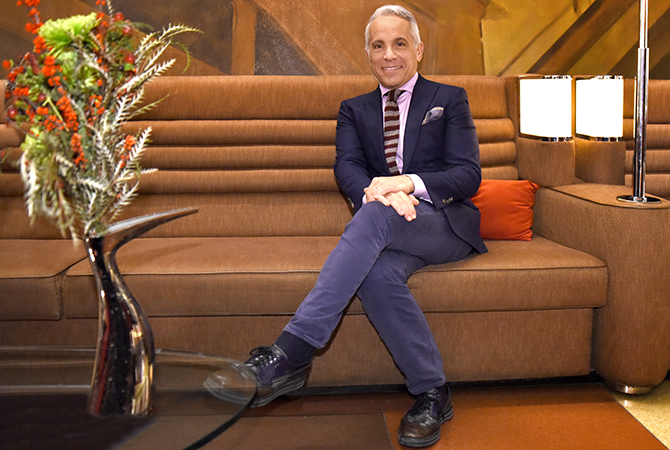 By Baruch Shemtov
Celebrity chef Geoffrey Zakarian has made a name for himself around the world as the chef and partner in restaurants including The Lambs Club in New York City, Georgie at Montage Beverly Hills in Los Angeles, and Point Royal at The Diplomat in Hollywood (FL). His restaurants have become a favorite destination for power lunches and power dinners, and influencers have taken note of his creative yet comforting cuisine.
Beyond the kitchen, Zakarian has brought his personality and charm to television as a star on the Food Network, and has spread his philosophy of good food through his cookbooks, Geoffrey Zakarian's Town/Country and My Perfect Pantry:150 Easy Recipes from 50 Essential Ingredients. He's also inspired a line of Pro for Home kitchen products to empower everyone to embrace their inner chef. The tools include everything from storage containers to sous vide circulators, and are available on HSN, Wayfair, Sur La Table and ShopGZ.
Geoffrey Zakarian and wife Margaret Williams
SOMETHING FOR EVERYONE
While he has built his business on the foundation of fine cuisine, Zakarian is passionate about making sure everyone has something to eat, and he's brought the concern to his role as Chairman of City Harvest Food Council where he works hard to combat hunger in New York City. As he gets ready to ring in 2018, Geoffrey took time out of his whirlwind schedule to reflect on all of his accomplishments.
Congrats on your success with the Zakarian empire. What unifies all of your restaurants?
I believe what unifies our restaurants is great management and warm hospitality in each restaurant.
What role do you feel restaurants play in society?
They feed people. And hopefully inspire a few people once in a while to embark on this industry.
What did it take to become the Geoffrey Zakarian we know today?
A lot of luck. A ton of work and a lot of missed vacations and holidays. Plus, did I say a lot of luck?
How has New York influenced your cuisine?
It's the greatest metropolitan city in the world, and it's actually quite small compared to London, Paris, or Tokyo. I am blessed to be in this great city that really helps you stay relevant because of the diversity of food and culture.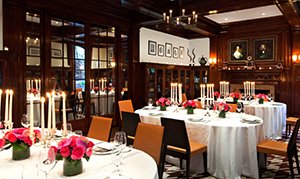 The Lambs Club
CHEF AND CONNOISSEUR
That New York sensibility has undoubtedly influenced Zakarian's approach to food, both as a chef and a connoisseur, from his first days at the legendary Le Cirque restaurant. He's risen the culinary ladder with a sense of drive that's influenced his menus at venues that have entertained clients everywhere from Miami's Delano Hotel to the restaurants aboard Norwegian Cruise Lines ships. But while his menus have always been innovative, it's ultimately satisfying to see what a chef really eats at the end of the day.
What is the key to the perfect meal?
Someone perfect to share it with.
If you could only eat one meal for the rest of your life, what would it be?
Grilled Dover Sole and Chassagne Montrachet (very cold).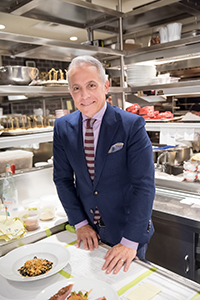 A STAR PLAYER
On the Food Network, Zakarian has become a star player in an increasingly popular sector of food television. He's an Iron Chef, a judge on Chopped, and a co-host of the popular shows The Kitchen and Cooks vs. Cons. With competition shows and cooking shows to suit every taste, fine food is now a part of popular culture, and Zakarian has been at the forefront of the movement every step of the way.
How has TV and your many Food Network shows changed your life?
I was already an established chef and restaurant owner. Food Network amplified that success and allowed me to share it with more people than I ever imagined.
Why do you think viewers are so passionate about food-related programming these days?
It has entered the realm of entertainment. Not just food. But the food is so good now it's hard to turn away. It's getting the viewer addicted to something they can actually achieve.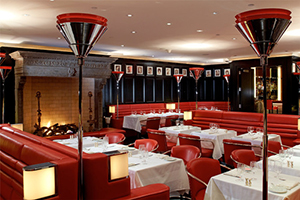 The Lambs Club
THE PERFECT STYLE
To round it all out, Zakarian is also known for his stylish wardrobe, modeling his designer duds on television and the hottest New York red carpets. It's a panache that infuses his personal and professional life in every way.
We all get to see your sartorial splendor on TV. What's the recipe for perfect style?
I dress like myself. I don't dress like I'm 20 years younger because I'm not. It's all about confidence. I feel like style should be personal, not catalog-driven.
THE BEST TIME OF YEAR
Now that we are enjoying the holidays, Zakarian is busy preparing The Lambs Club for a range of festivities, from Christmas Carolers during Saturday Brunch, to glamorous Sunday suppers during December. With a dramatic (and warm) limestone fireplace taking center stage in the dining room, the restaurant will welcome visitors from around the world who are reserving their spots at the The Lambs Club to celebrate the holidays. And, while he will certainly be entertaining his international clientele, Zakarian will also be taking some time out of the kitchen this season to ring in 2018 with his family.
As we all enjoy the holiday season, what are your favorite Zakarian traditions at home?
Lots of time is spent in the kitchen with my kids. Lots of outside activities. And of course way too much food. With Lebanese in-laws, we truly are spoiled.
---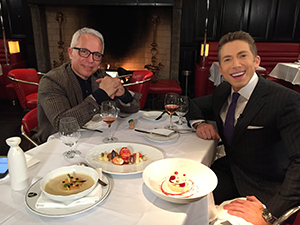 Geoffrey Zakarian & Baruch Shemtov
GEOFFREY'S FAVORITES
What's your favorite New York spot for…
A Coffee?
Sant Ambroeus Madison Ave. It has a classic Milanese style coffee and great people watching.
Purchase a gift?
Hermès. It's gasp-worthy pricing, but giving that orange bag to someone always brings its own gasp!
Dinner?
Bond St., a perfect blend of Japanese high cuisine with chic New York attitude.
Some time alone?
The bar at Bemelmans.
A celebration?
Balthazar, it's Paris in the heart of New York.
---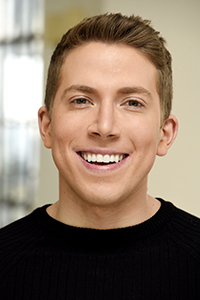 Baruch Shemtov is a New York-based television reporter. A graduate of Harvard College, Baruch has interviewed a long list of leaders and stars including Senator John McCain, Secretary of State Madeleine Albright, Prime Minister Gordon Brown, Tom Cruise, Ryan Seacrest, Yo-Yo Ma, and many more. Baruch grew up in the City and is passionate about everything the Big Apple has to offer. Visit Baruch Shemtov at baruch.tv.