RUSSIAN SAMOVAR: MOSCOW ON THE HUDSON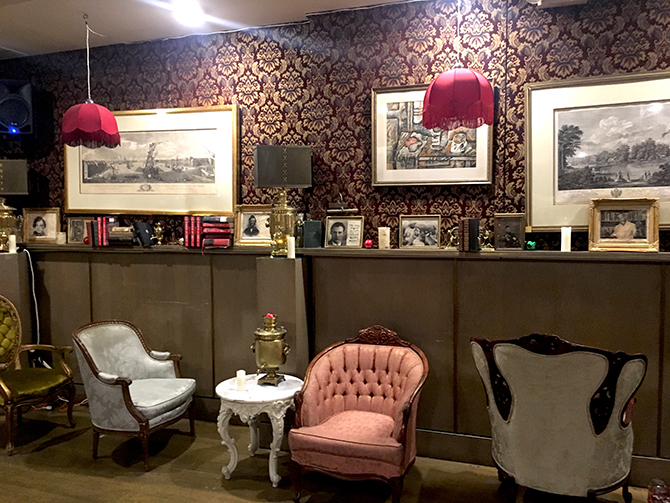 By Elizabeth Darwen
In a city renowned for its ethnic restaurants, Russian Samovar is unique in its long-standing ties with the art community; it has become a home for many famous Russian poets and writers who keep coming back for the exceptional dining experience. Owned by Roman Kaplan and managed by his daughter Vlada Von Shats and her two sons Michael and Nicholas, this elegant, upscale establishment offers exquisite Russian cuisine in New York. Located in the Theater District, Russian Samovar boasts a 19th-century feel, complete with picturesque green and red shades and Russian folk prints.
Entrenched in the theater and art community, Russian Samovar was previously co-owned by ballet legend Mikhail Baryshnikov and Nobel Prize winner for poetry Joseph Brodsky. Jilly Rizzo, friend and bodyguard of Frank Sinatra, owned the establishment in the past, and Sinatra held many intimate concerts there and often spent time with The Rat Pack, as well as games of baccarat. Cyndi Lauper and Liza Minnelli are also known to stop by and offer an impromptu performance. The restaurant continues to attract generations of Russians with its cozy atmosphere, fine cuisine, and the opportunity to meet musicians, actors, and writers from Russia and all over the world.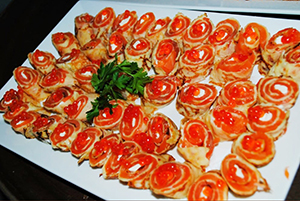 FROM RUSSIA WITH LOVE
This popular eatery is—aside from its authentic Russian dishes—known for its 26 flavored vodkas prepared in-house, including ginger, horseradish, lemon, and cranberry. Says Vlada Von Shats about the craft of house-infusing vodkas, "Growing up in the Soviet Union in the '70s, vodka was an important part of my childhood. My mother, a chemist, always had large jars of fruit infused vodka in the basement. During those years, the good vodka which Russia was famous for was exported," Vlada explained. "What was left was this horrible firewater that was so bad it was thought to make you blind. To make the vodka better, my mom used the only things available to her—cranberries that we gathered in the woods; apples, pears and plums from grandma's yard; and oranges that were sold at the stores sometimes—to make some awesome infusions." Vlada says her fondest childhood memory was Honey Cake made with infused vodka and just a few ingredients: flour, eggs, sugar, and honey. "The memory of the vodkas that I grew up with are still with me, and we continue to share the recipes with our customers in our all natural, home-infused vodka."
Platters of delectable appetizers are served each night to diners who enjoy Beluga and Osetra caviar, Blinis filled with salmon or caviar, the assortment of fish (in-house cured Salmon Gravlax with dill, Smoked Atlantic Salmon, and Smoked Butterfish), Vol-au-Vent (a wild mushroom puff pastry), traditional Borscht, a Pate Russe (laced with brandy), and Pelmeni Stroganoff (veal or chicken with sirloin tips in a creamy mushroom sauce).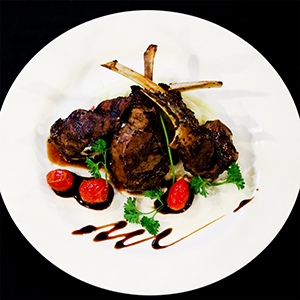 Karski Shashlik
THE MAIN EVENT
It is its signature entrees, however, that have put Russian Samovar on the culinary map. House specialties include Shashlik Karski (rack of lamb marinated in Georgian spices), Beef Stroganoff, Veal Pojarksi (ground veal and breast of chicken cutlets), Chicken Kiev, and Chicken Tabaka (a baby chicken split and grilled). Sides are plentiful and include the classic Marinated Red Cabbage. The meal is not complete without taking time to enjoy an authentic dessert like Zapekanka (Russian cheesecake) or the Medovik (layered honey cake).
In addition to its a la carte menu, the restaurant, which is ideally situated by all the theater that Broadway has to offer, serves a Theater Pre-Fixe Menu, available Monday through Friday until 7:00 pm. The ideal dining destination for a pre- or post-show bite, if you bring your ticket from any Broadway show, the restaurant will give you a 10 percent discount on all food items. Top off the evening with an expertly prepared cocktail in the bar, such as the Royal Romance (featuring raspberry house-infused vodka, Grand Marnier, and Frangelico, garnished with an orange peel).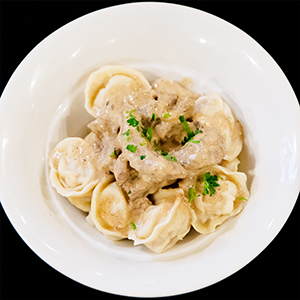 Pelmeni Stroganoff
Russian Samovar seats 100 in the dining room and 50 at the bar. Upstairs, the intimate St Petersburg Hall & Lounge, which caters to private parties, small dinners and events, comfortably seats 34 for sit-down dinner, and 100 for standing buffet. Designed by Felix Zbarski and Yuri Kuper, the lounge houses Kaplan's extraordinary collection of samovars. The club-like feel is evident in the oak floors, finished with a warm gray/gold veneer. A three-tiered Banquet Menu is offered for private events, featuring a selection of the restaurant's most favored dishes.
Since the restaurant attracts many creative types, poetry readings are held throughout the year, and a classically trained pianist performs nightly. Russian Samovar features live interactive theatre every Thursday with award-winning actors, performances from opera singer Michael Peer on Mondays; the Gypsy Fun Trio playing traditional Russian music on violin and guitar on Fridays and Saturdays; and Jazz Blues Brunch on Sundays 3 to 7 pm with the Uptown Jazz Company. Russian Samovar has been and continues to be a significant contributor and supporter of the art community.
For more information on Russian Samovar, visit russiansamovar.com.
Captions: Pelmeni Stroganoff