PAWS DOWN, TAILS UP
By Lori Zelenko and Susan Traub
We all love our pets and are devoted to their well-being. But sometimes it takes going the extra mile to make sure they're heart healthy—slim and trim, active and eating right. We're sharing tips for a better, healthier lifestyle with your furry four-legged friend with input from NYC vet, Dr. Rachel Barrack known for her integrative approach incorporating both Eastern and Western medicine as well as our own experiences with products that enhance our lives with our pets.
FEEDING FIDO
Make sure to keep your pet on a high quality, well balanced diet to encourage heart health and prevent obesity. Arthritis and diabetes can set in when your pet is overweight.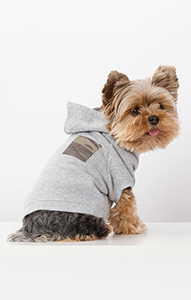 Zoo Supply
PAWS DOWN, TAILS UP SAYS:
There is no B.S. (no bad stuff!) in the 100 percent human quality dog food from Pet Plate (petplate.com), the subscription service that my Pekingese and ShihTzu (Bikini and Annabelle) are absolutely crazy about. Each meal is created by vet nutritionists and made with the finest USA meat and farm-fresh produce appealing to even the pickiest pet (my finicky Pekingese, Bikini can't get enough!), help with allergy relief (no more yeasty ear issues for my ShihTzu, Annabelle) and digestion (dogs are full without gaining weight.)
It's a good plan to mix Pet Plate with organic dry food for your dog. We're appreciating ACANA (acana.com) right now, regionally inspired and biologically appropriate with fresh ingredients from Kentucky's fertile farmlands, meadows, and Appalachian ranches. The Muscovy Duck and Anjou Pear has been a huge success with Bikini and Annabelle, the Lamb and Apple is a close second. ACANA makes grain free and protein-packed food for cats too. ACANA pet food for dogs and cats is a new discovery from The Bonehouse, the just-opened holistic pet store at 57th Street and First Avenue, owned by Oksana Vintoyak, one of NYC's newest and best resources for all that is wholesome and good for your four-legged furry friend. The Bonehouse is not dog exclusive; there are plenty of healthy options for cats too! Info: bonehousenyc@gmail.com or 212-872-1300.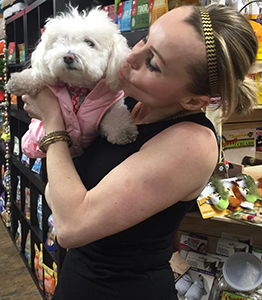 Oksana of Bonehouse
STAYING FIT WITH STYLE
Dogs love cardio! Take your pup on a long walk or jog—it will be good for both hearts!
PDTU Says:
Make every walk even more fun with easygoing essentials from the new pup-friendly line Zoo Supply (zsupplyclothing.com/shop/pets/). These laid-back basics for pets are inspired by Z Supply fashion choices worn by A-listers including Rihanna, Halle Berry, Cindy Crawford, and Charlize Theron. Celebrity pups (sized from Yorkies to ShihTzus to Schnauzers) are new converts but we are sure they'll be walking and jogging with their owners in coordinated camo pullovers, baseball T-shirts and fleece hoodies in the same cozy fabrics as Zoo Supply's casual ensembles for women. Their baby French terry is the best! Zoo Supply proudly supports Barks of Love, the all-breed dog rescue, matchmaking pets with perfect families.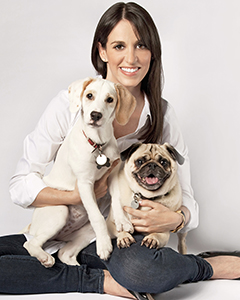 Dr. Rachel Barrack
HEALTHY DOGS ARE HAPPY DOGS
Before making any drastic dietary or exercise changes always consult with your veterinarian. But most importantly, know your dog.
PDTU Says:
Looking to keep your dog in the peak of health? Dr. Rachel Barrack (animalacupuncture.com) can help by providing at home integrative care to dogs, cats and horses in New York City. She worked wonders on my Annabelle, a stubborn 10-year-old rescue ShihTzu who seemed to leave the baggage of her former life behind after one acupuncture session with Dr. Barrack. The result: a remarkable boost to her body and spirit.
And just like kids enjoy a lollipop after a Doctor's visit, your dog will enjoy a reward for good behavior too like healthy treats from Sabrini's Kitchen, coming soon from Royal Animals (royalanimals.com).
The newest trend in treats for dogs is cannabis-infusion. Annabelle and Bikini have sampled quite a few lately and are particularly enjoying calming hemp-seed and wild Alaskan salmon treats from True Leaf Pets (trueleafpet.com), nurtured with natural herbs. True Leaf, a Canadian company, has variations that help with hip and joint conditions, and also, offer antioxidant support for dogs too (cat treats from True Leaf coming soon.) Hemp treats are rich in fatty acids and balance Omega-6 and Omega-3 in an optimal 3:1 ratio. There is no "high" effect here, hemp treats just help make your dog feel relaxed and content, certainly helpful in leading a longer, healthier life.
Other hemp-infused treats Annabelle and Bikini are enjoying are Reilly's Hemp Vet Pumpkin Chews (reillyshempvet.com) and Treatibles (treatibles.com) grain-free treats in blueberry, turkey or pumpkin. Bark Avenue (barkavenue.co) peanut butter gourmet all natural dog treats are "Grandpaws Hemp Creations" and a paws down favorite!
Of course, the ultimate pleasure is all-natural frozen yogurt dog treats from The Bear & The Rat (cooltreatsfordogs.com) in delicious flavors including Applewood-Smoked Bacon & Peanut Butter, Banana & Peanut Butter, and Pumpkin. With billions of live, active probiotic cultures and free of sugar, preservatives, and canine allergens (such as corn, wheat, or soy), The Bear & The Rat frozen yogurt helps banish doggie breath, tummy troubles and boosts overall immunity. My Pekingese and ShihTzu know these treats are dessert, so where are they after dinner? Hovering by the freezer waiting to score a spoonful or more.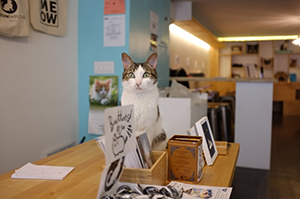 Meow Parlour
HOLISTIC PET CARE
Enter the world of holistic dog care and discover how beloved pets have inhabited our homes, our lives, and our hearts.
PDTU Says:
Read the very informative The Holistic Dog–Inside The Canine Mind, Body, Spirit, and Space (Hellos Press) by lifestyle expert, Laura Benko with photographs by Susan Fisher Plotner. Available at Barnes & Noble (barnesnoble.com).
Not to neglect the cat owners in our community, Meow Parlour (meowparlour.com) on Manhattan's Lower East Side offers yoga with cats since "yoga is all about being in the moment." Cats are in the moment "all the time," says Amy Apgar, yoga instructor at this cat café and shelter (you can adopt the cats after your yoga practice). Of course, yoga is not cat exclusive, there is Doga–yoga with dogs. And to gift the kitty in your life after a workout try HALO's Live-A-Littles (halopets.com) 100 percent freeze dried Wild Salmon treats. They're good for dogs too so don't stint after a Doga session either. For private Doga sessions, New Yorkers fly celebrity yoga instructor Anne Appleby in. Info: Yoga Force (yogaforce.com)
This Valentine's Day, we're loving yoga with our pets most of all because it's integral to the healthy lifestyle that's captured our hearts…and gives us even more days to celebrate life with our four-legged furry friends.
---
Lori Zelenko and Susan Traub have teamed up to reveal exclusive personal insights into the healthful and happy life of pets in the city. Each a devoted dog owner as well as an entrepreneur, Lori and Susan are mutually dedicated to improving the wellbeing of pets in NYC and beyond. To learn more, email lori@lsz-communications.com. ©2018 Lori Zelenko and Susan Traub, All rights reserved.