DELIGHT YOUR SENSES IN IRELAND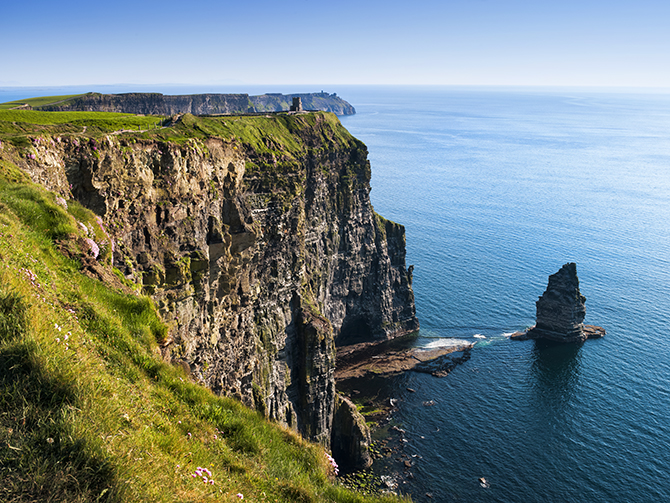 By Clint Brownfield
"Ireland, it's the one place on earth that heaven has kissed with melody, mirth, and meadow and mist."  - Irish Blessing
I love the approach into the Shannon Airport. It was the way I first arrived in Ireland back in the1990s, and after several trips to the Emerald Isle, I've never been disappointed. Looking down, I'm always amazed at just how green it really is.
Recently, some pals and I would savor some of the best experiences that Ireland has to offer—for first-time visitors and travelers like myself who have been there many times before.
For the first few days, we would be pampered at Dromoland Castle Hotel and Country Estate (dromoland.ie), a 5-star luxury property in County Clare that dates back many centuries, when it was the family seat of the O'Brien family. Historically, the name O'Brien is about as big as it gets in this neck of the woods. If your idea of a vacation is to live better than you usually do at home, then Dromoland Castle will fill that bill. Here you can pretend you are a member of the family who inhabited Downton Abbey whose primary occupation was to enjoy each day as much as possible.
Flights from the New York are quick and easy, but you can get any resulting kinks ironed out via a relaxing massage at the hotel's spa. Then myriad activities await—golf, archery, fishing, clay shooting, and falconry, to name a few. And of course, there is just plain old relaxing in the sumptuous rooms and suites. The food at Dromoland is some of the best you will ever savor—produced by Executive Chef David McCann and his talented crew.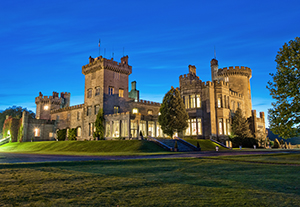 Dromoland at Dusk
TIME TO EXPLORE
Every county in Ireland has unique attractions, but County Clare is a particularly enticing pot of gold at the end of the travel rainbow. Coastal areas can be viewed along the county's stretch of the Wild Atlantic Way. At nearly 1,500 miles, it's the world's longest marked coastal drive. The crown jewel here is the famed, and truly stunning, Cliffs of Moher, which attract around 1.5 million visitors each year to take in the views and learn about the Cliffs at the interactive visitors' center. You might want to do as we did—visit the Cliffs when it's slightly off-season to avoid the crowds and have more elbow room.
Nearby is an area called the Burren, with its moonscape-like terrain and seemingly lack of vegetation. Not true, as you will discover at the Burren Perfumery (burrenperfumery.com), where your sense of smell will be delighted by sampling nearly 20 types of perfumes created from local plants and flowers. Small containers of roasted coffee beans are offered to guests to sniff so they can cleanse their olfactory palates and go on to the next scent. The perfumery also features a charming tearoom that offers tasty homemade Irish cakes and pastries. Ask for their fruitcake recipe!
Sadie Chowen-Doyle, who runs this family business, is just one of the talented and dedicated businesswomen we met along the way. Falling into this category is another charmer, Birgitta Hedin Curtin, who operates Burren Smokehouse (burrensmokehouse.com), which produces a tantalizing variety of smoked salmon products. Visitors are welcome to sample the wares as they learn about how these locally raised and caught-wild taste treats are produced. And, just down the road, do stop in at her husband Peter's watering hole, The Roadside Tavern. He whipped up another local invention just for me—Irish coffee, just what I needed to propel me through our rigorous day of sightseeing in County Clare.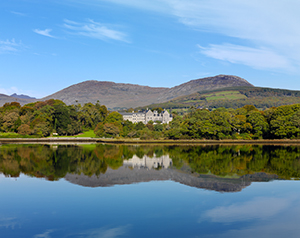 Park Hotel Kenmare
LIVE LIKE ROYALTY
Leaving County Clare was a bit sad, but we soon perked up, when we were picked up early one morning by our new best friend, Ronan Ganter, proprietor of Gantours (gantours.ie). If you are daunted by driving on the left side of the road while shifting gears—missing some of the sights along the way, then Ronan is your guy. Gantours can drive up to 12 people through any number of itineraries—with expert insight into what you are seeing.
For the next few days, we would be staying in and dining at properties that are members of Ireland's Blue Book (irelands-blue-book.ie). If you are a member of the "one percent," you will feel right at home staying in these luxurious properties. If you are not, then this is your big chance to live it up in these magnificent mansions, castles and converted manor houses that dot the Irish countryside and towns. There is a rigorous process for a property to be admitted into this august group—around 70 properties in all. Even if you're not staying in a member property, most welcome you into their incredible dining rooms and restaurants for a meal. And we did just that, enjoying very memorable lunches at the Mustard Seed, Co. Limerick and Castle Durrow, Co. Laois.
That night we checked into the Park Hotel Kenmare (parkkenmare.com), Co. Kerry, where we literally lived in the lap of luxury—overlooking a gorgeous lake. The hotel is justifiably famous for its extensive collection of art and antiques. Just out the front gate we instantly fell in love with the town of Kenmare where we strolled the streets and poked in and out of shops selling antiques, books, and items made in Ireland. You could easily spend your entire vacation here!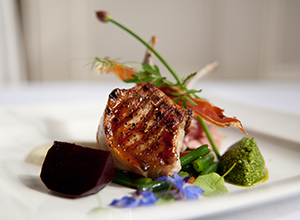 The Mustard Seed Food
SIGHTS AND SOUNDS
The next day, our first stop was in Midleton, Co. Cork, for an eye-opening tour of the famed Jameson Distillery (jamesonwhiskey.com). It's a fun way to learn how this potent potable is created and aged and then sample the wares. There's great shopping, too, in its very impressive gift shop. Take a credit card or two.
Our last stop was a two-night respite at another Blue Book property—Barberstown Castle (barberstowncastle.ie), Co. Kildare, about 15 miles away from the hustle and bustle of Dublin. Dating to the 1500s, it features impressive meals in the original castle area as well as more casual dining in the airy Garden Bar, where Head Chef Bertrand Malabat uses fresh local organic ingredients whenever possible.
Our very memorable final day was spent in Dublin. I'd been there many times before down through the years but had somehow missed visiting the Guinness Storehouse (guinness-storehouse.com)—where for centuries this unique dark beer has been produced. You can see the structure from far away and immediately become intrigued with what awaits inside. It has been designed to resemble a multi-storied mug of Guinness—with a foamy head on top. Visitors are offered guided tours that spiral up to the top and along the way learn how Guinness is produced—with a few sips along the way. Recipe cards are available so you can add a little Guinness to your home cooking. On top is a 360-degree glass observation area where more samples can be consumed as you look at the city of Dublin down below. I suggest you do this first thing so you can see how Dublin is laid out. As for sipping, you can always pretend it's 5 PM.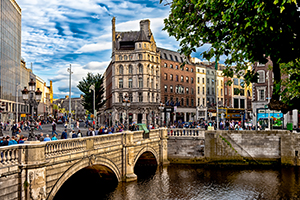 Dublin Street Scene
Our lunch that day was another memorable meal—in the newly opened Garden Room restaurant at the 5-star Merrion Hotel (merrionhotel.com), one of the best hotels in the world. Comprised of four historic Georgian townhouses, in addition to modern additions, the hotel also has the second largest art collection in Ireland. You don't have to be a guest at the hotel to dine or take tea in one of its beautiful venues.
Fortified, we made our way to Trinity College and viewed one of Dublin's principle attractions—The Book of Kells, a 9th-Century illuminated manuscript of the Four Gospels, written by monks in Latin. Only 4-5 pages are on view at a time.
For more information on Ireland and all its magic, visit tourismireland.com.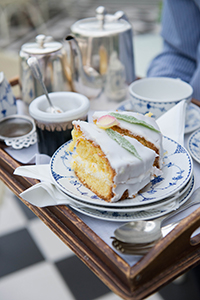 GET COOKIN'
You could easily spend an entire vacation at Ballymaloe House, Co. Cork. Not only is its converted manor house a fabulous place to stay, but it's also home to one of the best culinary schools in the world—The Ballymaloe Cookery School. Here, guests can sit alongside full-time students who are enrolled in programs to train them to enter the international world of food preparation.
Family run, Ballymaloe has rightfully taken its place among the places to visit while in Ireland. The hospitable folks here can point you in the direction of local farmers markets. So many times, we only get to meet fellow tourists while on vacation. But to meet the locals, both vendors and shoppers, farmers markets are the way to go—especially if you're a foodie. Check out the school of cookery's website for a wealth of recipes, including Irish brown bread and stew.
For more information on Ballymaloe House and Cookery School, visit ballymaloehouse.com.