ENTREPRENEUR'S CORNER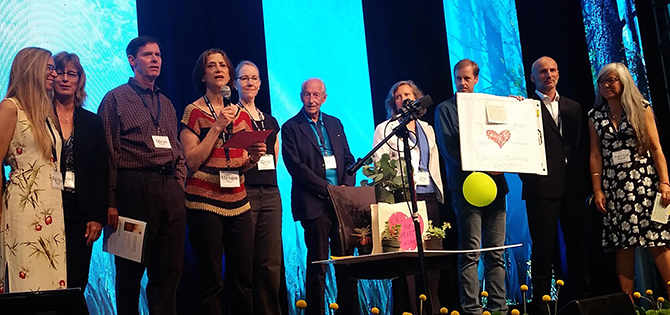 By Daniel J. Bollinger
Do you feel you have not accomplished all that you are capable of? Have you accomplished much but still feel unfulfilled? Do you feel that there's something more?
If you answered yes to one or all of these questions, then here is one solution. Michele Risa is here to help you find it. As CEO & Founder of Collaborative Solutions, Inc., and President of the Manhattan Holistic Chamber of Commerce, she works with thought leaders to help them identify their deepest aspirations. An internationally certified Conscious Business Change Agent (CBCA), she helps CEOs embody consciousness in such a way that they become natural change agents in a world that needs their talents, hearts, and minds.
Michele hosts a popular global meditation on Conscious Business Innerprise. She contributed to the award-winning book, Conscious Entrepreneurs: A Radical New Approach to Purpose Passion & Profit and is a frequent speaker on radio, podcast, and TEDx. Since 1998, she has produced her cable TV show, interviewing successful conscious thought leaders to inspire others. Michele, who holds an M.A. in Psychology from Columbia University, is known as America's Mindfulness Expert and has studied with Deepak Chopra, Marianne Williamson, Jean Houston, Ken Wilber and Kundalini Master Yogi Bhajan, among others.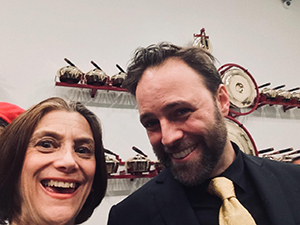 Game of Consciousness featuring Gamelatrons-Sonic Kinetic Sculptures
by Aaron Taylor Kuffner
What inspired you to start your business?
When making the most money ever, I felt miserable. Given how important money is in our culture and around the world, I was confused. Looking into the mirror, I had a heart to heart talk with myself and asked, 'What do you want?' That's when I realized I had to believe in me and find my purpose and path. I then committed to helping anyone ready to step onto a different path and discover their authentic self and purpose.
Break down what you teach your clients.
I teach clients how to create a better life by focusing on their inner environment versus their outer, reminding them that they are the source of all they feel, think, say and manifest in their life. Understanding that is Step #1: I show them how.
And how do you help your clients do that?
What makes me effective at helping my clients succeed is my masterful skill of the inner game. Then they begin to see how all that occurs during their day offers feedback which they can use to tweak or improve their lives. We live in the best classroom—better than Harvard or Yale—yet we often miss those teachings and wise insights available to us.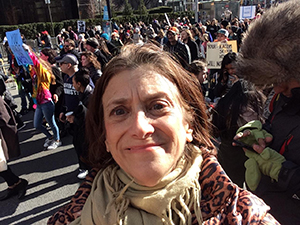 At the Women's March
How do you help people become aware of those teachings?
There are infinite ways since what most supports me may not help you. However, to be brief, three truths apply to most of us: 1) When we slow down, we are more aware, for example, to hear not only what is said but what is not said by others and ourselves. 2) Since everything affects everything, look at all areas of life since those overlooked regions can offer the most significant insights. For example, how your relationship with the waiter at a restaurant may help you see the blocks in relationships at work. 3) If practicing the piano results in a better pianist, then practicing new, supportive behaviors will make those actions stronger and will become the new default state of being.
What does one usually learn from this practice?
Some real gems are learning who you are versus who you thought you were or were told who you are, developing a deep relationship with yourself and becoming a best friend. As a result, my clients learn how to love themselves unconditionally, which opens the door to loving others unconditionally. When you align with your heart, every aspect of life shifts, attracting into your physical life harmony, beauty, health, abundance, joy and heart-based relationships.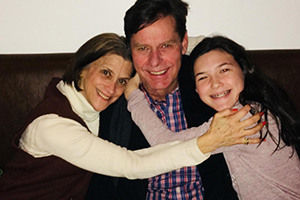 Michele with Humanity's Team Worldwide Executive Director Steve Farrell and daughter
What barriers do your clients face most often?
The most common barrier is something I call The Shadow.
And what is The Shadow?
The Shadow is something we don't see; it's negativity.
Can you give us some examples?
In summary usually not feeling good enough, unworthy, exploited, abandoned, or unwanted. In addition, not able to express needs and hanging onto physical things or emotional feelings.
What do your clients usually learn?
The most immediate benefit is healing, compassion, and forgiveness. The ultimate goal is to learn how to create a beautiful life regardless of outer circumstances. It begins with re-connecting to your authentic self, maintaining your heart-connection, and allowing your energy and heart to ripple out into the world, making a unique difference you're here to make.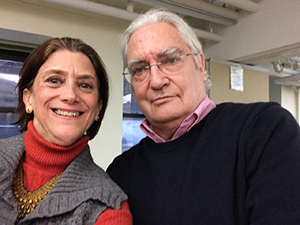 Member Committee for Spirituality, Values and Global Concerns-UN with Kurt Johnson
Is there anything else you are working on these days?
I'm expanding my One-on-One Executive Coaching and have joined forces with Only the Source in San Francisco. We are in the midst of launching online courses and live events for self-discovery that will raise the consciousness and vibration of the planet so we can all flourish and thrive. I will have a limited number of coaching slots available, and I am very excited to work with a select group of people committed to actualizing their lives and giving their greatest gifts to the world—while, of course, feeling more energized, joyful and abundant than ever before.
For more information on Collaborative Solutions and Michele Risa, visit collaborativesolutions.global.