SPOTLIGHT WENDY J. SARASOHN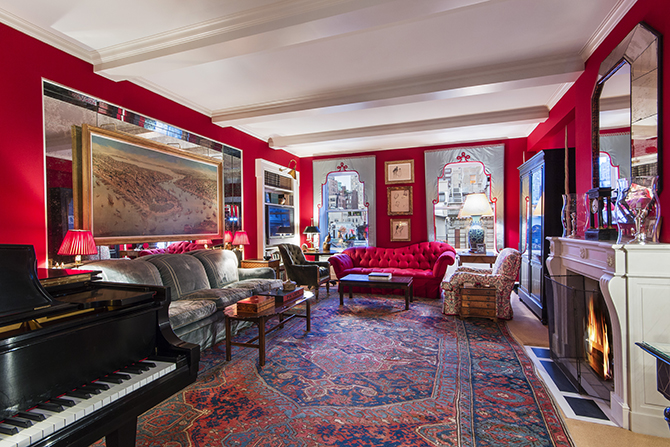 By Daniel J. Bollinger
Wendy J. Sarasohn, a Licensed Real Estate Broker at Brown Harris Stevens (BHS), is a seasoned agent and has won many awards including the 2016 BHS Team of the Year award, and the 2016 BHS East Side Listing Broker of the Year award. She has been ranked in the Top 25 in Manhattan and top one percent in the country by Wall Street Journal/REAL Trends for the past decade. Sarasohn was ranked number 23 in New York for Individual Sales Volume by REAL Trends as one of America's Best Real Estate Agents in 2017.
We recently met with Sarasohn to find out more about her and the state of real estate in New York City.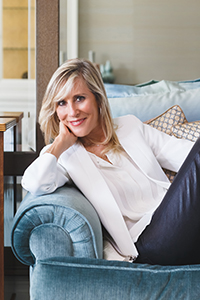 Wendy J. Sarasohn
How has Trump's new tax plan affected your business?
It's too early for me to evaluate how Trump's tax plan has affected my business. I believe more pied-a-terre buyers will consider renting rather than buying and might rethink where they purchase their second, third or fourth homes. Also, I think that since New York is unlike any other city in the world, buyers will continue to invest in having homes here and their financial people will figure out how to make the numbers work for them.
What do you see in the market right now?
I see a softening in the prices of high-end new construction. Buildings like 432 Park Avenue and 157 West 57th Street are discounting their prices. There is also a softening in the prices of pre-war co-ops on Fifth and Park Avenue particularly those that require renovating. This is an ideal time for buyers to take advantage of the softening and instead of purchasing a classic six they can have an 8 to 10 room apartment as these are now heavily discounted. I believe in time these buildings will again become desirable as they aren't building any new pre-war coops.
What do you foresee for the rest of 2018?
I always see the glass half full, so I am seeing an active market as sellers adjust their expectations and accept the reality of today's prices and buyers enter the market because of the price reductions and low-interest rates. I think families will continue to choose to stay in Manhattan rather than exit to the more affordable suburbs and will trade up in size and rent a weekend home rather than purchase a house in the suburbs.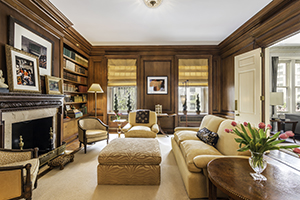 Library
How did you get into real estate?
I was offered a free class at Marymount College and was trying to decide whether to take computer, swimming or real estate. It was 1987 a time when most people in residential real estate were single women looking for husbands. There was no glamour. I had the good fortune to join a tiny company no one had ever heard of nor could they correctly pronounce its name. I chose Corcoran because they offered a training program and I didn't want to make a fool of myself. I knew nothing about the business as I had previously only worked as a TV commercial actress. My director and mentor was Barbara Corcoran who taught me to use what I have and that I didn't have to compromise my integrity nor become a shark to be successful.
What has helped you most to become a successful broker?
My training as an actress has been enormously helpful. A good actor listens as does a good realtor. In acting, I learned to understand my character's motivation which is similar to figuring out a client's true desires when purchasing a particular type of home. As an actor, I also learned the importance of being resilient and maintaining a positive outlook. The tools of my acting craft have served me far better in real estate than they did when I was auditioning for TV commercials. I get more than 30 seconds to prove I'm right for the job.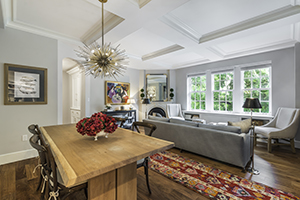 Living room
What is the most unusual request you ever received from a client?
Probably the most unusual request was to find an apartment for a woman who lived in Singapore who wasn't coming to see it but had very specific requirements from her feng shui astrologer. It was incredibly challenging to relate to brokers who before looking at an apartment needed to know if the front door opened to the north, if the bed in the master could face east, and when you looked out the windows, none of them looked into a hospital, church, or synagogue. Before this assignment, I never realized how many churches and temples there are in Manhattan!
What is your most memorable sale? One notable sale was a West Village townhouse with a swimming pool. When I took the listing, I had a vision of a fashion show, so when a famous designer showed up intoxicated early one morning with his broker, I blurted out that he was going to buy the house. Months later I was sitting in the house watching models glide over Plexiglass that had been placed over the pool for his fashion show.
When you're not working what do you enjoy doing?
I'm always working as real estate is about people and my life is a portable office. I love going to the movies and probably it is one of the only places where I am forced to detach from my device and turn off my phone. I also love the theater and enjoy discovering off-Broadway shows before they become a hit. More recently I've fallen for TV and have become seriously addicted to various programs opting to spend any non-real estate moments in comfy clothes in front of my television which I have finally learned how to work.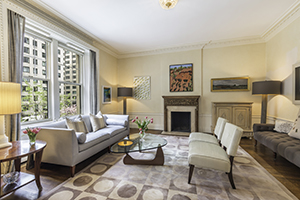 Living room
What is your favorite restaurant in the city?
My favorite restaurant is Nello. I love their orecchiette with broccoli rabe and the parade of diners who range from what look like characters from the Sopranos to David Mamet and Nicole Kidman both of whom I've seen at the restaurant. I like table number 19 as it's a corner booth and I can sit comfortably and observe the show. I also love their flower arrangements.
For more information on Wendy J. Sarasohn, visit bhsusa.com/real-estate-agent/wendy-sarasohn.