MEET HIRO HARAGUCHI NYC's Hair Doctor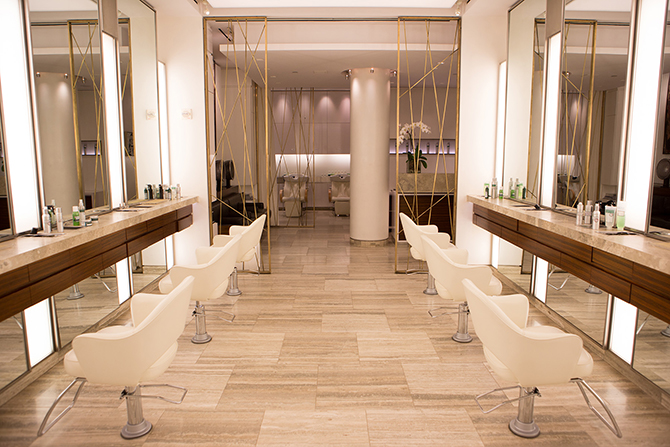 By Lori Simmons Zelenko
"Whether they are artists or business leaders, I design a haircut to bring out youthfulness and make them look contemporary." Hiro does not just look at eyes, mouth and nose, he scans the whole person: "I learn, I evaluate. I ask what they don't want. Many want a new look but are not always sure they truly want a big change, so it is up to me as a hairdresser to share my experience and guide them. Of course, some will feel they know exactly what they want, but even so, what they are insisting upon may not be the right prescription."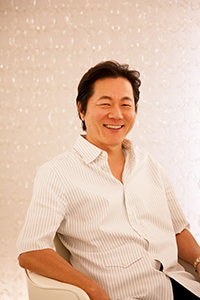 Hiro Haraguchi
CREATING GOOD DESIGN
Hiro is known as the Hair Doctor for his intuitive ability to diagnose every hair challenge. He corrects everything from chemically dry hair due to bad color treatments to thick, unmanageable, frizzy tresses that are just about fried from too many blow-drying sessions. He explains, "Every client presents a problem but no one has the same problem. Every challenge equals an opportunity to create good design."
Hiro stays creative and ahead of the curve without being swayed but what's in or what's out. "Control is vital, wavy hair you do not want too messy. Straight hair can be a little messier but it shows everything. A little mistake is extremely obvious in straight hair. The key," he says, "to a successful haircut is to adapt to each type of hair." No one, he reminds us, has the same hair much less the same job or the same personality.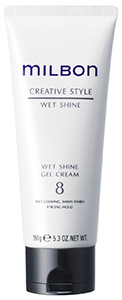 SUMMER LOCKS
Here, some expert tips from Hiro on Summertime styles.
• Natural is best for Summer hair. Wavy, loose and soft looking.
• Short hair needs to be shaggy.
• Layers work. But keep the ends clean. Ragged ends lead to frizz. Go for movement. Let each layer flow into the next naturally.
• Style hair so that it lays behind the ears; it's a fresh look for the season. Show off your suntanned face.
• Avoid too much body. Keep the hair easy and fresh.
• Beachy waves are definitely in for Summer 2018. But not too tight. Again the key is to have a relaxed, natural look.
• At the beach, go for a wet look. Try Milbon Wet Shine Gel Cream to get this effect. This game-changing hybrid tames frizz and flyaways while adding buildable hold for both polished and extreme wet looks. Its slow-dry technology gives precision styling the time it needs.
• Maintaining your style post-salon visit should not be a struggle. Hiro champions the products from Privé (priveproducts.com) favored by the salon's celebrity patrons who've been clients of Laurent D. over the years as well as the number 1 Japanese professional line Milbon (milbon-usa.com) which even offers a specific anti-aging formula.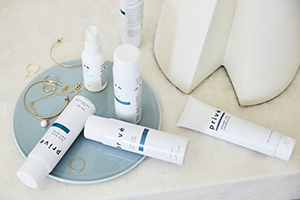 THE ART OF SHAMPOO
Improper shampoo techniques create damage and dry hair. Be gentle. Use a wide tooth comb but don't pull it through the hair. Use conditioner from the ends to the middle. Rinse thoroughly. And never scrunch hair. When blowing out, brush from the ends. Finish with cool air to help control frizz. Be careful not to use such high heat that you burn the hair strands. Remember dry hair starts at the ends, so keep them trimmed to avoid breakage. And make it a point to deep condition often especially as Summer heat and humidity kicks in.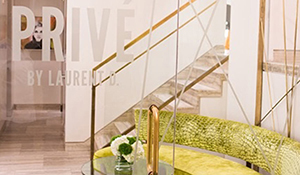 HOW IT ALL BEGAN
Successfully merging his Far East training and philosophy with the Western variety of hair types, Hiro is known for his unique blend of "international chic." In Japan, he spent over nine years studying, perfecting, and improving his technique which made him one of the fashion world's most sought-after hairstylists. Over his extensive career he's worked with the best including Suga, the famed hairdresser of the 1980s whose clients included Candice Bergen, Lauren Hutton, Faye Dunaway; designer Hanae Mori; Oribe, one of the first American hairstylists to style the European collections whose collaboration with photographer Steven Meisel and makeup artist Francois Nars built the supermodel concept, as in Christy, Linda and Naomi; and Garren where he styled for fashion show luminaries like Marc Jacobs and Anna Sui.
Now at the vibrant new location at Privé Salon by Laurent D. within the iconic Sherry Netherland Hotel, Hiro is an exceptional addition to the Central Park-adjacent salon that speaks to a modern, unique aesthetic beloved by such celebrities as Johnny Depp, Gwyneth Paltrow, Uma Thurman, Tina Fey and Jewel.
For more information on Hiro at Prive by Laurent D., visit privebylaurentd.com.