PALM SPRINGS
California's Desert Revival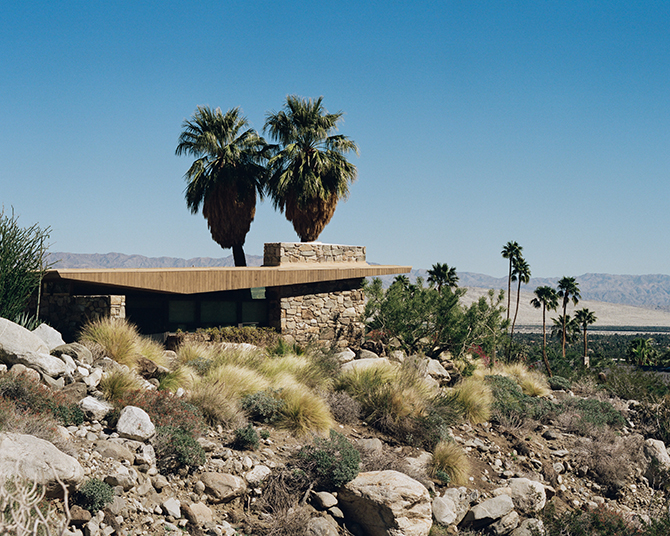 By Karen Feld
Imagine traveling back in time to mid-century, the days when the Hollywood studio system still reigned. It was Hollywood's playground. Homes were mostly second or third ones with generous outdoor space to party. Regulars included Ronald Reagan, Bob Hope, Nat King Cole, Elizabeth Taylor, Liberace, Dinah Shore, The Rat Pack and other superstars.
Later, as golfers and tennis players moved to newer residential club communities on the outskirts, the downtown fell on hard times. Fast forward to 2018 and some modern touches to bring it back to life and appeal to a younger generation of travelers. This is Palm Springs today.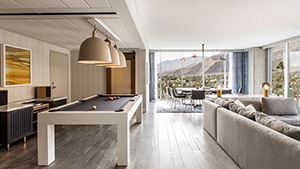 WHAT TO SEE & DO
• Extended weekend visits are getting longer and longer as Palm Springs attracts more visitors. Hiking and cycling are popular. Joshua Tree National Park is worth exploring if only to view the brilliant sunset at Keys View, at 6,200 feet; it feels like you're on top of the world.
• Ditch your hotel pool and head to Salton Sea, located on the San Andreas Fault. It's at the lowest elevation—some 200 feet below sea level—where you can have a day of birding, boating, and exploring this incredibly scenic area.
• Palm Springs is a shopping destination for antiques and collectibles including unusual items from the sixties, seventies, and eighties. "Vintage clothing and original movie posters sell in a market diluted with reproductions," said collector/dealer Mike Rivkin of Antique Galleries of Palm Springs. "It's a destination for high-end art, antiques, and consumables." A vintage market the first Sunday of each month attracts buyers as well as lookers.
• Shopping and culture abound in the Palm Springs area. For haute couture, stop in at the elite consignment shops on El Paseo in nearby Palm Desert. Savory Spice offers tastes of some 400 herbs and spices. A visit to the nearby historic non-profit McCallum Theatre, which turns 30 this year, is a must regardless of the performance. The A-list line-up includes a variety of big names in music, theatre, and dance.
• History buffs and nature lovers can walk in the footsteps of our ancestors in the Indian Canyons. Search for artifacts and rock art on a self-guided or ranger-led hike. Or tour the Movie Colony where the studio heads had their homes and spend time in the adjacent Ruth Hardy Park. Catch a glimpse of Barbra Streisand's compound high on a hill and Liberace's church across from his old house.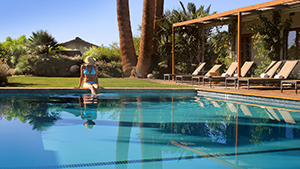 • The ever-changing VillageFest is a Thursday evening happening. Many locals credit Sonny Bono for this as well as the revival of the town he represented. Palm Canyon is closed to automobile traffic for blocks as locals and visitors roam the streets with musicians in the background. Vendors sell date shakes and sweet local dates of all varieties, artisan handcrafts including jewelry, clothing, and pottery.
WHERE TO STAY
The striking new Kimpton Rowan Hotel sits one block from the Palm Springs Art Museum and its state-of-the-art Annenberg Theater at the center of the busy old Palm Springs. The hotel's rooftop pool and 4 Saints bar attract a youngish party crowd of locals and visitors.
For extended stays, why not rent a home with a pool and outdoor fire pit to experience the true outdoor desert lifestyle. Neighborhoods are known by the architects who designed the homes. Any structure built before 1969 automatically falls under Historic Preservation. Many of these quintessential traditional mid-century homes have been modernized with extended outdoor spaces.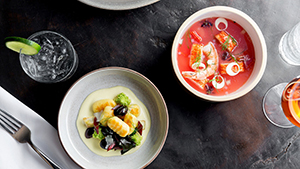 THE BEST EATS
There's no shortage of restaurants to fit any taste. Lines form throughout the day at Farm in the Plaza to relax on the patio and satisfy hunger pangs with a Belgian waffle topped with chicken, bacon, and sausage simmered in a creamy butter sauce. If you insist on "clean" food, try the new A La MOD Café or the very trendy Workshop Kitchen & Bar in the Uptown Design District on North Palm Canyon. The food is sourced from local farms and prepared creatively— think shaved Brussels Sprout Salad with Pomegranate and Apple. Your best bet is a table on the garden patio.
The old school restaurants are still my favorites. Melvyn's at the Ingleside Inn, the legendary Hollywood hotspot has been refreshed and the patio revamped. They still offer Steak Diane, and Spinach Salad prepared tableside by a server dressed in a tux and white gloves. The ghosts of its famous guests live on— Sinatra's wedding reception was held there. Stay late enough, and they'll happily share old stories. In fact, stop by solo and indulge in a huge Chicken Pot Pie while listening to the pianist. Check out the photos of Frank Sinatra, Lucille Ball, and Jerry Lewis among others. Spencer's Restaurant set in the San Jacinto Mountains is still famous and a popular favorite for its upscale American fare and Hollywood banter too.
For more information on Palm Springs, visit greaterpalmsprings.com.