AROUND TOWN NoMAD
NoMAD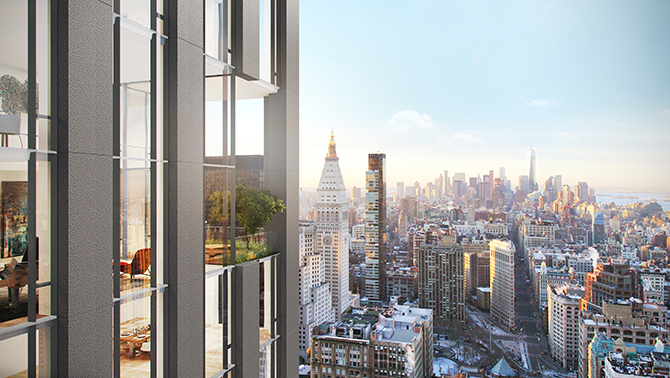 By Marie-Claire Gladstone
With an incredible history and stunning architecture, NoMad (North of Madison Square Park) has reinvented itself over the last decade as one of Manhattan's most coveted neighborhoods. There's no shortage of the best restaurants in the world, (Eleven Madison was ranked number one last year) excellent transportation options, green spaces for relaxation and pet lovers, as well as plenty of shopping. Real estate in NoMad, located from 25th to 30th Streets between Lexington and Sixth Avenues, is now some of the most desirable in the city.
Madison Square Park named after our fourth president, James Madison, was established as a public park in 1847. The famous park, filled with lawns and lush shrubbery, was even home to the Statue of Liberty's arm and torch from 1876 to 1882! And let's not forget P.T. Barnum's 1874 Great Roman Hippodrome, as well as the first and second Madison Square Garden arenas, were also located in the area.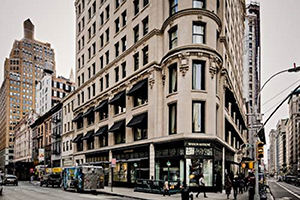 The NoMAD Hotel
THE GILDED AGE
In the later 19th Century, Madison Square was one of Manhattan's most elite neighborhoods, with elegant mansions surrounding the park. The Gilded Age's elite including Oscar Wilde, Mark Twain, Charles Dickens, J.P. Morgan, France's Napoleon III, were attracted to restaurants like Delmonico's, a multi-story restaurant with a large sidewalk café that was located at Fifth Avenue and 26th Street.
By the 1990's, the park had fallen into disrepair, and the City Parks Foundation took the lead in restoring it, using the original 19th-century design as well as adding more contemporary amenities, including a reflecting pool, new gateways, and decorative lighting. It is now the centerpiece for some of Manhattan's most sought-after real estate.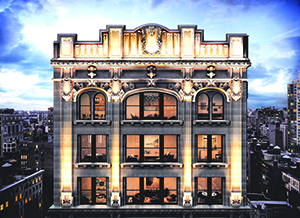 212 5th Avenue Crown
NoMAD TODAY
NoMad is slowly becoming the new design district in New York, taking over from SoHo, as the high retail rents drove most of the big furniture design stores away. One can easily walk around from brand to brand, with stores including B&B Italia, DDC, Minotti, Poliform, Natuzzi, Luxury Living New York and Fendi Casa. Christian Liaigre will be opening a store soon on the corner of 30th and Madison.
With the arrival of trendy hotels and on-site restaurants, this area has become a dinner destination in its own right. Some of these spots are new and have generated tons of buzz; others are under-the-radar mainstays. But one thing is sure: they're all delicious. Scarpetta at The James Hotel has the best Italian food in the area, as well as a great lounge with live music. The Breslin at The Ace Hotel, and Clocktower at The Edition Hotel make fine choices. Then, there are other favorites like La Pecora Bianca for its excellent tuna salad for lunch and the Michelin-starred Eleven Madison, mentioned above, which serves the ultimate 13-course tasting menu.
REAL ESTATE
NoMad continues to be a favorite for anyone who values access to green space, transportation, shopping, restaurants and incredible architecture. Rental prices in this neighborhood vary from $3,000 to $5,000 for a one bedroom and $6,000 to $9,000 for two bedrooms. I've also been seeing sale prices from around $2,500 per square foot.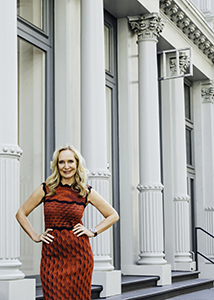 Marie-Claire Gladstone
This neighborhood has become so chic you may spot a celebrity or two. In just one building alone you'll find Jennifer Lopez, Chelsea Clinton and Jeff Gordon. Buyers are drawn to both incredible loft spaces, but still others love the new devel opments in the area. One of my favorites is 212 Fifth Avenue. Built in 1912, this neo-medieval property was once a commercial building. Influenced by the Woolworth Building, its steel skeleton was innovative for being one of the first skyscrapers of the time. In 2016, it was converted into a 24-story luxury condominium with 48 apartments and a ten thousand square foot penthouse featuring six thousand square feet of terraces. The architects moved the main entrance to be centered on West 26th Street, and the crenelated parapet at the top of the building was restored to its historic elegance. Prices start at $4.9 million with a mix of two, three, and four bedrooms plus penthouse.
The Rafael Viñoly-designed 277 Fifth Avenue is a 55-story building with 133 condominiums. Viñoly placed columns at the building's base to keep the inside free from structural elements. This feature allows for alternating floor-to-ceiling windows, which frame the view, and solid walls, to display art. Viñoly says, "This building belongs to Fifth Avenue." Prices start at $1.925 million with a mix of one- to five-bedroom duplexes.
For more information on Marie-Claire Gladstone of Corcoran, e-mail her at mgladstone@corcoran.com.