MY NEW YORK STORY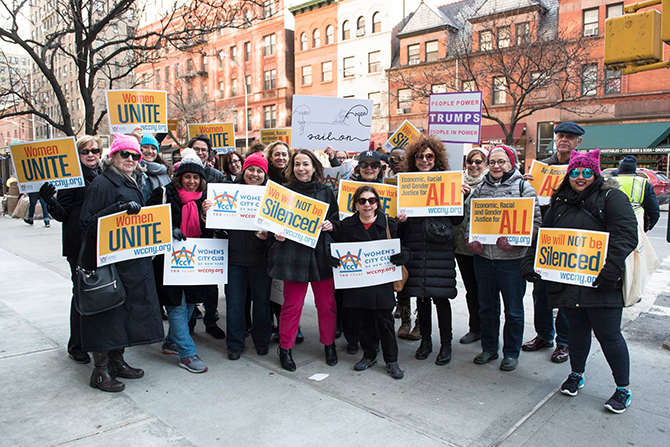 Carole Wacey (center) with WCC members, staff and supporters at the 2018
Women's March in New York City.
By Carole Wacey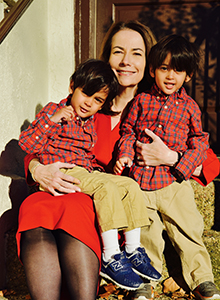 Carole Wacey with her twin boys, Justin and Jack.
Activism is in my DNA, passed down to me from my independent, feminist mother. I was born in the U.K., and my family immigrated to the New York City area in the late 1960s. Soon after we moved, my father passed away unexpectedly, and my mother was left to raise four children on her own.
Though heartbroken, my mom channeled her grief into action. She was determined to show her children—particularly me, her daughter—the importance of staying strong, having perseverance, and fighting for one's rights and beliefs. She was politically active, made her voice heard and demonstrated why it's important to get involved and create change. I now know that she was modeling and encouraging us to be civically engaged.
As a young girl, I accompanied my mother on advocacy bus trips to Washington, D.C. to fight for the Equal Rights Amendment and Social Security. I can still remember the feeling of being swept up in a swarm of citizens who, despite their differences and challenges, had come together to fight for a common cause. Even as a young child, I understood the importance of showing up and standing up for my beliefs—even when life is hard in other ways.
BECOMING A LEADER
My early experiences with activism led me to dedicate my career to helping others through public policy, education, and advocacy. The strong female role models in my life showed me I could be and do anything, and encouraged me to run for student leadership positions in school and to work on political campaigns.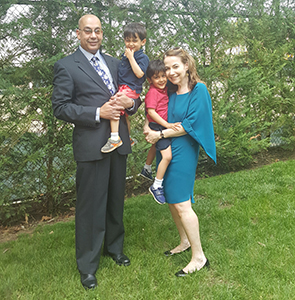 Carole Wacey with her husband George and their twin boys, Justin and Jack.
After graduating from American University and receiving my J.D. from Vermont Law School, I delved into policy in Washington. I spent four years as the U.S. Department of Education Liaison to the President's Council on Sustainable Development and received a one-year appointment to The White House to lead the creation of the first national education policy for sustainable development. I also served as a Political Appointee in the Clinton Administration, and against all advice, fought to be hired at a higher grade—what today would be called leaning in. I held a number of leadership roles as Deputy Director of the Office of Education Technology and Senior Policy Advisor at the U.S. Department of Education, providing guidance on the development and implementation of national educational technology policy.
INNOVATING IN EDUCATION
Following my time in D.C., I returned to New York City to make a more profound impact in education and became Director of the Markle Foundation's Interactive Media for Children program. After that, I served for a decade as Executive Director at MOUSE, a national nonprofit that empowers underserved youth to learn, lead, and create with technology. I vastly broadened the organization to more than 150 Title I schools across New York City, expanded to five new states, and established global partnerships with more than 20 countries.
Most recently, I served as Vice President of Education at WNET, leading a team to produce educational television, online educational media for teachers, and community engagement, bringing free educational content to PBS audiences throughout New York City and nationally.
TURNING CHALLENGES INTO CHANGE
I joined Women's City Club of New York as President and Chief Executive Officer in November 2017. From the outset, I have focused on evolving WCC to be inclusive, impactful, relevant, and innovative. At WCC, we are working with other community organizations and developing strategic relationships with like-minded partners to take the century-old organization in a bold new direction. I firmly believe in empowering underserved New York women to become change-makers in their community through civic engagement, events, and education initiatives.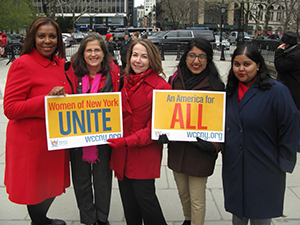 Carole Wacey (center) with NYC Public Advocate Tish James, New York City Council Member Helen Rosenthal, and WCC staff members Anita Mathew and Padma Seemangal.
I am proud to be leading an organization for women, especially as the #MeToo movement has empowered so many survivors to share their stories and energized people to advocate for equality. When I experienced my #MeToo moment in 1992, an assault on New Jersey Transit while interning at the United Nations and pursuing my J.D. at Vermont Law School, I pressed charges with the Manhattan District Attorney. This was not a common response at the time, but my support system and mentors gave me the confidence to take action and hold my assaulter accountable.
I am gratified that women are gradually getting more of a platform to share their views and stories. At WCC, we are working to elevate the voices of women to create change in New York City. As a mother to young twin boys, I hope to set an example for them as a strong woman, just like my mom did for me.
For more information on Women's City Club of New York and Carole Wacey, visit wccnyc.org.