ENTREPRENEUR'S CORNER
Pamela Morgan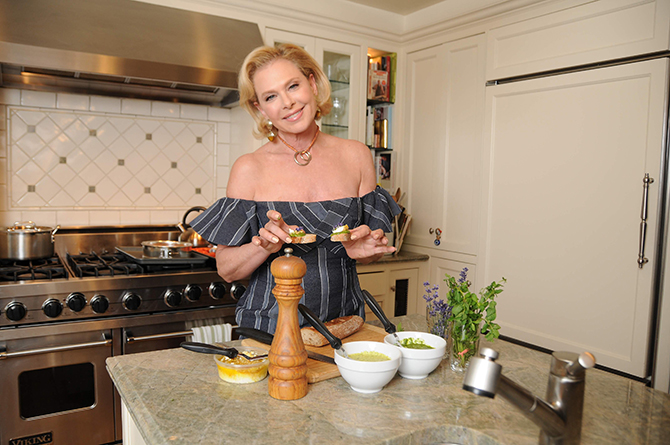 By Elizabeth Elston
Pamela Morgan grew up with an innate understanding of entertaining in its many forms. Raised in Wichita Falls, Texas she was enrolled in ballet classes from the tender age of five and carried with her dreams of becoming a professional dancer. Performing was her gift, expressing herself creatively through the arts of dance and music, always prepared with a tune to play on her guitar or a melody to sing belt.
Growing up, she admired how her mother would effortlessly entertain guests at their Texas home, beautifully setting the dinner table to complement the excellently plated home-cooked meals. Pamela watched as her stylish mother floated through the atmosphere she created for family parties. Holding onto these pastimes—along with her father buoyantly socializing, her brother playing jazz piano—set the tone for her both as an entertainer and entrepreneur.
Today, Pamela Morgan is the brains behind Flirting with Flavors, a special events and culinary company serving both New York City and The Hamptons, consistently serving the can-do attitude and big spirit she adopted from her father, an influential Texas businessman. From her father, she learned the skills to succeed as to effectively run a business. It was his energy and social awareness that people around him respected and that Pamela continues to embody in her work.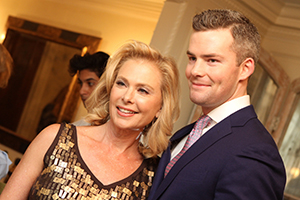 Pamela Morgan, Ryan Serhant
©CDFX Studios
MEMORABLE AFFAIRS
Entertaining is no easy feat, but inheriting both her parents' personality and attitude, with Pamela's passion for performing, connecting with people and the culinary arts, she has produced one-of-a-kind affairs under the Flirting with Flavors signature brand. It all started when Pamela moved to New York after graduating with her dual degree in Dance and Psychology. Looking back, she had the same "small town kid, with big city dreams" story as most, sashaying into New York City's dance world and having to pick up gigs in between performances to pay the bills. She found joy in assisting small catering companies around the city. Soon Pamela started catering small events on her own. She would create meals for clients hosting small dinners or bachelors wanting to impress their dates with a delicious home-cooked meal—easy enough to prepare. "Secretly I was hoping one of them would fall in love with me!" she said laughing.
What she truly hoped for was to own her own business. "I was intrigued by the autonomy of being an entrepreneur and serving others as a creative outlet." Now a seasoned Entertaining and Lifestyle expert, Pamela Morgan has seen great success catering to private parties, wedding celebrations, and special events for her loyal clientele and their distinguished guests. Pamela recalls when life came full circle for her, describing when her entrepreneurial and design inspiration, Martha Stewart hired her services to cater the New York City opening of the Martha Stewart Living office. Putting her heart and soul into the job, she produced a magnificent engagement truly deserving of Martha Stewart's satisfaction and approval.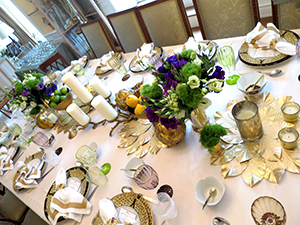 A DELICIOUS EXPERIENCE
Under Pamela's direction, Flirting with Flavors has been enlisted to plan charity galas and cater celebrity events. She has showcased her talents on television, appearing on Bravo TV's Real Housewives and Fox & Friends proudly touting her company's signature expertise. Working tirelessly, Pamela has successfully built a company from the ground up. She serves tips, recipes, and ideas to her thousands of friends and followers through her blog and Instagram stories. Pamela says, "I wish to inspire others with beauty and deliciousness, and to create an atmosphere where people can really connect, communicate and authentically enjoy each other's company."
Pamela Morgan is enamored by the distinct beauty of each of the four seasons and enjoys decorating to fit carefully selected themes when her events take place. There are no borders to her culinary expertise and guests always enjoy the palatable journey from season to season. And like all of us, Pamela enjoys the holidays because it combines her passion for food and her love of bringing people together. To prepare the ultimate celebration, she recommends:
The Flirting with Flavors winter menu will include such menu choices as Kombucha Squash and Caramelized Onion Bruschetta; Gravlax cured with Dill, Capers and Juniper Berries; Pear and Pistachio Frisee Salad with Gorgonzola; Rack of Lamb with Fig Onion Jam; Potato and Parsnip Gratin; Cranberry and Pear Crisp; Holiday Trifle; and Miniature Baked Alaska.
As a host/hostess take careful consideration of your guest's dietary needs (i.e., vegan, vegetarian, pescatarian).
Parting gifts at the door is a fun way to leave a lasting memory. I usually opt for holiday cookies or chocolate and peppermint bark that I wrap myself. If you cannot make them yourself, buy little gifts and festively wrap them for your guests.
Pamela's unique approach likens to the theatrical production of a Broadway musical. Rehearsing lines and marking cues, she coordinates carefully with her team and selected vendors. She constructs scenes and designs moments that bring her ideas to life. Live entertainment or a special guest DJ provide the evening's musical score. Pamela Morgan provides an ambiance and catering that is simply entertaining and enjoyed by all.
For more information about Flirting with Flavors, visit flirtingwithflavors.com.