KENYA'S MAASAI MARA
The Most Romantic Place On The Planet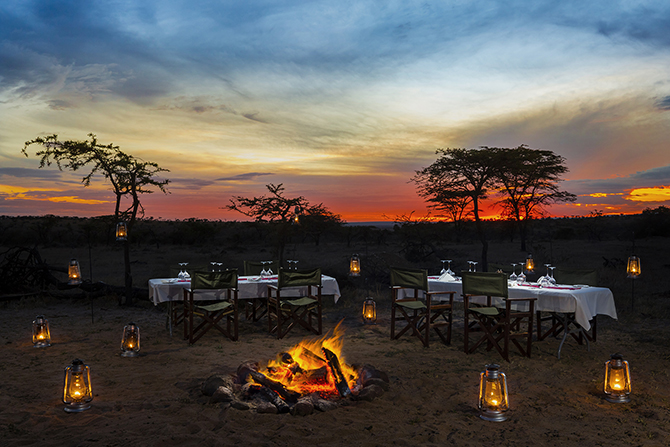 By Maxine Albert
I had a farm in Africa at the foot of the Ngong Hills. We often talked on the farm of the safaris that we had been on. Camping places fix themselves in your mind... like the features of a friend," mused Meryl Streep as Karen Blixen in the gloriously romantic film Out of Africa. Watching the movie, the lyrical, breathtaking beauty of the golden savannah, I fell hopelessly in love with Africa.
You can imagine my excitement when my inflight host Simon Penfold said, "See over there, at the foot of the Ngong Hills, that's the site of Karen Blixen's farm." Here I was in Kenya in the very spot that captured my heart so many years ago. Looking out the window of the stylish Cessna Grand Caravan on my flying safari I saw a paradise of volcanic mountains, wildebeest, buffalo, zebra, gazelles, African fish eagles and pink flamingos swirling on a lake. The pilot drops to about 30 feet above the ground creating an exhilarating magic carpet ride sensation.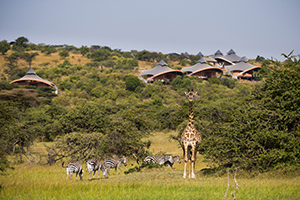 BIG GAME ADVENTURE
Simon, a native Kenyan with Scenic Air Safaris, comes from an aviation family, himself. His father flew Charles Lindbergh around Kenya and Simon escorted astronaut John Glenn. After a scenic 45-minute flight from Nairobi, the Cessna touched down on the dirt landing strip at Mahali Mzuri, Sir Richard Branson's Virgin Limited Edition luxe safari lodge in southern Kenya. It's located within the renowned Maasai Mara Reserve that boasts the highest density of lions in the country. Here the Maasai people live side by side with animals in the untamed bush. It's hard not to be captivated by the utter majesty of the setting, the natural splendor of the vast honey-colored grasslands and exquisite isolation.
Twelve spacious luxury tents, more like standalone cabins, feature African chic décor and blend harmoniously with the environment. Perched on a ridge overlooking the plains where animals roam, with generous seating areas, en suite bathrooms containing standalone tubs that call out for soaks, supremely comfortable king-size beds and plush linens, complimentary mini-bar plus huge decks that include loungers and binoculars for taking in the spectacular panorama—they make cozy love nests. I fell asleep listening to the sounds of the bush and awoke to the sight of elephants basking in the orange light of dawn. All from the sanctuary of my own bed. I think it's the most romantic place on the planet.
A TIME TO RELAX
One of the many things that sets this intimate lodge apart is the stupendous animal viewing. Mahali Mzuri is situated within the private wildlife-rich Olare Motorogi Conservancy and with only a dozen tents you are guaranteed a front row seat for prime animal sightings year round. Notably, it's right in the path of the annual Great Migration (May through late October). Whether you're on a game drive, dining al fresco or lolling on your private deck, you have endless opportunities to marvel at these gorgeous creatures with your special someone.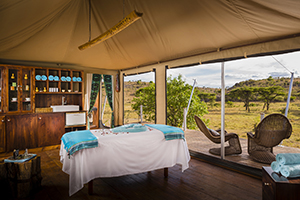 In between morning and afternoon drives, you can swim in the 39-foot heated outdoor pool and kick back on cushy sun loungers, while taking in the staggering views. For ultimate pampering, the Nasaro Spa offers an impressive selection of treatments such as The Devotion Journey. This love ritual for couples with rose quartz crystals and massage while facing your partner, aligns your hearts and deepens the relationship.
DINE UNDER THE STARS
Early evening, just before the golden sun begins its descent across the magenta-hued horizon, guests gather around the fire pit at the main lodge to cocktail and exchange safari tales. It's not unusual to see an array of wildlife taking their nocturnal stroll in the valley below. Pretty soon the stars are the only illumination and everyone moves to nearby tables for dining under the moonlit sky.
Our chef served up tasty dishes such as Moroccan Tagine, Hoisin-Glazed Salmon, Lamb with Honey Mint Sauce, King Prawns plus a superb barbecue at an atmospheric fire-lit dinner on perfectly set tables in the bush. Everything at Mahali Mzuri has been done with such attention to detail and regard for each guest's pleasure and preference it's not surprising that many say this is the best experience they've had on the African Continent.
I was always amazed at Simon's wonder and joy upon seeing any creature, from the smallest bird to a big game lion. He would dash for his camera as if it was his first-ever sighting, with no less enthusiasm for daily sunsets. I asked the handsome gentleman who grew up in Kenya—on what was Karen Blixen's farm—and saw these countless times the reason for his rapture. Smiling, he replied, "Each time is different. I never see the same thing twice." That's the magic of Africa.
UP CLOSE & PERSONAL
Anyone who has been on safari knows the importance of a good guide and mine, Betty Maitai, a member of the Maasai tribe and one of the few female guides in Kenya, was outstanding. A consummate professional, Betty is as warm and personable as she is knowledgeable and also gave me a window into the Maasai culture with her anecdotes. The fabulous Ms. Maitai knew everything about the animals including their personalities, families, mating habits and how to track them.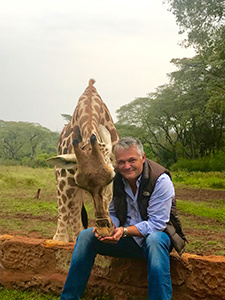 I saw a giraffe nibbling an acacia tree, a lion pursuing his girlfriend, spotted hyenas following a gazelle, hippos drinking water from the river, adorable young elephants frolicking, a cheetah family on the prowl for food, jackals scampering by, graceful impalas prancing as if in a bush ballet and weeks-old cubs suckling mama lioness. Watching these fantastical creatures in their own habitat with someone you hold dear is an unforgettable experience.
One afternoon, the lodge arranged a visit to a local Maasai community where the villagers performed a rousing dance, children sang and I learned about their traditions. Afterwards, I hopped into Betty's vehicle to ogle more wildlife followed by sundowners as I basked in the gorgeous African sunset.
Retiring for my last night in the ravishing bush, the words of Ernest Hemingway came to mind. "All I wanted to do now was get back to Africa. We had not left it yet, but when I would wake in the night, I would lie, listening, homesick for it already."
He fell deeply in love in Kenya. You will too.
For more information on Mahali Mzuri, visit virginlimitededition.com.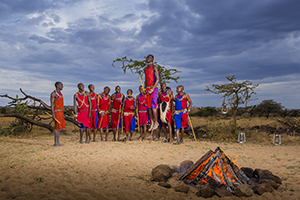 UP AND AWAY
From US: Kenya Airways recently launched nonstop service between New York and Nairobi with state of the art Boeing 787 Dreamliners. I flew Business Class, which makes a difference on longer flights. It was seamless: spacious seats turned into comfortable lie flat beds, food was excellent and the service exceptional. Info: kenya-airways.com.
From Nairobi to Mahali Mzuri: Scenic Air Safaris whisks you away on private planes and provides guided aerial viewing of the stunning landscape and wildlife with low altitude flights en route to safari destinations in Kenya and throughout Africa. You set your own timetable and spend more time doing activities you want instead of driving hours on bumpy, unpaved roads or dealing with long waiting times and delays associated with commercial carriers. The company also offers exclusive tailor-made itineraries so you can create your own fantasy dream trip. Info: scenicairsafaris.com -MA