MARRIOTT STANTON SOUTH BEACH
By Gerrie Summers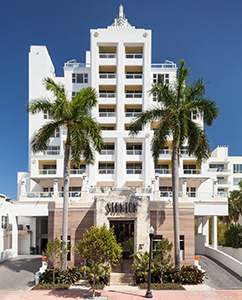 Stanton South Beach Exterior
There is something about the Marriott Stanton South Beach that gives it a hip, residential feel. It blends in with the beach vibe of the affluent SoFi (South of 5th) district of South Beach. You don't realize it's an oceanfront boutique hotel. But look up, and you see the two-story lobby, with its Art Deco-inspired design.
South Beach is one of the popular neighborhoods of Miami Beach. Nicknamed SoBe, it is now known for its beautiful, white sand beaches, the colorful Art Deco architecture that dots the area, boutiques, galleries, culinary hotspots and nightclubs and of course, the beautiful Ocean Drive skyline.
SOBE STYLE
The Marriott Stanton South Beach property was originally an Art Deco hotel built in 1939. Today, the hotel features 224 rooms and eight suites and recently completed a two-phase renovation that began in 2015. Each guest room affords a 1960s SoBe style; and (all but four) have private balconies. Accommodations reflect the soothing environment with subtle shades of beige and tan with pops of orange hues. More recently a facelift of the hotel's lobby, entryway, meeting spaces, outdoor terrace, and pools has been completed. Two new restaurants, Lolo's Surf Cantina and Azabu Miami Beach have opened as well as a new fitness center and spa.
The spa, (sans saunas, steam room, indoor whirlpool or lounge spaces) has what matters most—great therapists and treatments. On the menu are facials, body scrubs, body wraps, massages, couple massages, men's services, waxing and mani/pedi services. Next to the spa is a state-of-the-art fitness center, that offers targeted services, strength training, and group fitness classes on the beach or the Ocean Terrace overlooking the pool. Classes are complimentary to hotel guests as part of the $30 per day resort fee (that also includes enhanced high-speed internet, two beach chairs per day, bike rental and beach toys.)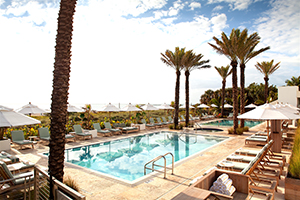 Stanton South Beach Pool
SUN, SEA, & SEASHELL MASSAGE!
I arrived on a late Sunday afternoon. Later, dinner was at the aforementioned Lolo's Surf Cantina. Lolo's is a Mexican eatery, inspired by Chef Richard Ampudia's spirited late grandmother. It seems to be a favorite of locals and visitors, with grab-and-go options for beachgoers and yummy margaritas.
The next day, I enjoyed a breakfast at Puerto Sagua where you can enjoy authentic Cuban cuisine. Try a Café Cito (Cuban coffee) and Croquetas. Or you can have a typical American breakfast if you'd prefer (but why?). Then, it was off to see the sights. With a choice of a South Beach Bike Tour to visit the historic districts in the area or an Art Deco Walking Tour, I opted for the Art Deco tour. The tour started at the Art Deco Museum on Ocean Drive. The museum is operated by the Miami Design Preservation League (MDPL). You can learn about the three major historic design styles—Mediterranean Revival, Art Deco and Miami Modern (MiMo) before taking the two-hour tour of the Miami Beach Architectural Historic District. If you are an architecture buff, this is a great tour to take.
After the tour, our group walked to News Cafe. This iconic sidewalk cafe and restaurant is a bit infamous now because it was part of Gianni Versace's morning routine and the last place he visited. But it is still a popular local hotspot and great for people watching. After the tour in the baking sun, and lunch, it was time for my Hot Sea Shell Massage at the spa. It is highly recommended.
Dinner was off property at Upland, Chef Justin Smillie's restaurant (the first was opened in New York City) with its open kitchen and California-inspired cuisine. I loved the Tempura Shrimp, Miso Tempura Zucchini and Crispy Spiny Lobster Tail. There's also an incredible selection of wines.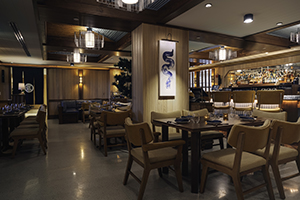 Azabu Interior Restaurant
MORE TO DO…
The following morning, I walked over to 3rd Street Beach for 7 am yoga. This is where locals go for free yoga with professional yoga instructors (a schedule can be found at the Art Deco Museum). I was then coaxed into going on the South Beach Kayak Adventure. Our tour guide balanced with ease on a paddle board as we kayaked on the ocean and learned more about the area. Upon return, I was ready for my complimentary margarita at Lolo's and a visit to the beach. There's direct access to South Beach steps down from the pools. Also, there are two heated pools, a whirlpool, and a sundeck overlooking the ocean.
In the evening, dinner was at the Japanese robatayaki-style restaurant Azabu Miami Beach (sister restaurant of Azabu in New York). The main dining room features a visible kitchen where you can see food grilled over charcoal. Bar Azabu serves sake and 40 imported Japanese whiskeys. There is also a hidden 16-seat counter, with Tokyo-trained chefs, called The Den. It was a perfect way to end my stay, along with a private yoga class on the Ocean Terrace before heading back to New York.
Marriott Stanton South Beach is a wonderful way to getaway and relax. Because the resort is conveniently located on Ocean Drive, it's just steps to the bustling restaurants, bars, and shopping—yet private enough that you will avoid the noise and distractions.
For more information on Marriott Stanton Beach visit stantonsobe.com.