CHEERS!
Residential Bars & Luxe Living
By Patricia Canole
As residential living in New York City becomes grander by the day, luxury apartments have become the norm and most of the residential projects being developed in the city are spread over vast acres of land. Built in premium locations, the residential complexes boast open spaces and surrounding greenery. Today's luxury living rooms and dining areas feature Italian marble flooring with Pergo wood flooring for bedrooms. Walls and flooring in bathrooms are made with marble tiles, and kitchens boast granite cooking counters with stainless steel sinks. For some, it's just not enough. Developers have included recreational areas like elevated jogging tracks, children's play areas, gymnasiums with pools, party rooms, private theaters, and valet parking.
But what sets luxury from over-the-top you may ask? Residential private bars. You heard right. Imagine your own private space where everyone knows your name! Now all it takes is an elevator ride to this private enclave of relaxation after a stressful day.
We scouted out some of the best residential bars in town. Here's what we found.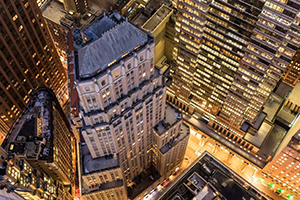 63 Wall Street
FINANCIAL DISTRICT
63 Wall Street
Best known as the financial services hub of New York City, FiDi is becoming increasingly residential. Young professionals are flocking to the area drawn by the convenient transportation, newly renovated apartments, and striking waterfront views. Although FiDi is packed with office workers and civil servants by day, it empties at night offering a handful of post-work happy hours.
63 Wall Street luxury apartments combines two of the most elegant buildings (63-67 Wall Street) in Lower Manhattan to provide a New York living experience unlike any other. Nestled in the heart of Manhattan's historic Financial District, rentals are unique in its perfect harmony of classic form and modern construction. The building provides a wide array of amenities that combine the convenience of a high-end hotel with the comforts of home. The luxury services include a 24/7 doorman, valet, concierge, and wash and fold, but in addition to those services that are pretty standard in today's market, 63 Wall Street offers a game room, sky lounge with outdoor area for barbecues, a library and conference center, a fitness center and children's playroom. In total, the building is home to 20,000-square-feet of amenity space. With its preserved historical significance and prestigious location, 63 Wall Street offers a classic and luxurious Financial District apartment rental experience with amenities for just about any lifestyle.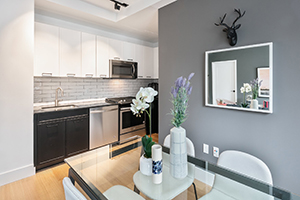 The Transcript is a 1920's era speakeasy that has been fully renovated to its original grandeur at 63 Wall Street. Designed by boutique interior design firm, The Design High, its decor not only evokes the classic flapper's era, but it has also helped attract a predominantly millennial rental audience. The original chandeliers have been kept in place, while new banquettes and bar seating were added for swanky comfort.
In addition to the design, the speakeasy experience includes trained bartenders that create custom cocktails based on residents' preferences. The Transcript also provides a light food menu that includes charcuterie and cheese amongst other items.
The amenity was created by Pinnacle City Living who says it's a wildly popular meeting place for all residents. As a result, there will be a number of special events, such as Valentine's Day Dating Games, March Madness Watch Parties and Trivia Nights, for residents hosted by 63 Wall Street throughout the year Info: 63wallstreet.com.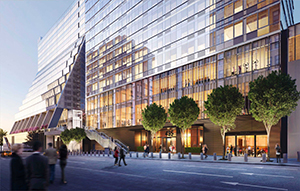 The Eugeene at Manhattan West
HUDSON YARDS
The Eugene at Manhattan West
Hudson Yards is the epicenter of Manhattan's New West Side. Bordered by the Hudson River, Chelsea, Hell's Kitchen, and Midtown, this neighborhood is booming. It is a beacon for creative professionals, growing at five times the rate of the rest of Manhattan.
The Eugene is a 62-story glass residential tower developed by Brookfield that offers studio to three-bedroom residences as well as 55,000-plus square feet of lifestyle and recreational amenities. Aside from being the tallest rental-only apartment building in the city, the amenities include health and wellness programming, a rock-climbing wall and golf simulator managed by La Palestra, a regulation-size indoor basketball court, and experiential-driven services provided by LIVunLtd.
The Hudson Club provides the ultimate private rooftop experience for its residents. The spacious area offers spectacular city views along with a fully-stocked cocktail bar—with unique activations for members-only. In fact, one Friday, they hosted a pop-bar in their elevators, surprising all residents with a glass of Champagne as they returned home after work. Now that's a welcome! Info: theeugenenyc.com.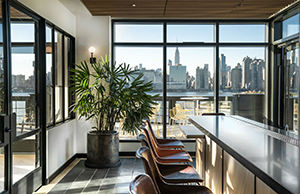 One Blue Slip Bar
GREENPOINT, BROOKLYN
One Blue Slip
Greenpoint's combination of Old World ambiance, impressive warehouses and magnificent views of Manhattan offers an eclectic charm that is increasingly appealing to new residents and creative types. It has a calm, secluded vibe; it is self-contained and slightly self-obsessed.
Leading a new luxury rental building wave at Greenpoint Landing, One Blue Slip is a ground-breaking mixed-use development in a historically industrial waterfront setting imagined by Brookfield and Park Tower Group to bring public green space, world-renowned architecture, and incredible Manhattan skyline views. The building embraces its surroundings and begins to initiate growth along the waterfront in Greenpoint. Designed by Handel Architects, with interiors by Gachot Studios, the amenity-rich building takes cues from the industrial and manufacturing history of Greenpoint, with its brick façade and black metal window frames.
One Blue Slip's lively bar affords incredible views and an elegant lounge that includes a space you can reserve in advance. Entertain friends, hang out with neighbors, and enjoy this extra living area. Its superbly designed by Gachot Studios, the world-class interior designers behind the Glossier flagship, ACME Restaurant and Lounge, and Royal Palms Shuffleboard Club in Gowanus. So, sit back, relax and definitely enjoy the vistas. Info: oneblueslip.com.