MEET THE CHEF
Ariel Fox of Dos Caminos Restaurant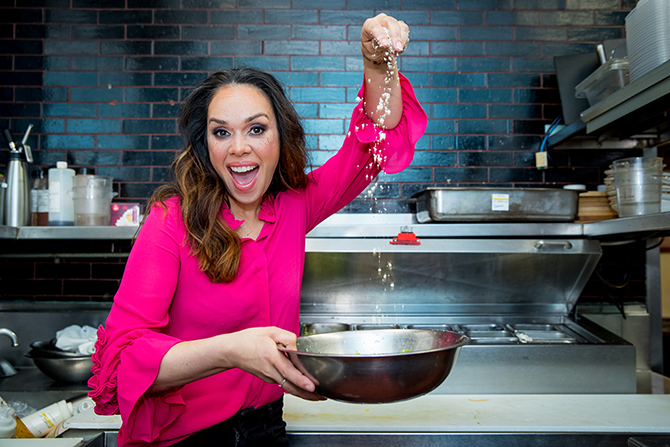 ©Lucas Noonan
By Patricia Canole
Ariel Fox, who was just crowned the winner of FOX's Hell's Kitchen, is an incredibly accomplished chef having spent time innovating some of the most prestigious kitchens in the industry. She helped to launch several nationally renowned restaurants including STK, Harding's and ACME. The talented chef even "took flight" when she joined the OTG Management team where she helped revolutionize and elevate airport dining concepts for the $100 million United Airlines Terminal C at Newark Liberty International Airport.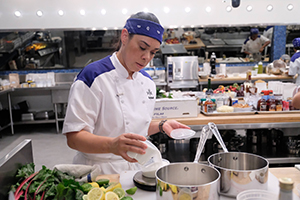 Hell's Kitchen Challenge ©FOX
Today, Ariel is the proud Concept Executive Chef at Dos Caminos where she creates award-winning menus for appreciative diners. Her culinary philosophy stems back to her teenage years in Northern California, where she spent some time working for the small, family-run Mariquita Farm in Watsonville. It was here that the teenaged Ariel was introduced to sustainable food movement pioneer, Alice Waters, a local restaurateur and frequent customer of the San Francisco Farmers Market. Waters sparked Ariel's profound appreciation for organic agriculture and seasonal food. And because of this, eventually inspired Ariel to enter the California School of Culinary Arts' Le Cordon Bleu Le Grand Diplôme Program—the institute's most comprehensive program in French culinary education. As a result, she's never lost that passion for fresh, seasonal ingredients—which remains the cornerstone of her celebrated cuisine.
Chef Ariel's talents landed her in front of world-renowned chef, Gordon Ramsey as a contestant on the sixth season of the hit FOX TV series, Hell's Kitchen. After coming in a heartbreaking third place on that season she took that drive with her back into the kitchen, and it paid off ever since! Ariel returned to the competition show and this past February, was crowned the winner of Hell's Kitchen: Rookie vs. Veterans.
We wanted to know more about the gifted chef who is rapidly cementing her place in the New York restaurant scene.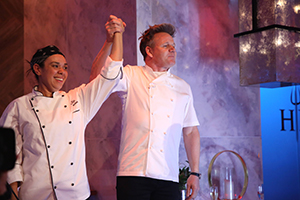 Hell's Kitchen Challenge ©FOX
How did you come into cooking?
I grew up in Santa Cruz California, in the Monterey Bay where California farming was all around me. My family also loved to travel, thus experiencing different foods at a very young age. Since my parents both worked late, we often ate dinner at restaurants. I didn't realize this at the time, but that was not the norm for most families. I had a respect for restaurants that most children didn't have. But it wasn't until I started working on an organic farm in high school that I truly fell in love with food. It was while working there at the source, digging and picking, and eventually selling the produce at the Farmers Market, that I understood the magic of food. And of course, my grandmother and mother were both amazing home cooks!
Describe your first experience in a kitchen?
My first experience in a real professional kitchen was just out of culinary school where I landed my first gig at Globe, Venice Beach. It was here that I learned to shuck oysters. This was my very first task, and I did it every day all day. It was painful, and it was endless. But it taught me so much. Little by little I got faster and faster and could do it without breaking the shells. Eventually, I became a master at it! Then I moved on to making pasta every day, then bread, and so on...
Who was your teacher?
My first real teacher was a Robert who was a chef de cuisine at Globe—and he was tough! He expected excellence, speed, cleanliness, and dedication. I ate up every minute of it. It's because of him I was able to get promoted up the chain so quickly.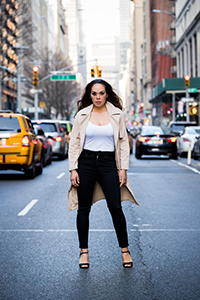 ©Lucas Noonan
As your career flourished, who were some other mentors?
There are so many, but the first few that come to mind are Larry Nicola of Nic's in Beverly Hills, Todd Marc Miller of STK, and Mads Refslund of ACME. There are so many more though!
Tell us about your Hell's Kitchen experience. Was it a challenge to be in front of the cameras?
Yes! But I soon realized the cameras are what make me perform at my best! I knew that at any moment something could go wrong. In that chaos I was at my best and able to produce on a whole other level.
What was the hardest part of being a contestant chef?
The hardest part for me was trying to outdo myself while also trying to do something I've never done before. I didn't play it safe and didn't second guess myself—especially with other competitors around you. I just tuned them out and stayed on track to focus. My motto: Commit to something and don't change your mind.
Now that you're back home in Dos Caminos tell us how you put together a winning menu? Whether it's for a competition or a restaurant, it's all about giving people something balanced but still exciting. There has to be something comfortable and familiar to keep them grounded. But there also has to be something new and different that keeps them intrigued. If you can live on that edge of what people know and what they may have never seen, or thought of, you will keep your guests happy and coming back. Eating should feel wild and comfortable all at once!
What does it take to be a successful chef in New York City?
You have to stay on top of the trends. Period. No matter what cuisine you do, you can still stay on trend. It's a social media-driven world now, and if you aren't paying attention, you aren't doing your job as a chef. It's no longer a world of just cooking what you want to cook. You have to find a way to reinvent all the time.