World Dog Expo
By NYLM
The world's most exciting dog event is coming to the Meadowlands Expo Center! World Dog Expo is a multi-media marvel that every dog lover should experience, with various ways to enjoy.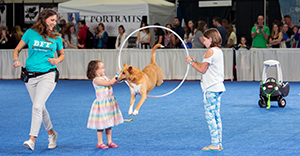 The show offers opportunities for those wishing to learn, shop or witness amazing dog performances. At World Dog Expo, we will have great educational seminars! Seminars will feature education to benefit your relationship with your dog, such as the very popular Dog First Aid & CPR Certification Course. As a dog owner, you want to be equipped with the skills to handle medical emergencies that arise. Whether your dog becomes ill, injured, or needs help in a disaster, this course will teach you how to respond. In this two-hour interactive course, you will learn emergency care, how to stock a first aid kit, perform CPR, respond to breathing and heart emergencies (including choking), and disaster procedures, with some of these exercises being demonstrated on a live dog. Upon completion of this course, attendees will receive a frameable certificate stating that you are certified in dog First Aid & CPR.
Buy your pup some yummy treats, fun toys and more through a tremendous shopping experience; everything you can imagine relating to dogs. At our event we have over 100 booths selling all kinds of dog products and services! Throughout the entire weekend, you can learn about new products and services from companies who love dogs just as much as you do. This is the perfect opportunity to discover products to make life with your dog better and more fun.
Attendees will be sure to want to check out Heather and Jesse performing on our main arena! This incredible duo will amaze you with their inseparable bond and show you many tricks that they do together. Heather and Jesse are the winners of a national talent search, conducted by World Dog Expo.
Bring the family and meet a couple of the biggest superstars in the canine showbiz world. Kids will recognize Felix from his hit Disney Chanel show K.9. Undercover. Beasley is a spokes dog for Chewy.com and has acted in their commercials. They will be there all weekend long showing off their skills and tricks. Enjoy numerous other all-star dogs prove that they're the best in the world at dock diving, weight pulling, disc dog and other various dog sports. Bring your pup and take part in the Try-Its, a unique opportunity for your pet to participate!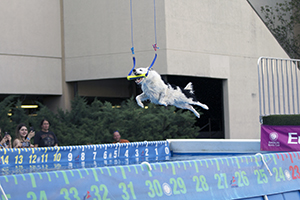 There's never been an event that provides as many opportunities for the dog and owner to participate together in sports, training and other bonding experiences. Dog owners can meet with experts to try out various sports and other activities to find the best match for the dog and the owner.
Amusement Bark will feature three interactive events including Treat Street, Toy Town and Pop'n Playland! A fun way for your dog to show you its favorite toy or treat, this room will be divided to allow your dog to individually to show you their snack and toy to buy. This also provides a great photo opportunity!
Let your dog have a blast running through one of our lure courses! After last year's success, a second course has been added to allow your family dog to let loose and be a star as they have fun running agility, speed tracks and much more!
Are you looking to add another to your family? Make sure you come to the demo stage for Adoptable Dogs on Display! Throughout the weekend, there will be scheduled times that rescues will bring up some of their adoptable dogs and talk about why they are a great companion. Even if you're not looking to adopt, maybe one of these cute fellas will change your mind!
Don't forget to stop by Doggy Playground for some fun interactive playtime to make new dog friends! A professional trainer will be there to answer any training and dog socialization questions. Bring your new puppy to learn how to appropriately socialize them with other dogs!
Don't forget about the opportunity to meet your favorite advocates at World Dog Expo!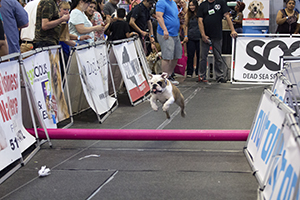 Shorty Rossi from the hit television show, "Pit Boss," is more than just a TV star, he is a Pit Bull advocate. For years, he has been on tour promoting breed awareness, fighting BSL (Breed Specific Legislation), fighting for Animal Rights, encouraging spay and neuter clinics and promoting his book Four Feet Tall and Rising. Shorty will be doing book signings and speaking throughout the entire weekend. His Pit Bull companion, Ares, will be by his side as well!
Deirdre Franklin is the founder, president, and soul behind Pinups for Pitbulls, Inc., an education and advocacy group that helps shelters and animal rescues around the country. She earned her Master's degree in public policy at Drexel University and wrote her thesis on breed discriminatory laws. She has garnered many accolades for her efforts in dog advocacy, including the Wallace Award, by championing the relationship in the human-canine bond. Deirdre will be doing book signings at her booth and speaking throughout the weekend!
Join us for World Dog Expo, June 1-2 at the Meadowlands Expo Center, for a weekend full of events, education and fun!