THE RALEIGH BEER TRAIL
A Destination Worth The Hops!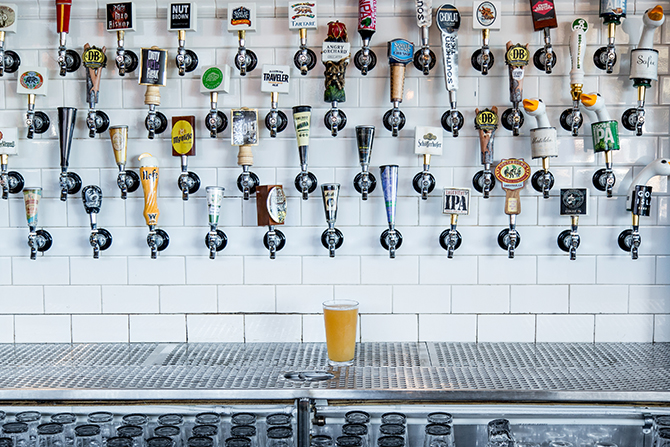 By Tash Bazika
Head south this spring to be welcomed with a pint, a juicy burger, and blossoming metropolis. Raleigh, North Carolina is traditionally lumped with Durham and Chapel Hill in the Research Triangle, with notable university Duke seeking all the attention. However, today, the entrepreneurial city defines itself as a city worth visiting without crossing city limits. From inventive art galleries and ambitious restaurants to unique craft breweries, Raleigh is an up and coming city worthy of a visit, even if just for the ultimate beer trail.
THE BEER TRAIL
Whether you prefer a rich gold ale or dark, sweet malt, the Raleigh Beer Trail has it all. With over 25 breweries participating in the immense trail spanning from Wake Forest to Holly Springs, you will want to choose a designated driver for this one. Each brewery is unique to its area and history, which guarantees a craft beer experience like no other. A brewery in an airplane hangar, North Carolina's first woman-owned brewery, a West Texas-themed brewery—Raleigh brewers know something about thinking differently.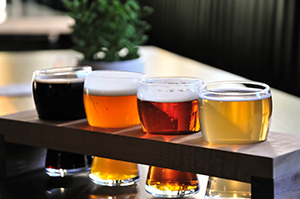 Taking part in the trail is simple, print the passport from the site, grab a map and get drinking. Every brewery you visit, ask for a stamp and win prizes. 5 stamps will get you a beer opener, 10 stamps a beer hugger and 15 stamps will get you a Raleigh Beer Trail shirt. If you're interested in learning more about beer, take a tour of the breweries and learn the difference between porters or doppelbocks or chat with a brew master. Info: visitraleigh.com/foodie/drinks/breweries.
MORGAN STREET FOOD HALL
Drinking on an empty stomach is never a good idea, luckily Morgan Street Food Hall is not far from many of the breweries on the trail. This new lifestyle dining concept is not to be confused with a food court. Yes, it has many culinary options, and yes there is seating, but the food hall introduces the concept of cross meal ordering, where different meals are enjoyed in a sophisticated, stylish shared seating area. It features local eateries and restaurants as well as local food retailers such as Cow Bar, Cousins Maine Lobster, Carroll's Kitchen, Raleigh Rolls and much more. Morgan Street Food Hall is the perfect stop to fuel up before continuing the trail. Info: morganfoodhall.com.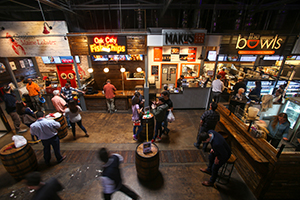 ©Ray Black III
WHERE TO STAY
Location is everything in this city and Raleigh Marriott City Center is exactly as it says, in the city center. Connected to the Silver-LEED Convention Center, the modern hotel boasts close proximity to the area's top entertainment, shopping, dining, and business district. Inside, you will experience a warm welcome with sophisticated furnishings, large comfortable beds, and state-of-the-art amenities. If you like to stay fit on vacation, there is an indoor pool as well as a 24-hr fitness center equipped with everything you need to stay in shape. The award-winning Rye Bar and Southern Kitchen serve farm to table cuisine and uniquely crafted cocktails, ideal for a pleasant night in with friends. On the weekends, they have live entertainment. Info: marriott.com/raleigh-marriott-city-center.