NEW HAMPSHIRE
Summer Adventure In The Granite State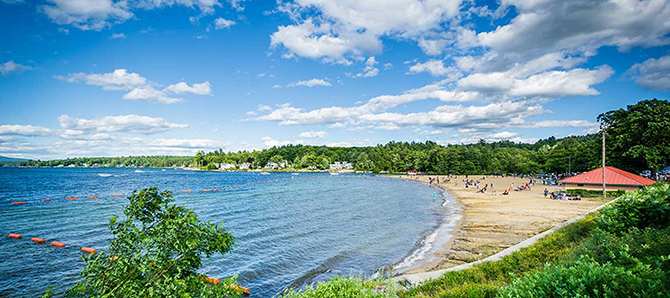 By Laurie Bain Wilson
New Hampshire is seriously summer—it's home to the Northeast's highest mountain, freshwater lakes for sodium-free swimming and a stretch of surf-friendly seacoast.
The state motto could be "The Road Less Traveled," in a nod to celebrated resident poet Robert Frost. These roads will transport you along the seacoast to those lakes and up to Mount Washington—with fabled New England villages and verdant forests along the way. New Hampshire packs a lot into a tiny space—it's only 100 miles at its widest and 200 miles from north to south. So, let's hit the road! Here are spots in The Granite State for your summer vacay bucket list.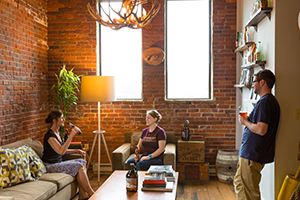 Ale House Inn (Portsmouth) ©Lark Hotels
THE SEACOAST
New Hampshire's seacoast is a well-kept secret. The 18-mile coastline is only an hour north of Boston and is also home to Portsmouth, the third oldest city in the nation but with a decidedly hip vibe. In recent years, Portsmouth has debuted as a city with a sought-out restaurant scene and highly rated inns—and is a good base, too, for exploring the region.
Stay
The Ale House Inn Love beer? Cheers to this Lark Hotels boutique property that pays homage to the Portsmouth Brewing Co. building in the late 1800's that once called this space home. The rooms are fun with pops of color and the nitro draft coffee machine is a nice perk. Prime location in the historic Market Square district—explore town on one of the complimentary Trek cruiser bikes. Info: alehouseinn.com.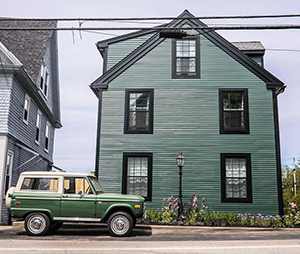 Great Island Inn
Wentworth by the Sea, A Marriott Hotel & Spa On the classy island of New Castle (a five-minute drive from Portsmouth) is one of New Hampshire's most elegant resorts. Home to a pair of popular restaurants, including Latitudes—sit outside on the patio overlooking the marina (the lobster rolls are to live-free-or-die for) and SALT (with a lively lounge, too). Everything you'd expect from a grand dame resort with 161 rooms and suites—that spa, a heated outdoor pool and an indoor pool, too. Info: marriott.com/hotels.
The Great Island Inn Also in New Castle, this stylish getaway has great bones—it's housed in a just-renovated 1820 beauty. The experience is unique—you'll check into one of six stylish apartment-like guest studios with kitchens, even in-room laundry. Some studios have ocean views, and the beach is a three-minute walk—expect a tranquil inn escape with lively Portsmouth a skip away, a win-win. Info: greatislandinn.com.
The Sailmaker's House On a summer afternoon, seek shade under the peach and cherry trees at this renovated, quirky 1801 home with ten lovely guestrooms that's turning heads. Located a horseshoe-toss from historic Strawbery Banke Museum — while you'll love the vintage period, you'll also appreciate the stylish modern guestroom comforts. And the inn is located within walking distance to the best of Portsmouth. Info: saailmakershouse.com.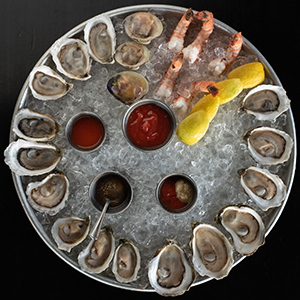 Row 34 ©Morgan Ione Yeager
Eat
Row 34 A Portsmouth pearl for oysters, seafood and beer. The sister property to popular Row 34 in Boston, this downtown spot is one of Portsmouth's darlings, showcasing New England's culinary DNA—warm buttered lobster rolls, grilled Boston mackerel, and a raw bar with those oysters. Info: row34.com.
Jumpin' Jay's Fish Café Here's another of Portsmouth most popular seafood restaurants. With an in-town location, the place gets jumpin' especially for the Clams & Linguine and the Haddock Picatta. And, of course, a raw bar, too. Info: jumpinjays.com.
It's also fine to dine at a Portsmouth waterfront spot. You have options but you should visit Old Ferry Landing (oldferrylanding.com) for the knockout Jimmy Juice (rum punch), River House (riverhouse53bow.com) for the clam chowder, and Martingale Wharf (martingalewharf.com) for the views from the deck.
HAMPTON BEACH
Not far from Portsmouth, along the seacoast here, is where you'll find an old-school boardwalk with lots of throwback seaside charm, kitschy shops, motels and inns, and historic the Hampton Beach Casino. And the beaches here are classic New England beauties.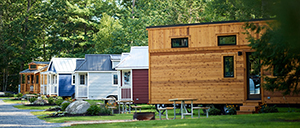 Tuxbury Tiny House Village ©PetiteRetreats.com
For a cool experience, stay at Tuxbury Tiny House Village in nearby South Hampton. The tiny house movement is sweeping the country and this collection of five darling houses is an ideal vacation base with all the comforts. Houses range from 180 to 310 square feet—sleeping accommodations for up to four, a kitchenette, a full bathroom, flat screen TV—and there's a pool and pond, too. Info: tuxburytinyhouse.com.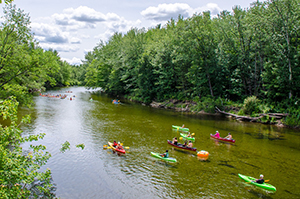 Kayaking the Saco River, Mt. Washington Valley ©Wiseguy Creative.com
WHITE MOUNTAINS & MT. WASHINGTON VALLEY
Of course, the mountains are frosted white in winter but in the summer these mountains come alive with thrill-seeking adventures like zip lining, mountain biking and hiking.
The White Mountains are home to the Northeast's highest peak, Mt. Washington (6,288 feet.) Yes, you can hike to the summit. But there are other ways. Climb aboard The Cog Railway, dating to 1869, it is believed to be the world's first mountain climbing cog railway. Info: thecog.com. Or, take the Mt. Washington Auto Road—drive your own car up the five-mile road scenic photogenic journey. Or, shuttle up in an Auto Road Stage Coach. At the summit, you'll visit the Tip Top House museum, the observation deck, and the Observatory museum. Info: mtwashingtonautoroad.com.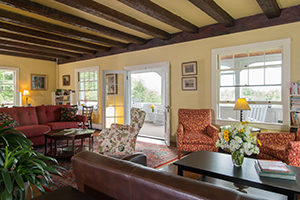 Snowvillage Inn
It's also not always about reaching the top, sometimes it's about the climb. Drive the 100-mile White Mountains Trail loop, designated a National Scenic Byway with breathtaking vistas and darling, quintessential New England villages. This road system includes the iconic Kancamagus Highway—a 32-mile scenic stunner. Info: mtwashingtonvalley.org; visit whitemountains.com.
Stay
Snowvillage Inn This sought-out, off-the-beaten-path inn in Eaton Center, with mountain range views, is offering guided "Outdoor Adventures for Beginners" packages this summer, perfect for city slickers. Cocktails on the porch and dinners in Max's restaurant and pub, too. Info: snowvillageinn.com.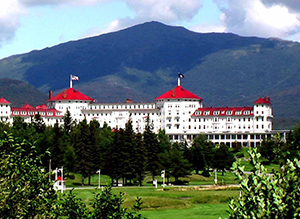 Omni Mt. Washington ©Omni Mt. Washington Resort
Omni Mount Washington Resort in Bretton Woods is arguably New Hampshire's most well-known resort—and has been since 1902. It's evolved through the years—now offering wellness weekends with restorative yoga and herbal remedies. Summer is still as timeless as sitting on the verandah with a sip—talk about wellness. Info: omnihotels.com.
Purity Spring This family-owned resort that's been operated since the late 1800s sits pretty between the Lakes Region and White Mountains, so pick your pleasure. Life is simpler here—board games, lobster bakes and breakfast cookouts, a small lake for swimming and a pub to congregate. Info: purityspring.com.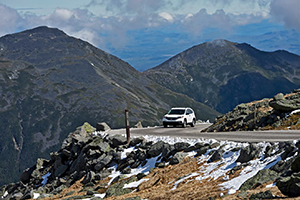 Mt. Washington Auto Road ©Ernie Mills
LAKES REGION
New Hampshire is home to some of the nation's best lakes, including action-packed Lake Winnipesaukee. Squam and Newfound Lake are eye candy, and more subdued. And the town of Wolfeboro here is said to be America's first summer resort and still hosts low-tech celebrations like The Lawn Chair Brigade on July 4th. There are also darling habitable islands in this region—you can take the mail boat to reach them.
You'll find no shortage of lakeside cabins in this neck of the woods. But you'll also discover several inns like The Manor on Golden Pond in Holderness, a quick stroll to Squam Lake. There's an outdoor pool and a lovely patio with lake views. Book one of the Manor House rooms or, better yet, one of the darling cottages. Info: manorongoldenpond.com.