BEAT THE HEAT
By Gerrie Summers
Can you believe it? Fall is almost here, so make sure to enjoy those last few weeks of summer. We've got must-haves to make your summer cooler, safer, comfortable and stylish!

HYDROCHIC
Petal Cap Sleeve Swim & Sport Shirt/Performance Wave Runner Swim Tights
HydroChic UV Activewear is a new signature line of exclusive designs printed on chlorine-proof Italian fabrics that stand up to damaging chlorinated water. Performance Wave Runner Swim Tights are swim leggings that provide UPF 50 protection and coverage and can be worn in the pool, at the gym, on the beach, as well as biking, hiking and other outdoor activities because the fabric is comfortable and light. The Petal Cap Sleeve Swim & Sport Shirt has cap sleeves to protect the shoulders from the sun. Both have pockets for room keys, money, etc. and are chlorine-proof and quick-drying. Info: hydrochic.com.
---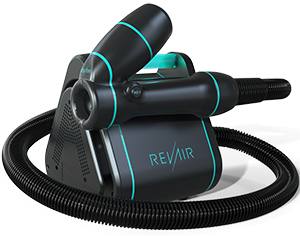 REV AIR
Reverse-Air Hair Dryer
No one wants to use a blow dryer and flat iron on a hot and humid day. It's stifling and exhausting. RevAir uses Reverse Air technology to dry the hair, while smoothing and straightening strands at the same time. It uses 100 degrees less heat than most hair dryers (much better, especially when its 100 degrees outside!) and works on all hair types. The nozzle creates a reverse hair air tunnel that surrounds a section of hair from root to tip with heated air to naturally dry and straighten. You don't need to use a brush, or, in some cases, a flat iron. Info: myrevair.com.
---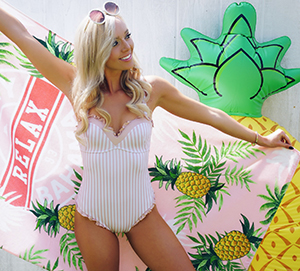 BYOOT COMPANY
Byoot Suit
If you prefer one-piece swimsuits to bikinis, you eventually run into a bit of a problem. Ever tried to use a public beach bathroom while wearing one? It's really annoying to have to pull down a wet and tight swimsuit. Byoot Company makes one-piece bathing suits that provide bathroom-break access. The suits have two buttons on each side of the hip region providing an easy way to use the bathroom and then easily button back up. The Byoot Suit is made with fast drying, moisture wicking four-way stretch fabric and comes in a variety of styles and designs. Genius! Info: byootcompany.com.
---

KNOURS
Double Duty Mist
Double Duty Mist really does do double duty, as a moisturizing tonic or a clarifying, calming toner. Its formula is split into two layers for a customizable skin care product that gives your skin what it needs. Use without shaking the bottle when your skin feels sensitive, red and irritated or oily and clogged, and the Aloe Vera water-based bottom layer will clarify and soothe the skin. Shake the bottle and the oil-rich top layer will give dry, rough, or dehydrated skin the nourishing moisture it craves. And if your skin is normal, just a quick shake will give you a mix of oils and toning herbs to provide both a hydrating and balancing treatment. Info: knours.net.
---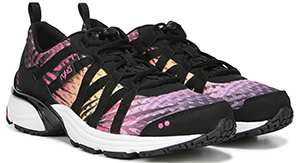 RYKA
Hydro Sport Water Shoe
This water shoe/trainer from women-only sports company Ryka, is designed for a woman's unique foot shape and build, but also to work well on wet surfaces. The shoe is perfect for water aerobics, as well as hiking on slippery, wet trails. It has several features including a speed lace system with toggle to make the shoe easy to put on and take off, a quick dry and chlorine-friendly upper, and multi-port drainage system at the bottom. Info: ryka.com.
---

SKEEM DESIGN
Citronella Verbena Body Spray
It's still being debated how well natural bug repellents work to repel mosquitoes. But if the idea of spraying your body with toxic chemicals to avoid bites, citronella oil is a safe solution; it works by masking the smells biting insects are attracted to. Citronella Verbena Body Spray contains citronella oil, as well as lime, soybean and castor oils to help keep bugs at bay. Info: skeemshop.com.
---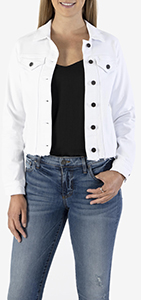 KUT FROM THE KLOTH
Summer Vibes Collection
If you're looking for a tried and true casual (or even dressy) summer look, jeans and a jean jacket are a favorite fashion pair. Summer Vibes Collection, a collaboration with The Charming Olive lifestyle blogger Adelina Perrin, features timeless summer basics. Pair the Connie Slim Fit Ankle Skinny jeans with the summer white Kara Crop Denim Jacket. Both are made with a comfortable, stretchy cotton blend that is machine washable. Info: kutfromthekloth.com.
---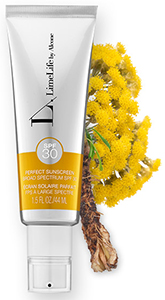 LIME LIFE BY ALCONE
Perfect Sunscreen SPF 30
Organic, plant-based ingredients that moisturize and protect the skin from UV rays and fight the signs of aging are what make Perfect Sunscreen SPF 30 a favorite. The active ingredient is zinc oxide for UVA/B protection. It also contains chicory root to mimic the benefits of retinol (for a firming effect), vitamin B3 reduces the appearance of dark spots, uneven skin tone, fine lines and wrinkles over time. It can be worn alone or to prime the skin before makeup application. Info: limelifebyalcone.com.
---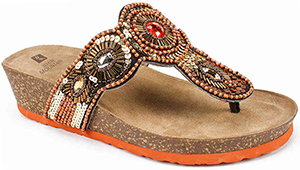 WHITE MOUNTAIN
Blast Leather Sandal
These sandals are way too cute to be comfortable, right? Wrong. Blast Leather Sandal is surprisingly comfortable due to a cushioned "suedette" foot bed. The leather thong sandal is embellished with multi-colored beads and sequins—great for a casual chic outfit worn at a beach resort restaurant or summer party. The sandal is available in four colors. Info: whitemountainshoes.com.
---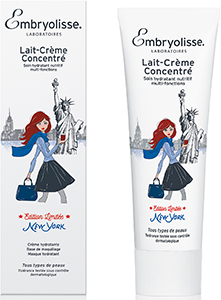 EMBRYOLISSE LABORATOIRES
Lait-Creme Concentré
It has been a cult classic among French women and dermatologists for years. Lait-Crème Concentré made its way across the pond via makeup artists from the Paris fashion shows, where a tube of the prized cream could be found backstage in their makeup kits. Apparently a tube of this cream sells every five seconds around the world. Mas bien sûr! The emollient shea butter and plant oils nourish the skin, repairing the lipid barrier, and increase elasticity, firming and toning the skin. Lait-Crème Concentré is available in a limited edition NYC-themed packaging. This limited edition is sold exclusively on the company's new US website. Info: us.embryolisse.com.