LIFE & STYLE
Laid Back And Living It
By Griffin Miller
In the last sweet weeks of summer—before stowing away the grill, patio furniture and Beach Boys CDs (and coming face to face with the contentious onslaught of back-to-school shopping)—pleasure comes by simply letting the al fresco good times roll with weekend outings, twilight gatherings and uncensored escapism, wholesome or otherwise. Seriously, who deserves a little pre-Labor Day pick-me-up more than us? So feel free to browse my end-of-summer picks that—hopefully—will make your transition into autumn all kinds of carefree!
---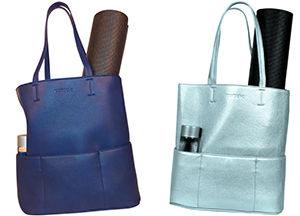 CITY HAUL
There's that mandatory meeting… then a birthday luncheon (gift required)… Starbucks for an hour of memos and emails… before the grand finale yoga class. And reminder: pick up milk on the way home. With an aversion to multiple bags, my favorite new find is SportsChic's Vegan Gym Tote—all business (padded laptop space), except where it's glam (stylish colors and laced pebble grain), with enough casual panache and space to make a yoga mat or tennis racket feel at home. Lightweight, it features enough pockets (insulated and otherwise) to keep me and my mega stash of stuff within reach. Vanity plus: Not a day goes by when someone doesn't ask me how to score this bag! Info: shopsportschic.com.
---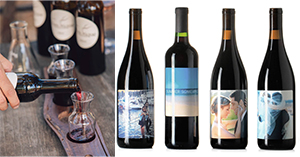 AS YOU LIKE IT, DIONYSUS!
While not all of us have the skills of a sommelier, when it comes to wine we certainly have our preferences. Oh, and we love sharing our favorites with like-minded enthusiasts. So, what if you could create a personalized blend—one filled with characteristics matching your palette's ideal? That's what Blendtique is all about, starting with a kit that comes with four varieties of wine. Using the enclosed measuring pipette and flask—and tapping into the company's descriptive library—the wine of your dreams (with customized label, also designed by you) is just 3 to 4 weeks away from fulfillment. "Salute!" Info: blentique.com.
---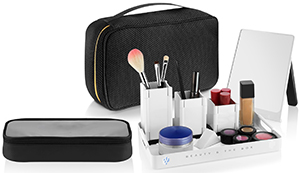 LOCK & LOAD
My days of repurposing hotel bathroom glasses and washcloths into makeshift cosmetic organizers are kaput. The Traveler from Beauty and the Box has upended road warrior organization with a sleek tray configured for a trio of pop-up boxes to hold everything from lipsticks to mascara to makeup brushes. Eyeshadow, perfume, meds, etc. also have ample room, and since the boxes fold flat in the tray, The Traveler is carry-on friendly. As for those with space to spare, I recommend The Traveler Deluxe, an expanded version that comes in a stylish zippered pouch containing a stand-alone mirror and makeup case. FYI: Rather than wait for my next trip, mine is set up on my dresser! Info: beautyandthebox.com.
---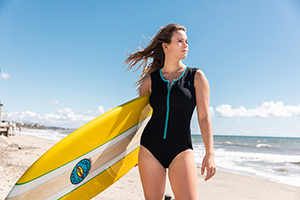 TAKING THE PLUNGE
To me, swimsuits have always followed Fran Lebowitz's sartorial mantra about clothes having two objectives: to make you look cute and to hide figure flaws. SunSkyns does both with all kinds of seaside panache. Ageless, timeless and with a thumbs up to surfer babe chic, SunSkyns front zipper allows you to keep "cleavage revelation" in your comfort zone. Made of lightweight SPF 50+ fabric with removable bra cups so that even the acutely un-athletic (sadly me) can appear sexy-sporty on the beach or around the pool. Also in the collection are SunSkyns skirts and jackets. Info: sunskyns.com.
---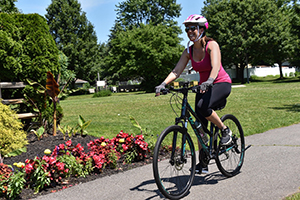 PROFILE IN STYLE
Reasons to go to a spa: 1) To hydrate; 2) To get massaged; 3) To indulge in creams and lotions that soothe and nurture; 4) To get wrapped up to firm up; 5) To rejuvenate. Interestingly, all the above are part of what you get from SKINEEZ® Miracle Compression Capris. And don't think that compression means tight. These are the silkiest, comfiest capris I've ever worn! I'm getting a micro-massage laced with vitamin E, Shea Butter, Rose Hip Oil and Apricot Kernel Oil. The results—clocking in at about an hour—are noticeably softer (and firmer) skin. Info: myskineez.com.
---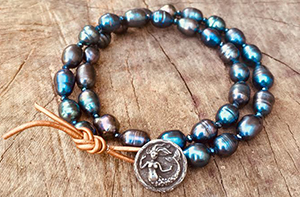 WRIST WATCHING
With a life path that includes working as a stuntwoman and photojournalist, entrepreneur Szilvia Gogh is not exactly your average artisan. Her Gogh Jewelry Design jewelry is handcrafted from natural elements and is as inspirational as it is beautiful, with some pieces etched with messages like "Never, Never, Never Give Up," and "I Am A Dreamer". What spoke to me most, though, were her Mermaid bracelets. These resonate with both female empowerment and the freedom of the open sea. Not surprising once you discover that scuba diving is but yet another of Gogh's passions. Info: goghjewelrydesign.com.
---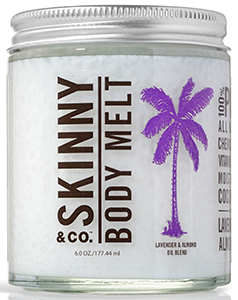 PURE RELAXATION
Shocker: Nearly every blog and website will, at one time or another, run advice on how to pull the plug on stress. Meditation, medication, flavored water, deep breathing, downsizing, working out, going out… staying in… the list goes on. For me, it's lighting a candle, pouring a drink and embracing a soothing scent. And yes, I'm a sucker for lavender, which is why Skinny & Co.'s Lavender Body Melt has managed to top my "de-stressification" list. Slide it on after a bath or right before bed (it's said to be a natural sleep-inducer with the ability to heal and correct imperfections). Spiked with coconut and almond oil along with super-hydrating essential oils, this LBM is a definite keeper. Info: skinnyandcompany.com.
---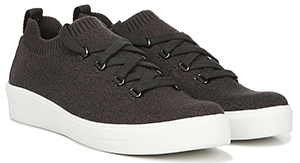 ONE STEP AHEAD
Every once in a blue suede moon you stumble into shoe nirvana. And I'm not talking drop dead gorgeous DEFCON 1 Carrie Bradshaw stilettoes. I mean shoes that make your feet happy… really, really happy. Footwear made anatomically correct for women (sorry guys), from Rykä, a company that knows the unique structure of female feet and designs accordingly. This fall, for example, they're introducing Viona, modern, lace-up sneaker with a minimalist cache. The upper is made of knit fabric (so awesome) with ribbing plus micro-suede at the heel. Comfort personified. No wonder I'm a convert. Info: ryka.com.