DISNEY ADVENTURES
Head To Galaxy's Edge & Beyond

Aulani Waikolohe Valley
By Jenny Peters
If you haven't noticed, the Walt Disney Company is hitting on all cylinders in 2019. Huge hit movies across genres ranging from Marvel action to animation to live-action reboots of classics are one part of the company's success story, but for families with a bit of wanderlust in their blood, the bigger news in 2019 is about all of the exhilarating travel-related adventures that Disney has to offer.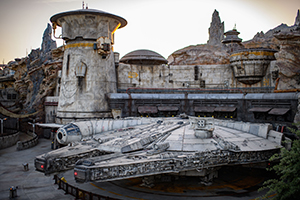 Star Wars Galazy's Edge Millennium Falcon
ADVENTURES BEHIND THE SCENES
Crowds have already stormed Disneyland in Southern California, as the first outpost of Star Wars: Galaxy's Edge took flight, complete with the Millennium Falcon Smugglers Run ride, Storm Troopers clomping past, and Oga's Cantina, the bar with some very weird patrons. In late August that new land comes to Disney's Hollywood Studios at Disney World in Orlando, which means that Galaxy isn't so far, far away after all.
And while you'll have to join everyone else in the queue at either Disneyland or Disney World to enter the world of Star Wars, Disney fanatics both big and small can opt into a real behind-the-scenes experience at either of those two famed amusement parks, via Adventures by Disney.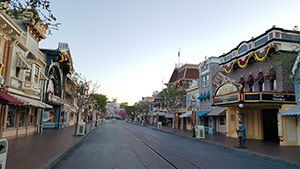 Disneyland Empty Main Street ©Jenny Peters
You can see the world with that Disney travel service—think Australia, Japan, Europe and beyond—and not ever see hide nor hair of Mickey and Minnie. But if being immersed in the world of Walt and his creative genius is a fascinating idea, then jump onto one of their exceptional tours. "Backstage Magic," the Disney World version, is one jam-packed seven-hour day that takes you behind the scenes at Epcot, in the Magic Kingdom and even deep into the park's rarely seen areas, like the Creative Costuming Center, where all the wardrobes and costumes are invented and created. For the ultimate immersion in Walt Disney's life and dreams, head for SoCal to do the Disneyland/Southern California Escape, four days of mind-bending visits to places that civilians rarely see that include a full day in both Disneyland and California Adventure. Imagine getting into Disneyland one early morning while they are still preparing for visitors, witnessing empty streets and the same quiet that Walt saw when he looked out at Main Street from his private apartment above the fire department.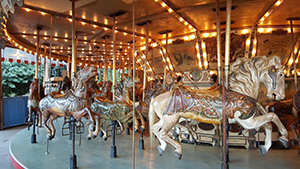 Griffith Park Carousel ©Jenny Peters
You'll get a look inside that haven where Walt spent much of his time while Disneyland was in its infancy, then it's on to Burbank, where a wander around the actual Walt Disney Studios is part of the adventure (which is always led by two helpful guides). It's easy to imagine Walt and his brother Roy walking the tree-lined streets of this Art Deco-influenced campus in the 1940s, dreaming up new ways to enchant audiences both big and small.
The next stop is the best stop, a visit to Walt Disney Imagineering Research and Development in nearby Glendale. There, where your camera/phone is required to stay in your pocket, you get an inside look at what the engineers and artists there are creating. It's where Star Wars: Galaxy's Edge was imagined; the day we visited, we saw the elaborate models for Hong Kong Disney's upcoming Frozen ride on display and much more. It was a Disney lovers' dream visit.
A dream, too, was a stop in Griffith Park for a ride on the carousel that inspired Walt to create Disneyland. That carousel was built in 1926, installed here in 1937 and is still going strong, zipping riders around on the original wooden horses, accompanied with music by a Stinson organ. It's where Walt used to bring his daughters; sit on the bench dedicated to him and envision how he saw the beginnings of his first theme park take shape in his mind.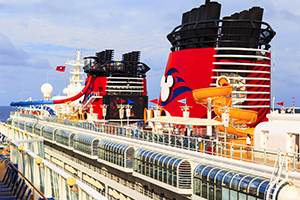 Disney Cruises
ADVENTURE ON THE HIGH SEAS
What Walt Disney probably never imagined were massive cruise ships sailing the high seas, filled with delighted families immersed in the Disney brand. But that's what you'll find on the company's four ships, with trips headed to Alaska in the summer, the Caribbean (including Castaway Cay, Disney's own private island) and both Northern Europe and the Mediterranean. Kids can safely roam free on the ships, meeting up with Disney characters at every turn, enjoying supervised play or repeated slides into the huge pools on the top decks. We even spotted Captain Hook and Peter Pan, no surprise since Pirate Night is a huge costume party on every sailing, so don't forget your costumes.
ADVENTURE IN PARADISE
If you've made it to Walt's original stomping grounds in California, then grab the children and keep on going to Aulani, Disney's ultimate family adventure resort in the paradise that is the western shore of Oahu, in Hawaii.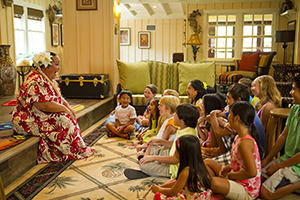 Storytelling at Aunty's Beach House
Perched on its own protected lagoon in the Ko Olina area (about 30 miles west of Waikiki Beach), Aulani is nirvana for kids. Disney characters pop up regularly in different parts of the resort (who doesn't love running into Goofy in an Aloha shirt?), there's a massive swimming pool complete with water slides, and a lazy river; plus there's a protected manmade snorkeling lagoon reef filled with colorful fish to explore.
Parents can also get a mini-vacation away from their children ages 3-12 by dropping them at Aunty's Beach House, where supervised play and Hawaiian-themed activities happen all day long. And while the kids are away playing, the resort has a beautiful spa and an adults-only swimming pool.
If a love of excitement is really in your blood, head to nearby Trident Adventures in the Ko Olina Marina, where ex-Navy SEALs offer scuba diving and snorkeling trips – and if you're really ready to test your mettle, they'll include a jump out of a helicopter into the water, just like the SEALs do when on a mission. That will get your adrenaline pumping!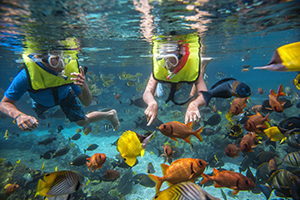 Rainbow Reef
Back at Aulani, the Ka Wa'a Luau is a crowd pleaser featuring an appearance by Moana. And, of course, every time Mickey Mouse makes an appearance at this Hawaiian Disney paradise, it almost feels as if Walt himself is smiling down on all the gleeful children that continue to love his many creations, nearly a century later.
For more information on Adventures by Disney, visit adventuresbydisney.com; for Disney Cruises, visit disneycruise.disney.go.com; for Disney Aulani, visit disneyaulani.com.