COOPERSTOWN
A Bucket List Getaway For Fans Of America's Favorite Pastime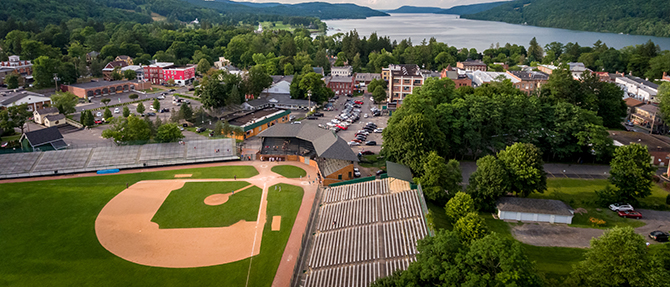 By Laurie Bain Wilson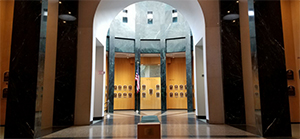 Baseball Hall of Fame
This is a huge year for New York baseball fans—New York Yankees pitchers Mariano Rivera and Mike Mussina were inducted into The National Baseball Hall of Fame in late July during Hall of Fame Weekend.
So, the timing is as perfect as a Rivera cutter to visit Cooperstown—you'll see their shiny bronze plaques that hang in the storied Plaque Gallery and, while baseball is the main game in Cooperstown, you'll find other compelling reasons to visit America's Most Perfect Village, just four hours from NYC.
Here's a lineup of where to eat, stay and play—Cooperstown has all the bases covered.
PLAY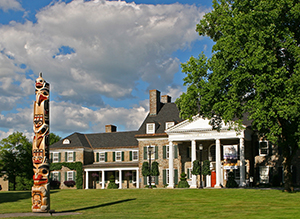 Front of the Fenimore with Totem ©Todd Kenyon
The National Baseball Hall of Fame This nonprofit museum is hallowed ground. It is one of the most popular sports shrines in the country and, as such, pretty remarkable that it's located here in off-the-beaten-path rural America—a real-life "if you build it, they will come" Field of Dreams. And fans have been coming since the doors opened in 1939.
In addition to those iconic Hall of Fame plaques with Rivera, Mussina and other elected members, also on display are uniforms and memorabilia of many players including Cy Young's 1911 Boston Braves uniform (historic baseball fact: my great-grandfather, Cornelius Daily, was a popular catcher with teams including Brooklyn and Boston, and hit a homerun off of Cy Young) and exhibits like Diamond Dreams: Women in Baseball and Pride and Passion: The African-American Baseball Experience. A new permanent exhibit, Shoebox Treasures, just opened in May, and is located on the third floor in an attic-like space, much like your grandfather's attic where you'd hope to find his stash of prized cards. The exhibit is busy with collections of treasured baseball cards from the 1800s to today, as well as some interactive experiences. Info: baseballhall.org.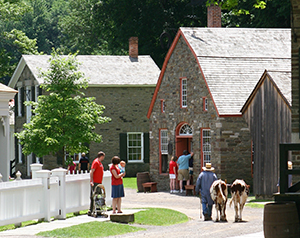 The Farmers' Museum
The Fenimore Art Museum A showcase for folk art and Indian artifacts, and the former family home of American author James Fenimore Cooper (The Last of the Mohicans), The Fenimore just debuted a worthwhile new exhibit—Herb Ritts: The Rock Portraits. It features incredible photos of rock stars by the famed photographer (think David Bowie, Madonna, Elton John). Nice: A café with outdoor seating. Info: fenimoreartmuseum.org.
The Glimmerglass Queen Cruise Otsego Lake on The Glimmerglass Queen. The one-hour guided tour is a lake lullaby—a peaceful narration that tells the story of the lake and the Cooperstown region. And there's a bar on-board, too. Info: cooperstownlakefronthotel.com/boat-tours.
Farmers' Museum Kids especially will want to visit this 1840's recreated farming village, to spend a morning or afternoon with the endearing farm animals, and to take a spin on the carousel. Info: farmersmuseum.org.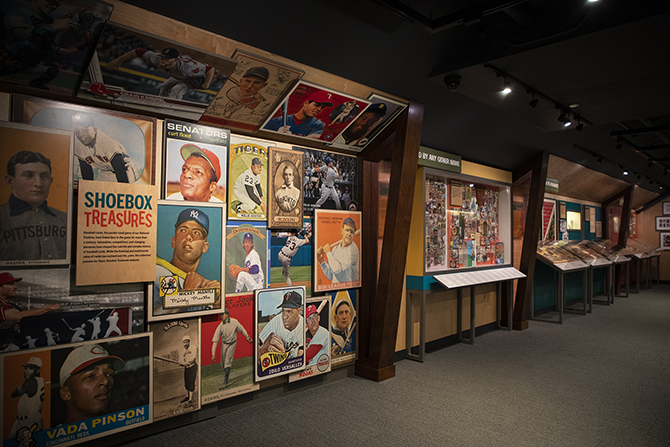 Shoebox Treasures ©Milo Stewart Jr., National Baseball Hall of Fame and Museum
STAY
The Otesaga Resort Hotel If walls could talk: one of America's celebrated Grande Dames is this 135-room Cooperstown beauty. It shows off a sprawling veranda that overlooks Otsego Lake and is a quick swing into town. The Otesaga has hosted most Hall of Famers through the years, as well as other fan-favorite players and celebs. Play all the bases at the resort: Book the aromatherapy signature massage at the intimate Hawkeye Spa. Play golf at the historic Leatherstocking Golf Course, a special outing on the lakeside links. And take a dip in the outdoor pool, a perfect respite on a hot summer day, as is lounging poolside with a sip, the sun shining, and the distant chirping of a Baltimore oriole (of course). Info: otesaga.com.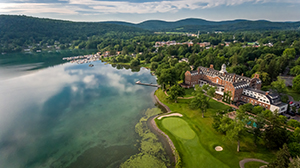 Otesaga
The Cooper Inn The funkier sister property to The Otesaga, with pops of color, and refined but unpretentious, this darling inn is a hit away from town and around the corner from the resort. Relax in the lounge with a glass of wine—you're more than likely to find other guests to geek out with over your favorite baseball team and just-purchased baseball card finds (there are many shops in town that sell them, as well as customized bats). Extra innings: Stay here, and you can take advantage of all the amenities at The Otesaga. Info: cooperinn.com.
EAT & DRINK
Brewery Ommegang New York State grew more hops and brewed more beer than any other state in the country between the mid-1800's and 1900. And Cooperstown played a big part of the brewhaha—and still does. Tour this brewery that famously produced the Game of Thrones specialty beer, sold globally, and be sure to stick around for a flight of beers as well as poutine, buttermilk fried chicken, even Hungarian Goulash, in the buzzy café. Info: ommegang.com.
Cooperstown Distillery New York State grains are the driving force behind this distillery that produces award-winning vodka, bourbon, whiskey, gin and rum, and is located just outside town. Take a tour and then hit the gift shop for fun items like a baseball-shaped glass bottle of vodka. Info: cooperstowndistillery.com.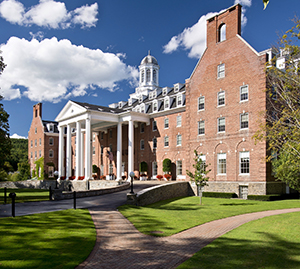 Otesaga
Origins Cafe A unique setting, this special restaurant is housed in a greenhouse, with flowers, plants and herbs, just miles from town. You'll sip on a glass of organic prosecco infused with strawberry sage and dine on locally sourced apps like the cheese board with local cheeses and entrées including meatloaf prepared with local grass-fed beef and homemade rosemary aioli. Even the lovely plates are made locally. Info: celebrateorigins.com.
1909 The name of this restaurant is a nod to The Otesaga Resort Hotel's original opening date, and the menu and concept are also a salute to a classic steakhouse—impeccable service in an elegant setting, serving the best steak, as well as classic sides you'd expect from a proper steakhouse, but edgier like the Mexican cream corn and Kennebec potato fries. The sweet spot: Linger with an after-dinner drink at the outside Fire Bar. Info: otesaga.com.
For more information on Cooperstown, visit thisiscooperstown.com.