BITS & BAILEY
The Who, What & Wow Of The World's Luxe Scene
By Bailey Beckett
Cheers, dears. Happy August. I know, I know: it's gross out there. Blazing heat and humidity? Au contraire, mon frères. That's what a lobby lounge is for.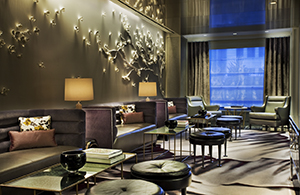 HOW "LOEW" CAN YOU GO?
Speaking of, the hottest lounge that will cool you off this summer is the Loews Regency New York – the only luxury hotel on Park Ave (north of 57th, I should say). A jewel in the city's hospitality echelon, the Loews is bursting with buzz around the clock, yet splendidly serene for its pampered guests, whether out of town or in for a stay-cation. Bailey had a wonderful weekend in this uptown oasis, which boasts 379 guest rooms that seamlessly blend iconic Art Deco design with modern sensibilities. Its expansive 24-foot high ceiling greets you upon entering its lobby, which includes a Brise de Printemps art installation by Brooklyn-based artist Nina Helms featuring 438 handcrafted dogwood flowers in various stages of bloom floating across the wall. The lobby isn't the only "oooh la la" moment. The Loews' rooms and suites are among the most spacious and tasteful in the city, treating its guests to soothing decor, Frette linens and bathrobes, smart televisions with movies on demand, ridiculously fast (and free!) Wi-Fi, personalized temperature control, and outlets galore: yes, it's a thing. It's the signature suites that are the sweetest. Ranging from 700- to-1500 square feet, they feature varying views of Central Park, Park Avenue, and the New York City skyline. Anchored by the Nate Berkus Apartment on the 21st floor (yes, Oprah's guy) some of the exclusive spaces include the Bohemian Suite, inspired by the eclectic aesthetic of SoHo; the Bespoke Suite which draws from New York City's vibrant fashion industry; the Glamour Suite, an interpretation of what might have been Marilyn Monroe's Park Avenue pied-a-terre.
Providing extra allure is the Julien Farel Restore Salon & Spa, which invented the "Power Beauty" menu. And how beautiful it is! The 10,000-square-foot haven offers the very best hairdressing, aesthetics, massage therapy, and fitness all under one roof. Julien Farel also includes a spa that features clinically proven Anti-Aging therapies to address sun damage, wrinkles, and other signs of aging without invasive surgery.
Beauty, luxury, scenery, serenity. You're tired, I know. It's time to really indulge. And there's no closer place than The Regency Bar & Grill, the hotel's signature restaurant and dining concept serving breakfast, lunch, and dinner throughout the week and brunch on weekends. Info: loewshotel.com/regency-hotel.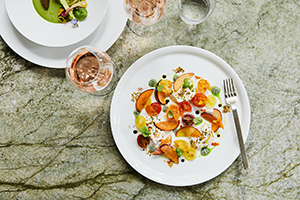 JOURNEY TO LE JARDINIÈR
World-renowned chef Joël Robuchon's legacy lives on. Joining his restaurant L'Atelier near the Meatpacking District is the new uptown hotspot Le Jardinièr, a modern restaurant helmed by Michelin-starred Chef Alain Verzeroli, Robuchon's longtime protégé.
Designed by Parisian architect Joseph Dirand, Le Jardinièr is a journey into a serene lush indoor garden that expertly contrasts its urban Midtown Manhattan. Green marble walls, plants, vertical louvers, and floor-to-ceiling windows are the perfect setting to enjoy the vegetable-driven menu. An approachable yet refined restaurant, Le Jardinièr features a menu of vegetable-driven dishes, rooted in classic French technique. Local, seasonal fruits and vegetables, fresh herbs, and greens are complemented by wild and sustainable fish, meat and poultry. Signature dishes include Roasted Lobster, Cherry Smoked Potatoes and Coralline Bisque; and Dover Sole with Lemongrass and Leeks.
"Le Jardinièr is focused on modern cuisine utilizing the highest quality vegetables, seasonal ingredients, and fresh herbs," said Chef Verzeroli, who most recently worked with Robuchon at Château Restaurant in Tokyo, where his guidance led to three Michelin stars for eleven consecutive years. "This is the way sophisticated diners are eating globally, and we intend to fill this niche in Midtown. Our menu offerings fit seamlessly into the timeless, light-filled interior." His team at Le Jardinièr includes Robuchon veterans Executive Pastry Chef Salvatore Martone and Head Baker Tetsuya Yamaguchi.
The sensational fare is the perfect match for Beverage Director Roberto Longo's inventive cocktails for a hot, hot, summer day. The La Mademoiselle made with gin, homemade grapefruit cordial and topped with Prosecco Brut Rose will cool you down in no time. The bar stocks a wine list of 350 varietals from the French regions of Champagne, Burgundy, and Bordeaux as well as New York State wines from the Finger Lakes. Info: lejardinier-nyc.com.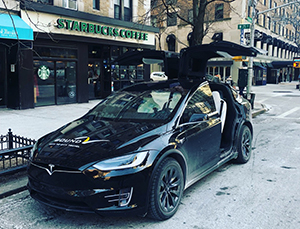 A BOUND-IFUL JOURNEY
New York to Boston in a Tesla for $99? What? That's what Bailey said upon learning about the new Bound car service. Forget Amtrak or the Delta Shuttle! Imagine making the four-hour drive to Bean Town in this state-of-the-art electric car that rides with the precision and comfort of a Bentley. Bound is a ride-sharing venture where four passengers (and one driver) make the trek in a semi-autonomous driving Model X Tesla—which coasts on just one electric charge! Booking is made online, and riders are allowed one medium suitcase and two personal-sized bags (like a backpack or purse). "Our mission is to create a transportation service that transforms the way people perceive and pursue city-to-city transportation, offering a prestigious and personalized professional service that is startlingly affordable, and widely accessible," says Bound founder Hamlet Aguilar. "Bound is a way for travelers to bypass the stress of driving (fuel, navigation, traffic, tolls, and parking), bus, or train transportation. Instead, experience relaxing, affordable, professionally driven regional trips in one of the coolest vehicles on the planet." Info: ridebound.com.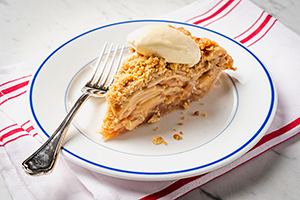 SAY BONJOUR TO BONHEUR
Bailey is obsessed with Bonheur Ice Cream & Pie an ice-cream shop offshore in Easton, Maryland that features a dozen or so haute flavors, as well as four signature pies, milkshakes, and espresso drinks housed in a scrumptious atelier inspired by Coco Chanel. Its artisanal offerings include Coconut Custard and Apple Streusel; Sprecher Cream Soda and Root Beer; ice cream fantasies like Raspberry Ripple, Bananas Foster, Espresso Chocolate Chip and, of course, Classical Vanilla. And don't forget Bonheur's signature Ice Cream Waffle Sandwich! The décor is as chic as the menu: pale green, pink, salmon, and grey wall coverings exquisitely frame the space, with custom-made grey-blue leather booths providing extra Jolie. Creating the illusion of haute couture dresses are pleated sunset-gold lampshades that hover over the banquets. Even the powder rooms burst with hauteur: pink elephants greet the belles, while blue welcome the beaus. "Ice cream is a timeless guilty pleasure," said Paul Prager, Bonheur's proprietor. "We wanted to capture that sentiment and take visitors on a sensory journey that brings the past to present, but with elegance and refinement. Bonheur is an ice cream atelier in its most exquisite form." Info: Follow Bonheur Ice Cream & Pie on Facebook @bonheureaston.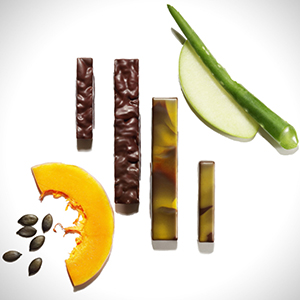 HOT FOR CHOCOLATE
It's time to savor La Maison du Chocolat's new guilt-free Bien Être, a new line of the delicious treats that prove chocolate can be a healthy snack indeed. Collaborating with Dr. Thierry Hanh, a nutritionist known for balanced gourmet food, La Maison du Chocolat's Chef Nicolas Cloiseau has created a collection of five new chocolate varieties that are sweetened with natural sugars like honey, pureed fruits and nectars blended into a rich ganache combining hazelnut oil for creaminess with natural chicory fiber for substance. The new flavors, which are dairy, gluten, and sugar-free, are also high in vitamins and antioxidants, like turmeric, squash seeds, and pomegranate. Info: lamaisonduchocolat.us.