AROUND TOWN
West Chelsea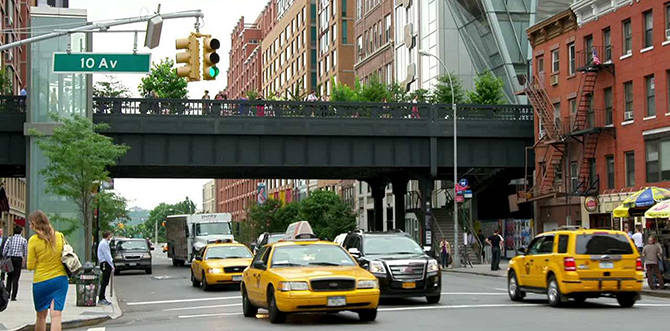 By TJ Johnson
West Chelsea has changed! No more shooting grungy music videos showcasing the dark days of the West Side in NYC, or calling Tenth Avenue "death avenue." They're gone.
Now it is one of the most sought-after places to live in and invest money. Tenth Avenue now features the famous High Line Park and numerous luxury living spaces. Let's discuss a few new buildings featured in West Chelsea and some places to eat and enjoy.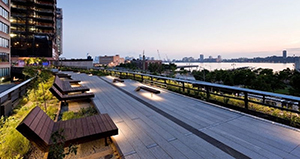 The High Line
CALEDONIA
Located at 450 West 17th Street, the Caledonia offers luxury apartments ideally situated in the middle of West Chelsea, the West Village, and the Meatpacking District. The building is a unique and great addition to West Chelsea. It is worth taking a tour. Located on the High Line and featuring an interior meditation garden, The Caledonia embraces the idea of bringing the outside indoors with a perfect balance of energy and serenity. HM White Site Architects created a contemplative Zen garden and landscaped rooftop courtyards and gardens. Green roof technology is employed to create an effective "false ground" landscape that supports a range of flexible exterior uses. Handel Architects, along with the interior design firm of Clodagh, designed the building and its interior spaces to reflect both the city and nature. A block-through promenade draws natural light to the interior spaces and welcomes residents with a refreshing sense of openness and movement.
The Caledonia offers exquisite studio, one- and two-bedroom residences offering incredible views of the city. Pricing starts at $1.2 million for a studio.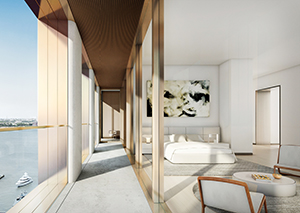 551 West 21st Street
551 WEST 21ST STREET
Our next building designed by the world-renowned Norman Foster is a new luxury condominium building. This 19-story condo will feature 44 individual residences, each ranging from two- to five bedrooms, as well as three penthouses which will occupy the top three levels of the tower.
Each residence in this building will have access to private elevators. Expansive windows will allow residents to enjoy ample natural light throughout the day, while the upper-level units will enjoy magnificent panoramic views across the Hudson River. The designers and developers of 551 West 21st Street have implemented vigorous flood-proof measures, including a waterproof concrete wall which will sit 6 feet above ground level. The bottom two floors of the building will be occupied by 303 Gallery, featuring contemporary artwork. Pricing starts at $1.95 million for a one bedroom.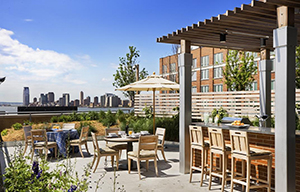 Caledonia Property Terrace
VESTA 24
There are some beautiful boutique condo buildings located on the High Line. One, in particular, is called the Vesta 24 Building. When the building was constructed in 2004, it sold out in 36 hours! Located at 231 Tenth Ave on the High Line, this is a full-service condo with a full-time superintendent. Each unit boasts floor-to-ceiling windows with a great modern design and a beautiful wood facade. It is a rare opportunity to buy one of these apartments because they are never available. Right now, my team has a beautiful two bedroom/two bath apartment (#7B) for sale in the Vesta 24 Building. The owner is offering free maintenance and taxes for a year. This is an excellent opportunity to own a beautiful apartment on the High Line. Pricing is $2.15 million.
THE NEIGHBORHOOD
Now let's talk about a couple of my favorite restaurants when I'm wandering the streets of West Chelsea. With the arrival of the High Line and a neighborhood rezoning, it has spurred developers and world-class architects to soar to new heights. Along with this transformation also comes trendy new restaurants to search out.
El Quinto Pino Located on West 24th Street, it is one of my favorites and it is one of the most delicious tapas places in the city. El Quinto Pino is a multi-regional Spanish tapas bar from Alex Raij and Eder Montero. Big ideas in small food are born here every day with a menu rooted in tradition. You'll enjoy the unique take on classic dishes and an off-the-beaten-path wine list. Above all, they are inspired by the tapas tradition and their ability to bring people together. Info: elquintopinonyc.com.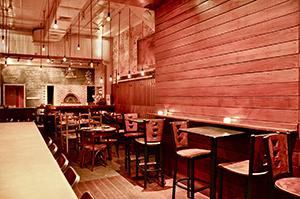 Ovest Pizzoteca
Ovest Pizzoteca is located off the High Line on West 27th Street. If wood-fire pizza, delicious pasta dishes, and a great bar is your "thing," I suggest spending some time here the next time you are nearby. You will not be disappointed when you leave this great establishment. Info: ovestnyc.com.
Thelonious "TJ" Johnson is a licensed broker with Brown Harris Stevens, teamed with Ogden Starr, who enjoys sharing his tips on his favorite city. If you are looking for a residence in West Chelsea—or anywhere else throughout the city—contact the Starr-Johnson Team for your buying/selling needs. Info: bhusa.com/real-estate-agent/thelonious-tj-johnson.