When Only the Finest Will Do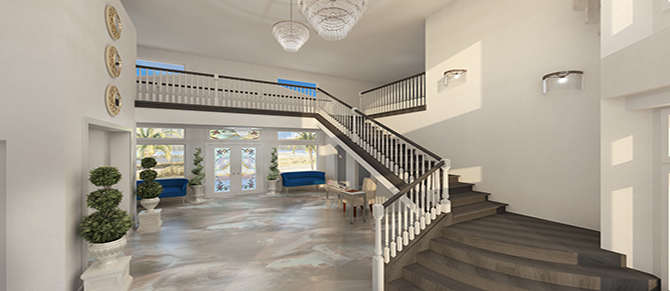 The most elegant Senior Assisted Living Residence has been created in Las Vegas, Nevada. Sylvia Cortez, wife of renowned International Boxing Hall of Fame Referee Joe Cortez, announces the opening of La Mansion Luxurious Assisted Living Residence, a new exclusive family owned 5-Star senior assisted living residence nestled beneath the scenic mountain backdrop of Northwest Las Vegas. La Mansion is a spacious and lavishly adorned 18,000 sq. ft. private estate on five acres that has been transformed from the Cortez's private home into 12 luxurious suites that will provide all-inclusive exquisite accommodations coupled with optimal assisted care for individuals or coupled seniors.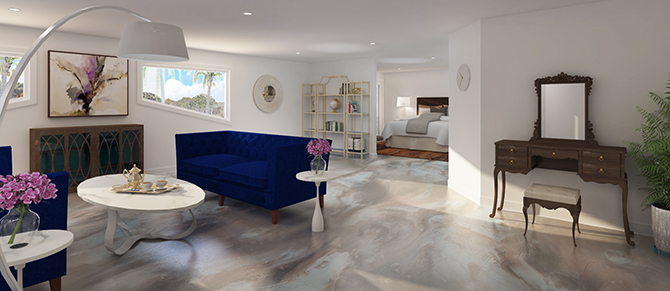 The transformation to La Mansion from the Cortez family grand estate into a premier boutique senior assisted living residence has been a family's labor of "Love". The Cortez family resided at this family estate for 15 years. The home was customized to accommodate one of the Cortez daughters who was seriously injured in a car accident. The family was placed in a position where they had no experience or complete knowledge of how to provide care for their daughter. With the training and support from the amazing staff at Loma Linda Hospital, the family was given the tools to provide the special care to handle her life with compassion, patience, love and respect. "This life changing event brought our family even closer. We have had an amazing support system in place all these years. Because of all the adversities we were faced with, we have made it a priority to pay it forward", says CEO and Founder Sylvia Cortez.
La Mansion will be a place of solitude and peace coupled with lots of fun and excitement. It's a place called "Home" where you are loved, pampered and provided personalized service designed exclusively for their residents. "We will consistently strive to offer an environment of unparalleled luxury and comfort, while providing the highest level of personalized professional care to our residents", adds Mrs. Cortez.
The residents of La Mansion will enjoy a lifestyle that will help them maintain their independence with first-class amenities such as a cozy, relaxing wine and cocktail lounge, 20-seat movie theater with luxury seating, private dining room for family and friends, professional gym with juice bar, sauna and steam room, and a creativity room with crafts and games. "Our goal was to create the most elegant assistant living setting for our residents that is unmatched to any other senior assisted living community", adds Sandy Cortez, daughter of Sylvia Cortez, and CFO of La Mansion.
With only 12 private suites on the premises, La Mansion offers an environment that is reminiscent of living at home. Each suite is custom designed with the finest in-home embellishments. Every room offers its own unique amenities such as beautiful balconies, built-in bookcases, and large walk in closets. The suite's private bathrooms feature granite countertops, custom lighting and roll-in showers, as well as other Americans with Disabilities Act compliant amenities.
La Mansion will also provide 24-hour premier concierge service which includes personalized resident care plans, world-class chef prepared healthy cuisine, pharmacy services and medication management, daily housekeeping and linen/laundry services, town car transportation, salon and barber services, and nearby hospital, shopping and restaurants. La Mansion is a place where you will feel safe and secure with controlled access and 24-hr Emergency Response Program.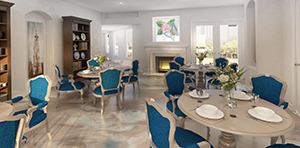 The quiet and serene La Mansion estate provides great outdoor activities to take advantage of the beautiful Las Vegas climate. Residents can enjoy the beach entry tropical pool and clubhouse, breathtaking gardens and walking paths, raised herb, flower and vegetable gardens, putting green and bocce ball court.
La Mansion is a senior living experience unlike any other. It's a place where you are not just a resident, but an extension of our family. The La Mansion Care Team is passionate about providing the finest in care while getting to know their residents, as well as the families of their residents.
If you have a loved one in need of assisted living care, and you want only the finest in luxury assisted senior living accommodations, La Mansion deserves your attention. Senior couples, where only one or both may be in need of care, can remain together at La Mansion for one cost.
La Mansion Luxurious Assisted Living Residence is currently pre-leasing for their new residents. To schedule a visit or if you have any questions, please call RaNae Cemensky, Executive Director at 702-428-4232, or visit www.LaMansionLV.com.