THE PIERREPONT
Classic Living in Brooklyn Heights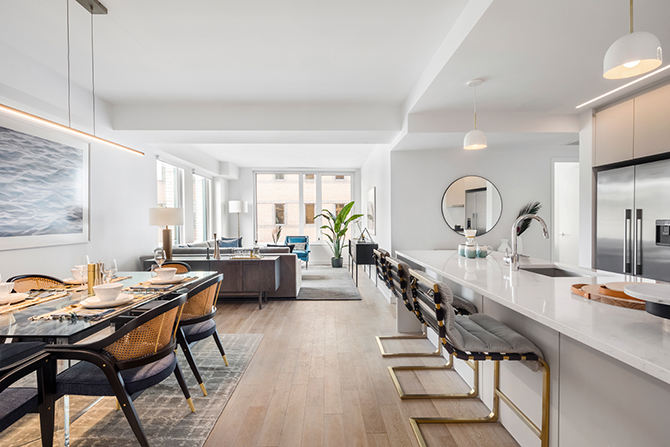 By Cecilia Ruane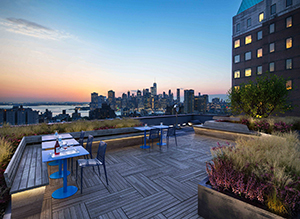 Situated in the heart of Brooklyn Heights, The Pierrepont is setting a new standard of luxury living in Brooklyn. Offering 90 high-quality apartment homes developed by Jonathan Rose Companies and Bedrock LLC, this collection of generously proportioned one- two- and three-bedroom layouts is conveniently situated in close proximity to outstanding schools, parks and cultural destinations.
In keeping with the developer's mission to create green communities that are healthier for both residents and their neighborhoods, The Pierrepont features an environmentally-sustainable design that both meets and exceeds the standards of Enterprise Green Communities and promotes - healthy living, resource conservation, and energy efficiency.
PEACE OF MIND
"Our goal was to create an intimate sanctuary set within the heart of the exquisite shopping, dining and cultural experiences offered in Brooklyn Heights," said Jonathan F.P Rose, President of Jonathan Rose Companies. "With a green design that gives residents peace of mind regarding their environmental footprint, well-rounded amenities to support physical and mental well-being, and expansive floorplans to increase comfort and ease, The Pierrepont invites residents to enjoy the benefits of Brooklyn Heights in a full-service building. Residents will have access to the neighborhood's great schools and parks and an alternative to brownstone living."
Designed by Marvel Architects, the building is a modern interpretation of the historic Brooklyn Heights neighborhood. Comprised of two 20-story towers, The Pierrepont is connected by a two-story common area centered around a garden and children's play area.
"With a great deal of respect for the architecture of the neighborhood, the design reflects the deep-rooted history of Brooklyn Heights," said Carole Bloom of The Bloomstone Group. "Along with the help of Marvel Architects, we created the perfect balance of blending with the charming pre-war architecture and storied past of the neighborhood and standing out with a forward-thinking design."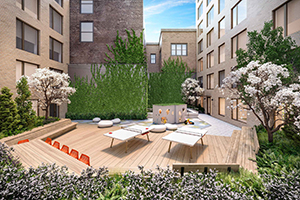 THE RESIDENCES
The spacious one, two, and three-bedroom residences, designed by Fogarty Finger, offer expansive windows with views of Manhattan, the East River, and Downtown Brooklyn, bringing in incredible natural light, generous closets, and elegant finishes. In keeping with the sustainability-centric view of the building, the kitchens feature environmentally-friendly stainless-steel appliances, solid-surface counters, ceramic tile backsplashes, and oversized islands. The bathrooms include large walk-in showers, spacious double vanities, and a four-fixture master bath. There are also vented washing machines and dryers in each unit and some units also have their own private outdoor terraces.
AMENITIES
The wellness-centric amenities include a fitness center, yoga and training room, meditation room, library, and private Zen garden. The Pierrepont also offers a private dining room, living room, an indoor and outdoor children's play area, and a rooftop terrace. Located within these common spaces is a selection of curated artwork commissioned from an impressive roster of emerging female artists. The artwork was chosen to act as an extension of wellness and to support the residents' wellbeing, both physically and emotionally.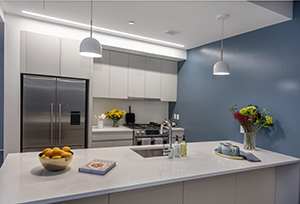 The Pierrepont offers convenient access to the city, surrounding historic communities and beautiful waterfront parks including the 85-acre Brooklyn Bridge Park, a destination for outdoor activities thanks to its beach volleyball courts, landscaped foot trails, themed playgrounds and stunning city views. Amazing restaurants, gourmet grocers and specialty purveyors of imported and organic food and the Brooklyn Borough Hall Greenmarket also border the Pierrepont. Within close proximity are some of New York's top schools and cultural centers.
The Pierrepont is a partnership with Jonathan Rose Companies, Bedrock Real Estate Partners, JD Capital USA and Nuveen Real Estate. "We were pleased to invest in such a fantastic location," said Steven Li of JD Capital USA. "Brooklyn Heights is one of the most sought-after neighborhoods in the city, and The Pierrepont will make a great addition."
Leasing is exclusively being handled by The Bloomstone Group; pricing is $4,250 (one bedroom), $6,500 (two bedroom), and $9,250 (three bedroom).
For more information on The Pierrepont, visit thepierrepontbk.com.