WOMEN AND CARS
A Happy Marriage
By Jenny Peters
Did you know that women in America buy 62 percent of all the new cars purchased in the U.S.? And that women influence more than 85 percent of all car purchases made in America? That's according to a Cars.com study, which also shows that women are more practical than men when it comes to their vehicles, with practicality at the top of their buying considerations.
But what about all those women with the need for speed and style in their automobile? The ones who love to feel the wind in their hair and the muscle power of a true sports car under their control? At a recent "Heels and Wheels" event held exclusively for female automotive writers, that offered 18 vehicles from all the major manufacturers for test driving, the two cars that every woman there was vying to drive were the two sleekest (and fastest) of the bunch.
So ladies, if the spirit moves you to get out of the sedan or SUV you've been happily tooling around in, consider these two incredible vroom-vroom cars that will make you feel like a female James Bond (seriously, the Aston Martin described is Bond's newest car, featured in the coming 25th iteration of 007's cinematic life).
THE 2019 ASTON MARTIN DBS SUPERLEGGERA
DBS Superleggera will make any car lover's heart beat just a little bit faster. Driving it just makes you love it even more, as its V12-cylinder twin-turbo engine turns your heart into a juggernaut just by mashing on the gas.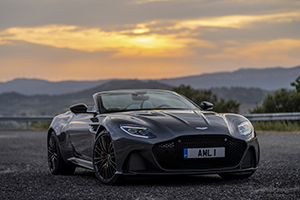 Flick your hair back and really get going in the Volante, the convertible version of this Aston Martin dream car. With a carbon-fiber body, rear spoiler and that incredible 5.2-liter engine, you can get this beauty up to 211 mph—of course, that might entail a visit from the cops, depending on where you open her up—and a more legal pace will still make you feel you're encased in a space ship, handling the controls with aplomb.
Everything about this British-made car is beautiful, from its gorgeous exterior to the incredibly comfortable and spacious leather-encased interior with automatic temperature control, Bluetooth audio and streaming, as well as options featuring ventilated seats and a Bang & Olufsen audio system.
It's no surprise that driving a spectacular vehicle worthy of James Bond doesn't come easily. The 715 horsepower Aston Martin DBS Superleggera's base price is $303,695 and it gets 22.9 mpg. But this is a car any woman (or man) who loves to drive is bound to adore. Info: astonmartin.com/en-us/models/dbs-superleggera.
THE 2019 CHEVROLET CORVETTE ZR1
Perhaps the quintessential American sports car, the 2019 Chevrolet Corvette is taking things to a whole new level with the ZR1. This supercharged version has a 6.2-liter V8 with a fuel-injection system that delivers 755 hp. Why, you might ask, does anyone need that kind of power?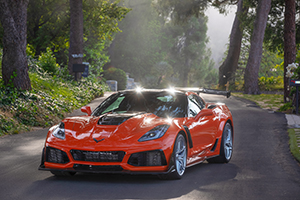 For the sheer enjoyment of driving it is the easy answer, for this Vette is not only a roaring beast but also a complete attention getter. There's no way to drive this animal without drawing stares, whether you're on a crowded city street or letting out on a highway's straightaway. There's nothing at all practical about the Corvette ZR1, from its low-slung front (be careful around speed bumps and potholes) to the two-seater interior to what can only be called its "joke" trunk.
But a car like this makes you want to throw caution to the wind, grab the one you love and take off with a roar. You can do that for a base price of $121,995 and if you have to ask what the gas mileage is, this supercar probably doesn't belong in your garage. Info: chevrolet.com/performance/corvette-zr1-supercar.