RUSSIAN SAMOVAR RESTAURANT & PIANO BAR
Authentic Cuisine With A Side Of Entertainment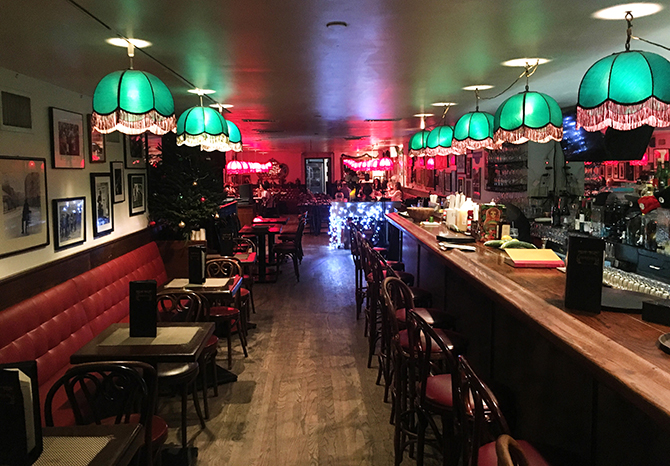 By Peter Elston
The legendary Russian Samovar Restaurant and Piano Bar is unique in its long-standing ties with the art community and has become a home for many famous Russian poets and writers who keep coming back for the exceptional dining experience.
Owned by Roman Kaplan and managed by his daughter Vlada Von Shats and her two sons, Michael and Nicholas, Russian Samovar offers some of the finest Russian cuisine in New York. Vlada, who has a background working for film studios in Los Angeles, joined the family business back in 1993. A decade later, she opened two nightclubs—one in New York and one in Miami—before she returned to Russian Samovar full time in 2016 to help add to the restaurant's culinary and entertainment offerings.
A THEATER DISTRICT ORIGINAL
Enjoy a culinary experience in the 19th-century accented dining room, complete with picturesque folk print conveniently located in the Theater District. Some of the lunch delicacies offered include the traditional Russian beet soup Borscht and Chicken Frikadelki soup (Chicken Meatballs and Vegetables in broth). Other musts include the Potato Vereniki (Potato Dumplings served with sour cream), Pelmeni (Chicken and Veal Dumplings), and Grilled Chicken Shashlik (Marinated Chicken Thighs grilled to perfection).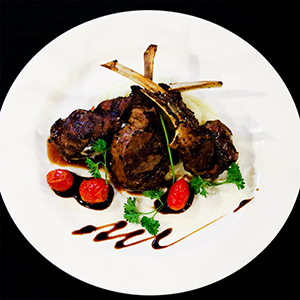 A TOAST TO VODKA
Aside from its authentic Russian dishes, the restaurant is known for its 26 flavored vodkas prepared in-house and include such favorites as Ginger, Horseradish, Lemon, and Cranberry. The craft of house-infusing vodkas is a tradition that goes back to restaurant proprietor Vlada's childhood when her mother used to infuse vodka with various fruits and berries from their garden—a recipe that is still used in the restaurant today.
Pair the flavored vodkas with delectable appetizers such as the Beluga and Osetra caviar, Blinis filled with salmon or caviar, the Assorted Fish Platter (in-house cured Salmon Gravlax with Dill, Smoked Atlantic Salmon and Smoked Butterfish), Vol-au-Vent (Wild Mushroom Puff Pastry), and Pate Russe laced with brandy. Indulge in the signatures entrees which have put Russian Samovar on the culinary map. Dishes like Shashlik Karski (Rack of Lamb marinated in Georgian spices), Beef Stroganoff, Veal Pozharksi (Ground Veal and Breast of Chicken Cutlets), Chicken Kiev, and Chicken Tabaka (Chicken Split and Grilled) are unforgettable.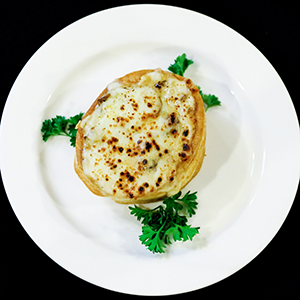 A SWEET ENDING
For dessert, diners can relish in the Zapekanka (Russian Cheesecake), the Soviet-inspired Crème Brûlée, or the Medovik (layered Honey Cake) to name a few. The Honey Cake with honey vodka is a favorite childhood dessert of Vlada's, made with infused vodka. "I have fond memories of the recipes that I grew up with, and we continue to share these in the form of delectable dishes and desserts with our customers today," says Vlada.
Since the restaurant attracts many creative guests, poetry readings are held throughout the year, and a classically trained pianist performs nightly. Russian Samovar features live interactive theater with award-winning actors, performances from a rotating cast of musicians, the Gypsy Fun Trio playing traditional Russian music on violin and guitar, and a Jazz Blues Brunch with the Uptown Jazz Company. The restaurant continues to be a significant supporter of the art community. Says Vlada, "If you want a truly Russian experience, you must come and visit us…but expect it to be loud!"
For theatergoers, the restaurant offers a special prix-fixe menu Monday through Friday until 7 pm.
For more information on Russian Samovar, visit russiansamovar.com.