BEN & JACK'S STEAKHOUSE
A Rare Find!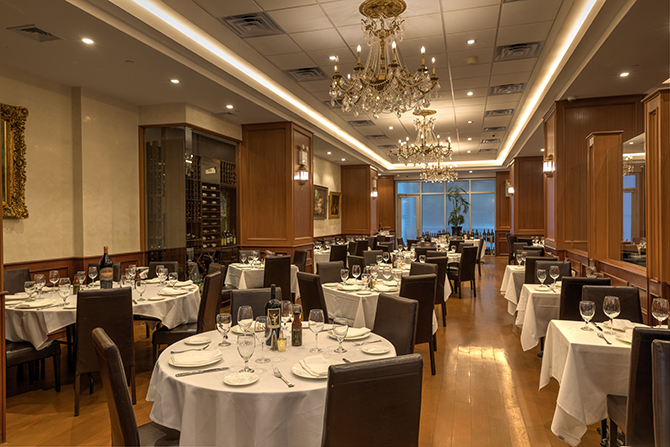 By Anne Raso
If your idea of the perfect dinner is a giant Porterhouse for two served sizzling with natural juices and butter, then Ben & Jack's is the kind of place you'll want to sink your teeth into. Started just under 25 years ago in the Flatiron District by former Peter Luger waiters, it is now conveniently situated in Midtown at 219 East 44th Street (between Second and Third Avenues).
Ben & Jack's takes the idea of a traditional New York steakhouse and gives it a sophisticated modern flavor. The space is posh with wood detailing and is frequented by businessmen as well as girls on the town. The service is super attentive without being intrusive. The wait staff—who know the menu by heart—will help you choose a memorable meal customized to dietary needs and preferences.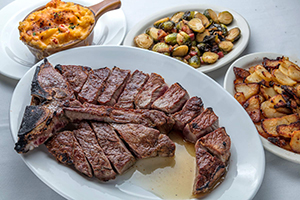 PORTERHOUSE PRIDE
New York Lifestyles recently visited to see for ourselves. We were wowed! We will venture to say that the giant Porterhouse can serve three or more (as opposed to just the advertised two). The meat was done perfectly—medium rare just as we requested—and we loved that it came sliced in the old-school New York traditional steakhouse style. Our mouths watered as our server drizzled it with the meat juices and butter and recommended the house steak sauce, which has a slight citrusy tang from the addition of orange juice. Something unusual happened at the table that endeared us to Ben & Jack's: our server encouraged us to pick up the bone and dig in. That certainly separates this steakhouse from others. It may have a super classy steakhouse atmosphere but the customer enjoying their meal and feeling relaxed always comes first!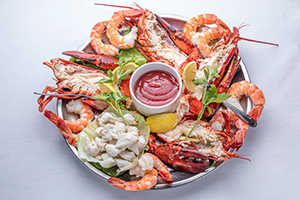 A FAMILY BUSINESS WITH HEART
Affable Executive Chef Admir Alibasic is part of this family business who started from the ground up. Not only does he know steak, Chef Admir is very hands-on about all meat and produce coming into his kitchen. He tells us, "At B&J's, I have worked every position in the restaurant and being chef now allows me to continue to show my passion for food in every dish. I have been with the restaurant since 2006 and am lucky enough to see where it was then and where it is now. Hard work went into creating a legacy and it continues to grow and will only get better. The restaurant has won many hospitality awards and we treat the customers as if they are family." Because of this the restaurant has won many hospitality awards.
Hospitality aside, it's the steak that takes center stage here. "We put extra care in selecting and dry-aging the beef." They have the process of preparing the meat down to a science after carefully studying what yields the most tender and flavorful cuts. Reveals Chef Admir, "We dry-age and hand-select the cuts of beef our own way. Being able to incorporate my background in food science, I have created a dry-aging box with the optimal temperature and humidity to produce a perfectly dry-aged steak. Our USDA Prime cuts are kept in a temperature and humidity controlled walk-in box."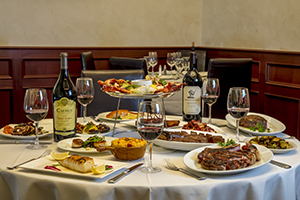 MORE THAN JUST MEAT
He adds that the restaurant has no magic formula for success outside of going out of their way to find out what their customers want: "B&J's has created a name for itself by providing top-quality ingredients, impeccable customer service, and consistency to every person that walks through the door. When you go with B&J's, you will never go anywhere else. The business will continue to work hard to be the top steakhouse in America."
The caring goes beyond the guests. Keeping a happy team in the kitchen and out on the floor is also important. "We treat each other with respect, and the owners have created a management team that works together. It is a family business, so we like to make the customers feel comfortable and at the same time enjoy their experience. Our wait staff has been with us for a minimum of six years and some even ten years," explains Chef Admir.
The chef tells us that Ben & Jack's also works with the charity community. He remarks, "We give back via events where I cook for groups ranging from 400 to 4,000 people. The charity events that I work with are the American Cancer Society, City Harvest, St. Jude's, Food Bank, Sarcoma Foundation and many more."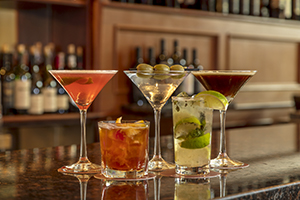 A BEST KEPT-SECRET
Many celebrities and professional athletes have already deemed it their favorite steakhouse of choice. On any night you might see Charles Oakley, Daymond John, Chris Brickley, Bill Cowher, and Skeery Jones ordering their favorite beef cuts and seafood; celebrities of the political sort also frequent the steakhouse. You'll find groups of ambassadors and other world dignitaries reserving their regular spots since it's just steps from the United Nations.
But probably the best deal in town can be found here at lunch. The midtown eatery has a fabulous $32.95 lunch special served daily that includes a generous sized Filet Mignon with mushroom sauce or a 12-ounce Sirloin. This prix-fixe lunch includes a mixed green salad or onion soup, potato, vegetable, dessert, and coffee or tea; it is a can't miss deal! If you have a non-meat eater with you, there is a wonderful selection of seafood specialties available. The kitchen staff excels at seafood preparation and many regulars make Crab Cakes their "go to" appetizer. Says Chef Admir, "The Sea Bass, Sesame-Crusted Tuna, and even Seafood Pasta are like no other."
And, of course, to accompany the meticulously assembled menu, an excellent wine list is always in place, offering great wines complementary to the outstanding menu.
For more information on Ben & Jack's, visit benandjackssteakhouse.com.