ENTREPRENEUR'S CORNER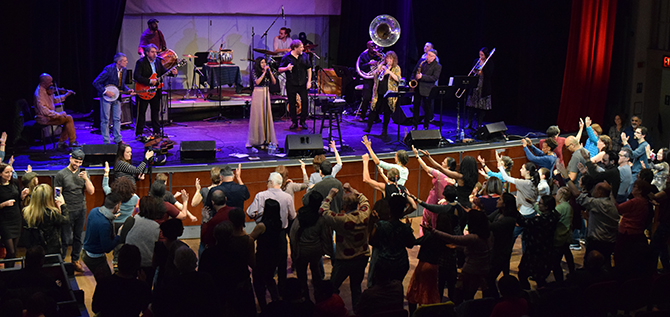 Global Mashups show, Bollywood Meets Global Roots Blues
By Ellen Kodadek, Executive & Artistic Director of Flushing Town Hall
Ivividly remember the moment I fell in love with the arts. An actor sailed through a scene of a Kabuki performance, his stark white outfit illuminating the Lincoln Center stage. I felt myself being transported from Midtown Manhattan to 17th-century Japan. At the age of nine, I was riveted. I had never before experienced such breathtaking beauty and majesty. It showed me the possibility of a world I never knew existed.
My parents, who were refugees of World War II, deeply valued the arts and passed their passion on to my siblings and me. Growing up in Manhattan, we didn't have much disposable income, but they always made sure to take us to museums, ballet, and theater performances. They viewed the arts as essential—as vital to living as water and air. I have always worked to honor the values they instilled in me.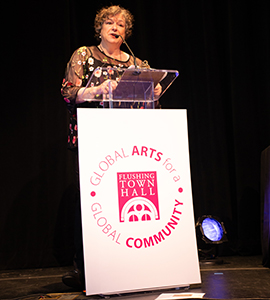 Ellen Kodedek
THE ARTS FOR ALL
Throughout my career in arts and culture, a common theme has been my drive to renew, rebuild, and expand institutions and their arts programming for the entire community. My family's history and experience with disenfranchisement drives my passion for bringing opportunities to people who may not otherwise get to experience the arts.
During my time as Director of Presentations and as Director of Public Relations and Marketing for Snug Harbor Cultural Center in Staten Island, I helped to expand educational and cultural programming and curate performances of all disciplines and sizes. I was proud to serve on the team that reopened the music hall on the grounds at Snug Harbor, New York City's second oldest theater, which had been closed for 30 years.
I consulted with Lincoln Center before moving upstate to work in Corning. Eventually, I joined Southern Tier Celebrates in Binghamton as Chief Executive Officer, facilitating the merger of First Night Binghamton and the Binghamton Summer Music Festival. This included developing multiple regional community revitalization initiatives and transforming both programs into a year-round, multi-disciplinary arts organization that offered arts education, enrichment for seniors and at-risk youth, festivals, concerts, theatre programming, art-making, and public art projects.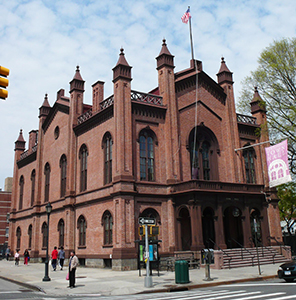 Flushing Town Hall
A GLOBAL COMMUNITY
I brought my skills and cultural experiences back to the city over a decade ago to join Flushing Town Hall. I was thrilled to become part of an institution in the most diverse county in the nation, where more than 160 languages are spoken, and people of all different backgrounds come together to work, play, and learn.
At Flushing Town Hall, I took on the roles of both Executive and Artistic Director. Wearing both professional hats means I manage and lead the many moving parts of a thriving cultural institution. As Executive Director, I am involved in finances and fundraising, work with our Board, and oversee staff. Since taking the helm at Flushing Town Hall, I've paid off inherited institutional debt, completed multiple capital projects, expanded our budget, and grown our incredible, dedicated staff and audience numbers.
My role as Artistic Director feeds my curiosity about the world, artists, art-making, communities, and traditions. What I most enjoy is the opportunity to travel in search of innovative, fun, and awe-inspiring artists and performers who I book for our curated programming.
I've implemented signature programming to attract wider, more diverse audiences from across New York City and beyond, including our ongoing popular series, Global Mashups, which pairs performers from two distinct regions to perform with dance lessons, individuals sets, and then blend their works onstage to create a new and unique sound.
Also, even though I curate arts from abroad, I never lose sight of what's in my backyard of Queens, home to countless jazz legends, from Dizzy Gillespie to Count Basie. We honor this tradition through jazz programs throughout the year, including our annual Queens Jazz Orchestra performance, led by National Endowment for the Arts Jazz Master Dr. Jimmy Heath, and our monthly jazz jams, where I get to watch homegrown talent begin to soar.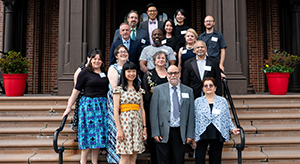 The FTH staff
LOVE FOR THE ARTS
As my parents did with me, I foster an appreciation of the arts by providing multiple opportunities to experience and enjoy the arts—on stage and in our gallery. I enjoy watching the eyes of a child open wide as he or she witnesses a marionette on stage or learns how to dance cumbia in one of our workshops. I've seen first-hand what joy, discovery, and comfort the arts bring. It's important to me that we cultivate a love for the arts by offering school performances and family programming. We even open up our doors for 13- to 19-year-olds to enjoy any performance—through a Teen Access Program—for free.
Every day, my work allows me to engage with a wide range of people, including staff, donors, artists, and collaborators. Working with people from different cultural, social, and educational backgrounds is incredibly rewarding, and my role is a privilege, a challenge, and an opportunity—all at once.
Whether it's offering low-cost performances, workshops for seniors, or high-quality arts for children, it is important to me—and all who are part of Flushing Town Hall—to make sure that everyone has the opportunity to experience the arts and to see themselves represented on stage and in the gallery. No matter their income, age, or background, all people should have the chance to fall in love with the arts and discover a world of possibilities, just like I did at Lincoln Center many years ago.
For more information on Flushing Town Hall and its exhibits, concerts, and workshops, visit flushingtownhall.org.