TIAGO AZEVEDO
Fantasy With A Touch Of Whimsy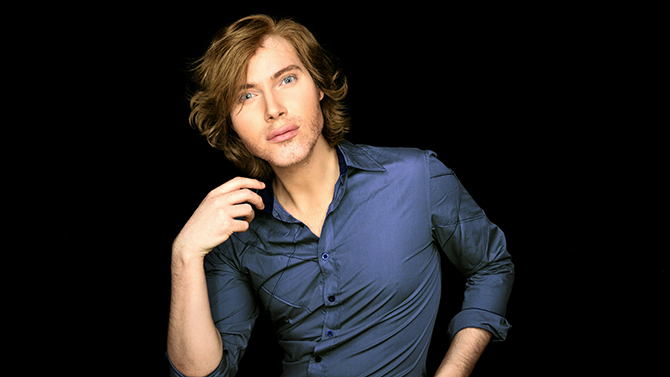 Tiago Azevedo
By Bailey Beckett
The paintings are striking. Steeped in underground comics and fantasy, with a slight touch of whimsy and overly pronounced eyes, Tiago Azevedo's creations have gained notice in the art world, as well as fans of science fiction and comic books. His work, steeped in the Lowbrow Movement, blends classical techniques with contemporary concepts.
Though based in Germany, the artist will be exhibiting his "Historical Characters" series in New York this winter, returning after showing pieces from his "Fairytales" and "Religion" works. Also a YouTube star (youtube.com/user/tgoazevedo), he gives viewers lessons in painting history through art tutorials. Raised in Portugal, the artist is also an architect, where he collaborated on the restoration of Hotel Bayerischer. He talked to New York Lifestyles about his career, inspirations and his unique embrace of fantasy and surrealism.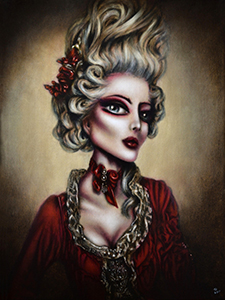 Marie Antoinette
How would you describe your artwork?
My work can be described as being part of the Pop Surrealism/Lowbrow Movement. This is a mixture of contemporary traits from our pop culture like music icons, fashion models, and movie stars using classical techniques from the Baroque and pre-Raphaelite period. I paint mostly portraits of imaginary characters that touch me the most. My paintings look like they come from a very long time ago; however, you can find in them characteristics from our culture, like the anatomy and expression of the face. I also manipulate the dimension of the eyes because I believe they are the perfect way to directly transfer to the canvas the emotions I want to convey.
Where do you find inspiration?
My great source of inspiration is often related to fantasy, religion and history, including the tales of the Brothers Grimm. I have always been passionate about fables; I love the imaginary, the mystique, and fantasy inherent to them. When I moved to Germany, I became more and more in love with the original version of fairytales, which although a little darker, contain much more juice and matter to work with. The Baroque and the Middle Ages also fascinate me because of the strong contrast and dramatic effect. Painting is a way to say everything I want, everything that fascinates and inspires me in one single image.
What do you hope people get from your art?
Since almost all of my paintings are portraits, people simply fall in love with the way the painted figure looks at them. Curiously these are the people who often purchase my originals, because they fell in love with the subject. It makes me feel like my mission of stimulating emotions within people has been fulfilled.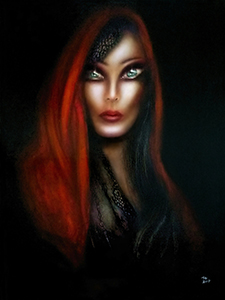 Describe your technique?
I identify myself more with oil painting because it allows me to work with multiple layers and achieve the transparency effect I desire. It also provides my work with contrast and vibrancy of colors that would be difficult to achieve with any other technique. Oil also dries a lot slower, so this gives me time to work on details.
What is your journey? How did you begin?
As a child I spent most of my time painting figures related to fantasy, it was always something that was a part of me, but when it came time to choose a career, I chose architecture, due to the typical social pressure that art is not a profession. I later found out that this was completely far from the truth. Architecture was undoubtedly an impulse to paint since it was through the studies I carried out that I discovered that painting was something that was my nature. Painting gradually took over my life, and I decided to make it a productive profession. I am sure I made the right decision because now I feel complete for doing something that is my true passion.
What is your favorite piece?
Interestingly, my favorite piece was the one I took to my first big exhibition at the Carrousel du Louvre in Paris. It is entitled "The Princess and the Frog," and it defines a transition in my style in which the characters, although still surreal, acquired a much more realistic feel. This exhibition was the one that struck me most because it was the first time I was exposed to such a large and influential audience.