TIME OUT WITH…
Kate Connick
By AP Connolly
Kate Connick is leader and a deep thinker who genuinely wants to do her part in making this world a better place. The young fashion designer is the middle daughter of two famous parents, Harry Connick, Jr. and Jill Goodacre who seeks to understand others and is determined to fill the world with kindness, understanding and compassion. Her discipline, creative abilities, and sensitivity have resulted in the successful launch of Kate Connick Clothing which just partnered with Dream Downtown to host a pop-up in the lobby.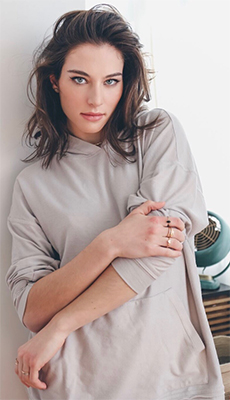 Kate began her design process two years ago when she drew two rings and a ribbon. The rings represent people and the ribbon represents a shared idea to bring everyone together. Kate incorporated this concept into her original designs by using rings, grommets, ribbons and cords. After starting with just two circles and a line through them to represent unity, she's now continuing to expand through her connection with others and desire to produce eco-friendly items. The designer wants to create clothing with a purpose and feel comfortable and confident all at the same time. For Kate, fashion starts with confidence and to feel confident, you must feel comfortable. She's unique and special and definitely braced for great things ahead.
Although you grew up in Connecticut, you have a special affinity to New Orleans. What was your childhood like?
My Dad is from New Orleans, so growing up we spent a lot of time there. New Orleans is a very special place to me, unlike any other city in the world. I'm honored to have a connection to such a unique place. I'm particularly fond of the food, music, and especially the people. Everyone's so kind and lively.
Your leadership skills were first noticed during your short time at Furman University. How did the your Piece of Mind movement begin?
I started Piece of Mind, an anti-bullying club when I was a freshman at Furman. The name comes from the idea that in order to achieve peace of mind, you must share a piece of your mind. I had a tough time in high school, like many others, and it was important to me to give back in college when I was in a better place. The idea was to have college students facilitate meetings with high school students going through a tough time to help them communicate issues in their school with a counselor present.
Unity is an important part of your life. Tell us about the symbolism of Rings and Ribbons and how you've incorporated them into your designs.
Before I even thought of designing clothes, I came up with the idea of rings and ribbons. It was around the time I was working on my Piece of Mind Club that I came up with the symbols by drawing two circles and a line through them. I then thought of how I could incorporate the message into designs. When I first started designing, I used grommets and rings to represent people and a cord or ribbon tying through them to represent a shared idea. This aspect of the brand is still very important to me and I continue to spread the love through connecting with others at events and trunk shows.
You have the ability to identify with all generations. How has this helped you in business and creating your fashions?
I've always been told I'm an old soul. I sometimes connect more with my parents friends than people my own age. My company has led me to work with incredible people from different generations. I started the business by asking anyone I knew with a fashion background for advice. I went to professionals who had their own line and this ultimately helped me get going. I wasn't shy to give the fashion industry a try and everyone I've approached has been tremendously generous and helpful.
What is it like being the daughter of Harry Connick Jr and Jill Goodacre?
I couldn't be more proud to have them as my parents. They are supermodels, literally. Their drive, creativity, energy, intelligence, and lovingness inspires me to grow and take on whatever goals I have. They are the reason I pursue dreams and want to make a change in this world. My family teaches me to live life to the fullest. I respect my parents for providing a safe and loving home for my sisters and I to grow up in and for always encouraging us to speak up and do the right thing.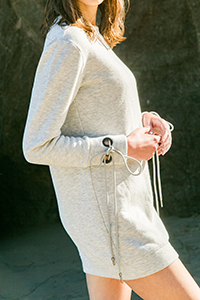 How does Kate Connick relax?
I recently got a defuser, which I'm obsessed with! I use eucalyptus, lavender, or mint to help me relax. I love to snuggle up with a book and some tea, journal or watch a show. I'm a big fan of the sauna where I typically meditate.
Where do you see yourself in 10 years?
In ten years, I hope to be married with kids and working on my clothing line. I hope to have opened up a few store locations and be starring in a psychological thriller TV show or film.
What is your advice to someone who wants to forge ahead and create their own path?
I advise anyone with an idea to be a leader if it's something he or she believes in. It's easy to have doubts and hold yourself back from fear, but don't let that get in the way of what you're trying to achieve if it's meaningful to you. Only you know what's right and don't let anyone hold you back. Believe in yourself and trust the process.