ENTREPRENEUR'S CORNER
Gale Sitomer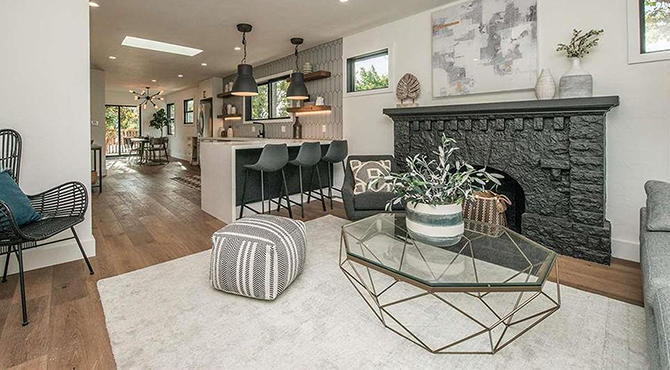 By Harry Brads
Living in New York City, residents are familiar with trying to get the most out of tiny spaces. Whether renting or owning an apartment in one of the world's most densely populated cities, square footage comes at a cost.
Ask Interior Designer Gale Sitomer, and she'll tell you that living here requires a creative set of skills. Home décor is an art, requiring expert spacing abilities, smart storage solutions, and multi-purpose layouts. Sitomer lends her expertise on maximizing your small spaces, or at least giving the illusion that it is, indeed, substantial. Gale says, "There might not be a way to make your ceilings marble-coated and 16 feet high, but there is a way to let more light in and to capitalize on the space you have.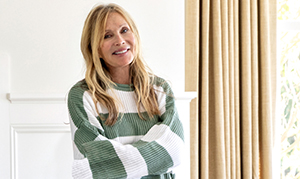 Gale Sitomer ©Gale Sitomer
IN THE BEGINNING
After a successful career in fashion and event production, Sitomer discovered her passion and talent for interior design while supervising the design and construction details of her residences and workplace.
Her passion has continued to this day. Her involvement in every aspect of the projects, plus the care she takes with each client, has differentiated Sitomer's work from others in the business. Her goal has always been to create an environment that her clients feel comfortable and love.
Today, Sitomer is accomplished in both residential and commercial projects. Gale Sitomer Interior Design focuses on timeless design, balancing subtle color, comfort, and functionality. Space planning, architectural elements, and lighting are as integral to the process as furniture, fabric, and color.
Whether meeting the demands of a New York City retail boutique, commercial showroom space, a city apartment or townhouse—even a beachfront retreat—service to her clients is as consistent as their endorsement of her work. She stresses that "just because your space is small does not mean you have to have small furniture. Using larger pieces, like an oversized rug or couch, will make your space feel larger." She also added, "Of course, the caveat here is that everything has to fit. An oversized couch plus an oversized coffee table, and an oversized chair just isn't going to work. You have to work with the floor plan and space you have.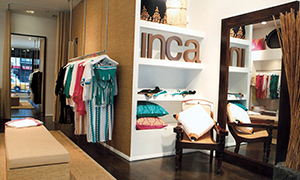 TRANSFORMING YOUR SPACE
The talented interior designer knows what it's like to live in New York City. She shared some of her to tried-and-true expertise with New York Lifestyles when converting your home or office into a livable place.
Lighten Up Sitomer believes lighting is truly the key to playing with the appearance of size. "Having both overhead lighting using ceiling fixtures in addition to ambient lighting with lamps is a great way to highlight a space," she says. "You can also install dimmers to control mood and amount of light, so it works with any occasion."
Keep It Tidy Clutter and mess make space feel tight and constricted. "Many of our clients collect various knickknacks throughout their travels, but having all of them on display looks busy and takes away from the space and the design," she explains. To make a room look and feel more organized, she encourages them to select a few of the most important items they have and showcase them.
White Is Bright Lighter colors are a good trick for keeping spaces looking open and airy. But Sitomer stresses light-colored ceilings are the key. "Keep your ceiling a lighter shade of white rather than painting it a deeper," she recommends. "Dark ceilings make the ceiling appear lower, and therefore, the room looks smaller. Some shades can also look flat or dingy, depending on the undertones." One of her favorite colors is Benjamin Moore's Moonlight White. It has just enough depth to make an impact while still reading as very bright.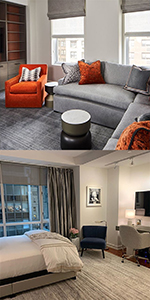 If you are renting, some landlords panic at the mere mention of paint. However, if you're currently stuck with dark walls, she recommends opening up the conversation with your landlord—especially if you plan on staying a while. Be sure to stress that you'll be painting the apartment a neutral color. She also notes to have samples of the new shade to share! "If they won't budge, cover those dark indigo walls with temporary wallpaper in a light hue. And if that's still a stretch, work in furniture or accessories in a light color."
Wall Décor "When trying to make your space appear larger, think of mirrors and artwork," Sitomer says. Mirrors in hallways and bedrooms will give the space the impression of depth and dimension, and artwork with vertical patterns will make the ceilings seem higher and the room more spacious.
Focal Drapery "For most projects, I use a neutral palette with dashes of color—understated and chic," notes Sitomer. "For dashes of color, I favor utilizing patterned drapery to accent my neutral base. Decorative curtains give rooms more depth and, in a sense, become the room's "artwork" as the fabrics pop from the otherwise pale canvas."
For more information on Gale Sitomer Interior Design, visit gsitomerdesign.com.