NORTH OF THE BORDER
A Journey To The Best Wellness Retreats
By Ruth J. Katz
Ineeded a getaway: A yoga retreat in the mountains? A trip to a ranch nestled on the Montana prairie? A stay at a New Age health-minded spa in California? I did not want the hassle of a long journey which would abrogate the singular purpose of the sojourn. Nevertheless, I wanted both a change of gears and a dollop of culture—and then it hit me: Oh, Canada! I settled on Quebec City and Montreal (a short train ride connects them), both of which would offer a taste of something exotic, but require minimal travel.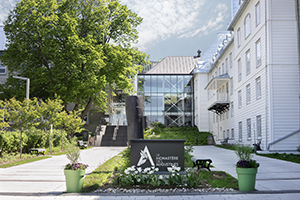 MDA Entrée
QUEBEC CITY
La Monastère des Ausgustines The monastery-cum-retreat (yes, a functioning monastery, with ten nuns!) is described on its website as "a unique healing experience in the heart of Old Quebec"—and that it is. This gorgeous, serene retreat is comprised of older buildings, which were once a part of the Hôtel-Dieu de Québec monastery (established in 1639), and twentieth-century additions; the new facilities are architecturally cunning, complementing the existing stone edifices with massive swathes of glass walls and walkways. The intrepid nuns who sallied forth from France to establish the first hospital on the continent (north of Mexico) were dedicated to healing the sick. (The archives and museum are a must to check out.)
Today this is a sanctum of culture, caring, and comfort. There are daily meditation walks, yoga and movement classes in disciples like Qi Gong, holistic health evaluations, aromatherapy, and spa-oriented treatments that focus on health and well-being rather than on beauty-oriented indulgences. I opted for a serious nutrition-counselling session and a dreamy reflexology treatment. Bring walking shoes, as you'll want to explore enchanting, quaint Quebec City. Info: monastere.ca/en.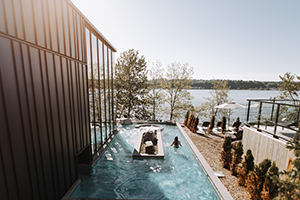 Strom Spa Quebec
StrØm Spa Nordique Before I left Quebec City, I test-drove this newly opened spa, a grown-up toyland dedicated to thermotherapy. What, you ask? Practiced for thousands of years, thermotherapy is a therapeutic treatment dedicated to restoring balance to the body through water—first with a hot soak, then a cool (or even freezing) splash, followed by relaxation. Touted to revive the physical and spiritual, I first experienced this ritual at the sensational Scandinave Spa in Whistler, British Colombia. Here, at the StrØm Spa, however, the concept is taken to new, mind-blowing heights: There are at least 20 different options, for both that warm-water bath and the chilling plunge, capped off with a form of rest. Among the choices for relaxation: An area with outdoor, hanging rope-hammock-chairs, which are like cosseting cocoons. (All the outdoor spaces overlook the Saint Lawrence River.) A particularly novel option is a pool with a self-propelling current that pushes you along a circuitous route, as you grasp a flotation noodle. There are outdoor and indoor whirlpools, thermal and Nordic baths, a Finnish sauna, a eucalyptus steam bath, thermal and Nordic waterfalls, and relaxation areas with fireplaces. (Ask about the fir-, cedar-, and spruce-tree essential oils from Canadian companies.) Info: stromspa.com.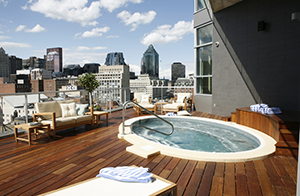 Hotel Le Crystal Spa Hot Tub ©Hôtel Le Crystal
MONTREAL
Amerispa I next headed to Montreal, where I checked into the modern Hôtel Le Crystal, and capped off my morning's travel with a trip to the hotel's spa, to give a more conventional treatment a whirl. The hotel itself stocks amenities from a Canadian company, Oneka, and the spa offers beauty and body treatment products from Sothys Paris, Valmont Cosmetics, and Esthederm. The spa also has an outdoor hot tub and indoor pool and features a menu of traditional treatments, including facials, skincare and body treatments, mani-pedis, and a view of the city, to boot. The hotel offers very capacious rooms—more like suites, with a welcoming living room, a well-equipped railroad kitchen, and a cozy bedroom set off by a sliding door. It was a very convenient home base for me while in charming Montreal. Info: amerispa.ca.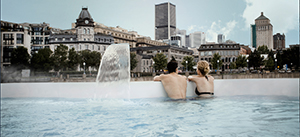 ©Bota Bota
Bota Bota Spa A former, multi-deck ferryboat that is sturdily docked in the Saint Lawrence River has been ingeniously transformed to a floating Disneyland for water-inspired wellness. Adjacent to the vessel is a vast, terraced garden with more water facilities, saunas, steam baths, and lounging areas. My favorite: Giant beanbag chairs and hammocks adjacent to the river; I blissed out for an hour. Three different saunas, each with a glass window or wall, offer a city or river view….it is sensational. A restaurant with healthy fare is also on board. Info: botabota.ca.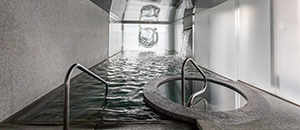 Scand Bain + Bassin
Scandinave Spa My interest in the thermotherapy spas was kindled, as I mentioned, in Whistler, on the western edge of Canada, at the breathtaking indoor-outdoor Scandinave. Here, at the company's facility in Montreal, there is no outdoor space, but the indoor facilities offer plenty of the requisite heat treatments (it dilates blood vessels and increases blood pressure), cold plunges (closes pores, and help shift the blood pressure as it flushes toxins out), and spaces for relaxation, which help to regulate the cardiovascular system. The spa offers a menu of diverse body treatments (no aesthetic/beauty treatments), as well, and I chose a lomi-atsu massage, a fusion of the relaxing lomi-lomi from Hawaii and the harmonizing Japanese shiatsu. This is a delightful inner-city destination that delivers a fine out-of-body experience! Info: scandinave.com.
For more information on Quebec City and Montreal, visit quebecoriginal.com.
© 2020 Ruth J. Katz All Right Reserved
HEALTHFUL BITES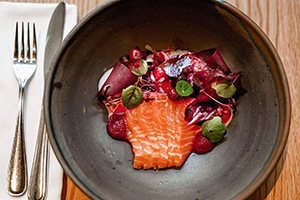 ©Ikanos
Quebec City Breakfast at La Monastère is an adventure—because it is taken in silence. The house-made treats include tasty grain cereals, dried fruits and berries for yogurt, and a few indulgent treats like French toast, but made from the most toothsome whole grains. It is dinner, though, that astonishes. Salads and vegetables are so fresh it's as if the produce were just plucked from the garden. Meals usually include meat, poultry, fish, and vegetarian options, all flavorful and worthy of seconds. The concept of the outstanding restaurant L'Orygine is focused on using locally produced ingredients, to create organic, inventive, and fresh dishes. Everything is highly original, appetizing, and prepared with flair—a braised leek risotto, for example, is accented with sunflower emulsion and marigold flowers.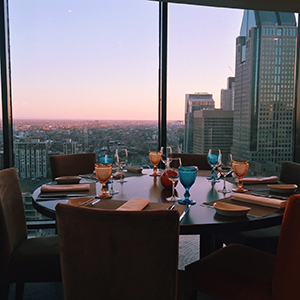 ©Portus360
Montreal I savored delicious cuisine at Portus 360, a delightful revolving restaurant in a high-rise, featuring fine Portuguese fare—fresh, flavorful, fabulous. The restaurant is like a beacon in the city's skyline, offering a panoramic view as well as show-stopping cuisine, with seafood front and center. Whether cod, shrimp, whelks, or scallops, each dish is plentiful and palatable beyond description. Seafood reigns, as well, at Ikanos, a Greek eatery that features refined and appetizing combinations—like Arctic Char, celery puree, marinated vegetables, pea shoots with beurre-blanc sauce. The fare at Jatoba was highly touted in The New York Times Style magazine a little over a year ago; the menu of this Asian-inspired temple of flavors will seduce you from the first bite to the last. Dumplings, sushi, sashimi—all a fusion of tangy flavors—astonish with their myriad layered spices and beautiful presentation. You will be eager to return to Montreal if, for no other reason (and there are plenty of other reasons), to dine here again and again.