BITS & BAILEY
The Who, What & Wow Of The Luxe Scene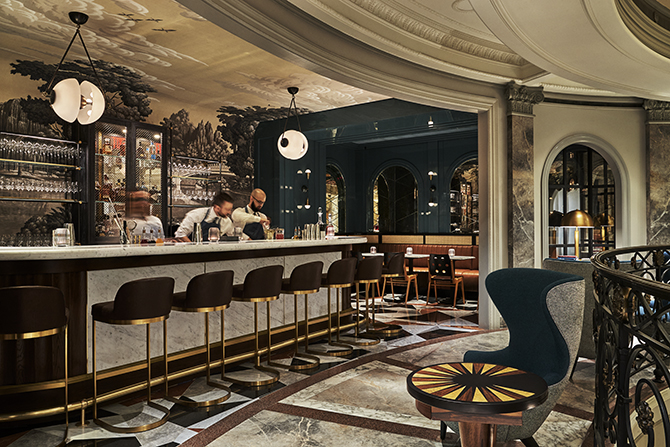 Bergdorf Goodman
By Bailey Beckett
Cheers, dears. I'm settling into 2020 quite nicely ensconced in my creamy, cashmere Upper East Side bubble. Always surveying the luxury lifestyle scene, I'm filled to the brim with tasty morsels to stoke your wonder.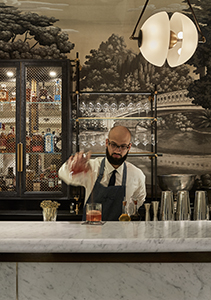 Bergdorf Goodman
RAISING THE BAR
Everyone knows Bergdorf Goodman isn't just a store but a destination: a full day's worth of heaven complete with shopping, beauty and culinary delights. Its BG Restaurant on the 7th floor has long been a meeting place for Centurion card-packing socialites and city power brokers, and now it has a brother: Goodman's Bar, across the street in Bergdorf's three-story men's mecca. The luxury bar and restaurant by Michelin-starred chef Austin Johnson and Master Sommelier Dustin Wilson is a casual and dashing space that marries excellent cuisine with masterful wine and spirits in a setting that evokes European bars and cafes.
Witness a bespoke hand-painted mural by de Gournay accented with decorative lighting by New York-based design studio Apparatus and avian photography by Australian artist Leila Jeffreys. The dining room is furnished with vintage Franz Schuster chairs, while seating in the rotunda features custom backgammon tables and wingback chairs by Tom Dixon. "Our goal was to create a discreet, in-the-know hideaway that's both timely and timeless—the kind of place you seek out from locals while traveling or that special recommendation from your favorite globetrotter," says Bergdorf Goodman Men's Fashion Director Bruce Pask. "It's a mix of the perfect all-day café in Paris, that cozy craft cocktail bar behind an unmarked door in Kyoto, and that Aperitivo bar in Milan that makes the best version of your favorite drink. All of that in one special spot, right here in NYC at BG."
Complementing the cocktail offerings are Johnson's dishes with a modern interpretation, including house-made tagliatelle with white truffle and Parmesan and seared scallops with salt-baked celery root, roasted apples and pickled Meyer lemon, among others. Info: bergdorfgoodman.com/c/bg-restaurant.com.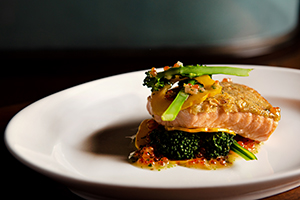 ©Liz Clayman
SPECTATE THIS!
Hudson Yards is a curious experiment that has not exactly tickled Bailey's fancy, but one of its lures has gotten my attention: food. The shopping mall/neighborhood is dotted with several high concept restaurants that have attracted big city gourmands. One of which is Tavern by WS (that's Wine Spectator magazine. For those in the know, it's the seasonal, contemporary American brasserie by restaurateur and developer Kenneth A. Himmel and Wine Spectator Publisher Marvin R. Shanken offering market-driven dishes with innovative takes on American classics.
Led by Executive Chef Eli Kaimeh (formerly of PerSe and Gramercy Tavern fame) and Master Sommelier and Beverage Director Michaël Engelmann (of The Modern), Tavern by WS has a classic brasserie feel and an approachable and contemporary menu. Rooted in a classic American technique, Chef Kaimeh has created a menu where seasonality plays a prominent role. Also of note is the highly curated wine collection, featuring vintage bottles and the most dynamic wines-by-the-glass selection in New York. Tavern by WS is also smack dab in the heart of Hudson Yards and enjoys views of Thomas Heatherwick's Vessel, The Shed, and the river. Indeed. Bailey was impressed and might consider the sojourn to Hudson Yards now that his passport has been renewed. Info: thetavernbyws.com.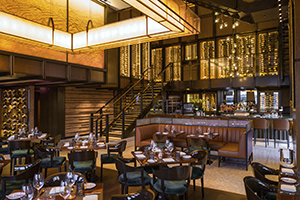 Baccarat
DESTINATION DC.
Worth the trip to the nation's capital is the secret Washingtonians want to keep to themselves: Martin's Tavern, an 87-year-old bar and restaurant in tony Georgetown. But there's nothing elitist about this legend. With a menu of comfort foods and a fully stocked bar of favorites, it's more of a Cheers-type of attraction, with one caveat: its enviable place in history.
The restaurant has been a staple of life in Washington since its opening and has hosted nearly every political notable. Martin's Tavern is where JFK proposed to Jackie on June 24, 1953, and you can even sit at the same table (booth #3). It's also where Nixon enjoyed Martin's meatloaf (booth #2), and Harry Truman dined with his family while a Senator from Missouri (booth #6). While the menu is not exactly Michelin, it's nevertheless classic and tasty: steaks, chops, seafood and fresh pastas are good for what ails 'ya. The restaurant has stayed in the family, too. Owner Billy Martin, a fourth-generation Martin, helms the ship with the gravitas and gusto that has made it the go-to place for DC revelry. Info: martinstavern.com.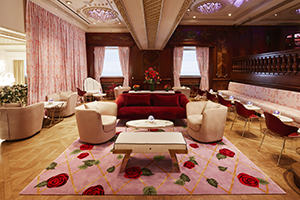 Plaza Hotel Elle Decor Cafe
DESIGN TRENDS
The Elle brand is one of the most formidable names in publishing, and its Elle Décor title has become a true tastemaker in design. You only need go to The Plaza Hotel to see it with your own eyes. The Elle Décor Collection teamed up with the hotel to turn part of its Rose Bar into the Elle Décor Café, a pop-up offering tea service and cocktails in a chic, redesigned ambiance by a team of exquisite talents, including interior designer Sasha Bikoff.
The menu is filled with sweet and savory tastes (finger sandwiches, macaroons), but it's the impeccable, light and refreshing feel that has gotten most of the attention. Guests can actually purchase furnishings on display, including a swivel accent chair with a contemporary barrel shape and a solid wood interior frame, barstool in a dusty rose velvet fabric with a swivel that moves it both up and down, and a marble console and side table with white marble tops resting on metal frames. Much of the design is outfitted in what Bikoff calls "uptown toile," featuring hues of lavender and rouge. "It is a great showcase for the many stylish furnishings in the Elle Décor Collection," says the brand's Director of Licensing Americas, Eva Platini." Info: wayfair.com/brand/bnd/elle-decor-b42765.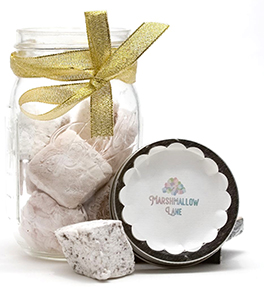 YUMMY
Speaking, errr, writing, about delicacies, I'm obsessed with a new line of marshmallows from the appropriately named Marshmallow Lane. The new treats started and made personally by Beth Feldman, are quite simply delicious, and inventive, too. Feldman, a media veteran who heads her own New York-based public relations firm, includes flavors like Oreo Cookies & Cream, Tate's Chocolate Chip Cookies, S' mores, Strawberry Cookies & Cream, and Chocolate Nutella. "I think I have been obsessed with marshmallows since I was little, but it wasn't until I visited Le Marais district in Paris where I became hooked," Feldman says. "After my daughter graduated high school, we visited France and wandered into one of many bakeries that sold flavored marshmallows." She tried to find something comparable in the US, but when she didn't, she recreated them herself. Feldman started purchasing some mallows online through Etsy, but "while the marshmallows were tasty, they still missed the mark. As the saying goes, if you want something done right, you do it yourself, so when I turned 50, I bought myself a KitchenAid mixer, began researching recipes and Marshmallow Lane was born." Voila! Info: marshmallowlane.com.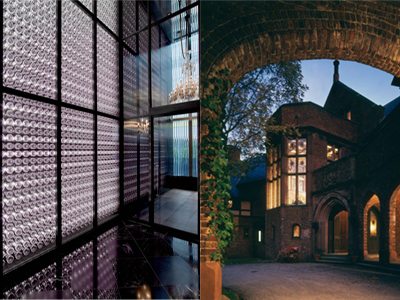 Baccarat - Blantyre
CHIC RETREATS
Two of my favorite destinations are the Baccarat Hotel in midtown and Blantyre in the Berkshires, which both offer VIP service in impeccable settings. So, it's no surprise they've partnered together to provide the ultimate town "City Nights Country Lights" experience. The new package includes two nights at the Baccarat (with cocktails, Champagne, tea, breakfast, and a 90-minute treatment at the Spa de La Mer). Then it's two nights at Blantyre, which you will be ferried to by helicopter. There, you'll be accommodated in a manor house, enjoy private Champagne in the nation's only Dom Perignon salon, dinner for two at the Conservatory, a special spa treatment and breakfast.
The $15,000 cost may be a mouthful, but who needs college savings for the children? It's called scholarships, kiddos. Mom and dad have some luxuriating to do. Info: baccarathotels.com/offers/city-nights-country-lights.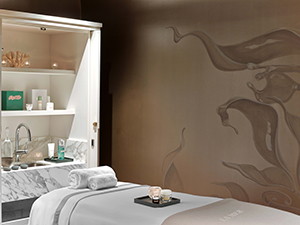 Spa de La Mer
FINALLY…
Still need a little bit more luxury this month? How about a two-hand massage at The Spa de La Mer, the most expensive of its kind offered in New York City. With two therapists performing seamlessly synchronized therapeutic movements, guests are enveloped in relaxation while enjoying two times the benefits of a traditional massage. Beyond the enhanced sense of tranquility that this instills, guests will also enjoy a variety of health benefits, including improved circulation and quicker muscle recovery for active lifestyles. Priced at $750 for 1.5 hours. Info: baccarathotels.com/spa-de-la-mer.