AN EASY HOME MAKEOVER
Smart Ways To Make It Look Like New
By AP Connolly
There is nothing quite like the feeling of a home refresh. This Bronxville duo is sharing everything you need to know about taking on a spring makeover.
Officially founded in 2016, Hackett Interiors is a passion project between two sisters, Meghan Hackett-Cassidy and Erin Hackett. Meghan has been working in the interior design industry for over ten years. With her little sister's background and expertise in marketing and business operations, the two decided to join forces in the launch of Hackett Interiors—the Bronxville, NY-based interior design firm known for its incredible mix of high and low, its sophisticated yet functional projects, and its adored sister duo behind it all.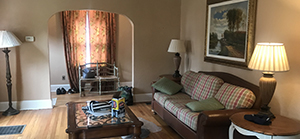 Before
SPRING AHEAD
The transition of seasons plays a significant role in how homeowners feel and function within their spaces. Meghan and Erin take on many homes and design projects throughout the year and emphasize the importance of adding and removing specific details and décor items to create a home that flows nicely with the change of weather, specific seasonal occasions, indoor/outdoor living, and beyond.
Most recently, the duo worked on a stunning home renovation project with a unique client—their aunt and uncle! After 20 years, the clients finally decided to revamp their comfortable home. Without question, they enlisted the help of their nieces, Erin and Meghan, to lighten up and refresh the formerly dark and dated space—something many homeowners look forward to doing when spring rolls around.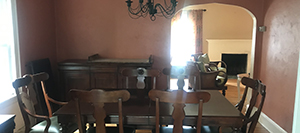 Before
The first trick to refreshing an outdated space is to give it a clean slate. The best way to do this is through a fresh, neutral, light, and bright paint. White is exceptionally clean and crisp and can provide a beautiful backdrop for the warmer months. In this home project, the Hackett sisters also brought in a wide variety of light layers through pillows, blankets, lighting, and window treatments to add pops of color and detail.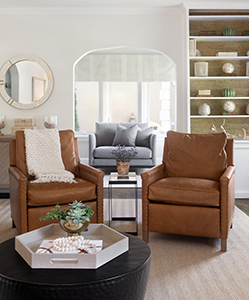 After
DÉCOR FOR LESS
Additionally, you don't have to spend a lot of money on décor items that can make space feel brand new for the change of seasons. Look towards new bedding, fresh sheets, switching out the trinkets in your bookshelf to represent the season, modern coffee table books, pillows, etc. Then, you can focus on the higher-end statement pieces that can make a more significant difference in your home, such as a good quality sofa, armchairs, and a dining room chair set. Remember, if you are feeling overwhelmed by a makeover, you don't have to go all in. You can find a great balance between high and low so that you are still accomplishing a makeover and refresh while at the same time, not feeling like you are spreading yourself too thin.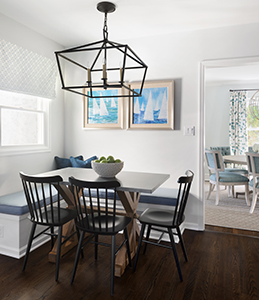 After
Ultimately, spring is the perfect time to take a look at your home and your space and decide what is working for you and what isn't. Bring in some light and playful pieces to brighten your spirits after a long winter and look towards manageable yet transformative updates that are sure to make your home and family happy.
For more information on Hackett Interiors, visit hackettinteriors.com.