ALINE YOUR MIND
The Hottest Pilates Studio Is In Your Own Backyard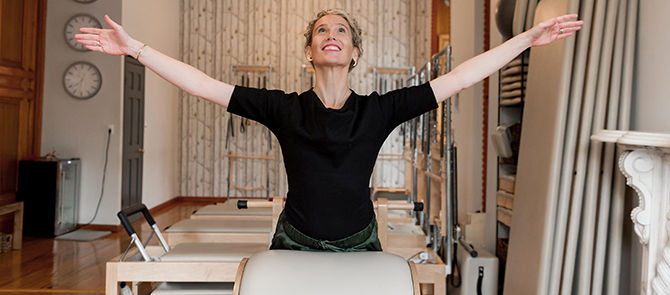 By Bailey Beckett
Carey Macaleer has an infectious energy and warm smile. But be warned! As the founder of Aline Pilates, she is one of the most disciplined and passionate Pilates instructors in New York, helping a diverse roster of clients with physical, mental and spiritual well-being. "We have a firm belief that by introducing Pilates into people's everyday routines, they will become stronger both mentally and physically," says Macaleer. "We have an incredibly diverse group of clients from all walks of life and ages, from teens to seniors, and our hope is that we can open their eyes to a sustainable Pilates program that will exist outside of our studio walls. We aim to give them a roadmap for keeping their bodies' strong over their entire life. As teachers we all work hard to keep synergy for the student."
Her Aline has become a haven for the most seasoned practitioners, fitness enthusiasts and those just looking for a life change, providing the most expert, seasoned training for a bursting clientele. New York Lifestyles Magazine caught up with the Pilates dynamo in her Carroll Gardens studio, a trendy Brooklyn neighborhood where she works with athletes, celebrities, VIPs, fitness enthusiasts and newbies from all walks of life.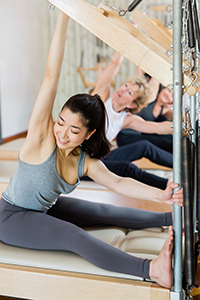 What is Pilates?
Pilates is an exercise regimen that strengthens the core (abdominals, hips, and lower back) while stretching, stabilizing and engaging the small muscle groups that often times are ignored. Pilates helps you to learn how to engage certain muscle groups that may not be firing so the body works evenly and systematically helping to improve balance, flexibility and deep core strength. Pilates can be done with no machines and on a mat, or on an apparatus.
What does Aline do differently than other studios?
At Aline we use a simple mantra "Strength for Life," which means using a classical Pilates approach tailored to each person's individual goals every day of their lives. We understand that our clients come to us with individual goals. These could be as simple as strengthening their core or toning their body, but a lot of times it represents something else happening in their lives. This ranges from recovering from a sports injury or strengthening their body after the birth of a child; we take a classical Pilates approach and tailor a program for each client to help them achieve the goal that is so important to their life.
Aline being a small local business and also women owned supports a number of not for profits. We have a series called "The Parlor Series" that is two-fold. We support local non-profits and artists with events throughout the year using our parlor as a place to create and embrace community. The other focus is continuing education. We have been lucky enough to have many 2nd generation and 3rd generation Pilates teachers guest teach in the parlor. Giving the Aline teachers opportunity to remain inspired and grow in their teaching is something that makes our studio stand out.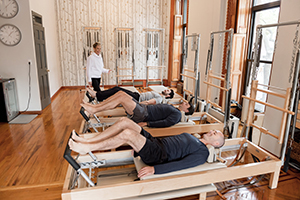 Tell us the benefits.
Many! It not only strengthens the core, but restores balance, leads to better alignment, improved posture, less pain—the list is endless!
What interested you in Pilates?
I was training as a dancer in a scholarship program one summer when I was 12 years old. Our day started at 7am with Pilates mat work. Years later, in college I was a dance major and also dancing professionally in companies in Philadelphia. I practiced Pilates to prevent injuries and keep my body strong through the Pilates dance season.
What don't people know about Pilates?
That it is very hard! Deceivingly hard, and the more you do the harder it gets. I sometimes hear that Pilates is a stretching workout. Yes, Pilates does incorporate stretching but Classical Pilates is one of the most intense workouts. It calls for complete control of the mind in order to concentrate on engaging new muscle groups.
In such a wired world, when people are on their phones or sitting at desks working on computers, what are the dangers of that activity (or inactivity)?
Sitting is the new smoking and tech neck phrases are so true and can be offset by doing Pilates. In our culture, because our work is so much on a computer/phone, we habitually have to be more forward in posture. This position of our head (because we are looking down) can cause headaches, weakness in the neck and lower back pain. Sitting increases tightness in the lower back and legs. In order to combat this, we need to make sure we are working to increase proper posture, stretching and strengthening of all the muscles that keep our skeletal system upright.
What are some misconceptions about Pilates?
That it's only for women. Half of my students are men. Men are looking around at their female partners who do Pilates and seeing them have less pain in the back, stronger core and overall less pain. More men are showing up to do Pilates for all the same reasons.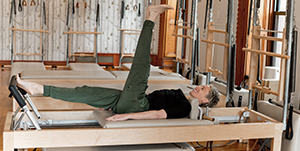 Tell us more about your pre-natal program.
Pre-natal and post-natal Pilates is a very different workout than the Classical Pilates workout. Our focus is to not just give a workout, but to help women gain specific support to offset certain health issues that can come up during pregnancy. We work with women in all their different stages of pregnancy and after to offer a lot of information on how to stay strong and connected throughout the pregnancy through specific pelvic floor and breath exercises. We work closely with physical therapists who are solely focused on women's health to make sure we are bringing the most we can to the women in front of us during a very special but sometimes complicated time.
Who is a good candidate for Pilates?
Who isn't? At Aline I teach all of the following: women, men, professional athletes, elderly over 80 years old, those with Parkinson's and MS, marathon runners, pre- and post-natal and many more.
What message do you most want to send about Pilates?
Do it because you want to continue doing all the things you love whether it's running, cycling, squash, tennis, golf, parenting. Pilates is the perfect partnership to maintaining a stronger core, spine and life.
For more information on Aline Pilates & Fitness, visit alinepilatesnyc.com.