YOU GO, GIRL
Meet Hannah Fastov, The Force (And Face!) Of Go Dash Dot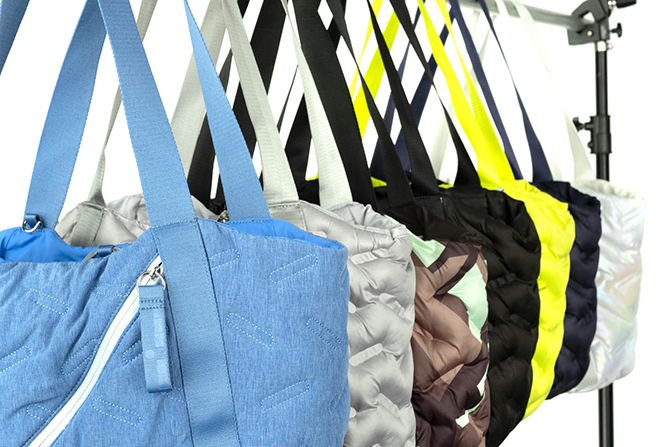 By Bailey Beckett
Hannah Fastov's fashion sense and market savvy belie her young age. Possessing confidence, knowledge, and know-how of a seasoned designer, it's hard to grasp she's not yet 30 (and looks ten years younger). But this mogul-in-the-making knows her stuff.
As the CEO and Founder of Go Dash Dot, Fastov, who previously worked in merchandising and product development for Brooks Brothers and Rag & Bone, has created a virtual market for something truly versatile: stylish bags for women that started for fitness enthusiasts and soon evolved as chic ways to carry regular day-to-day items, materials for work, clothes for the weekend, sweats for the gym, even days at the beach. It's for a woman who "work," "work out," and "go out," she says. With a collection that includes totes, backpacks, cross bodies and her own signature "puffle" (a re-imagined duffel worn as a hand or shoulder bag or crossbody), Go Dash Dot has generated a fanbase (including a few dudes who like the backpacks), brisk business and retailer base (hello, Neiman Marcus!). New York Lifestyles caught up with the straight-talking entrepreneur, who grew up in Westchester and now lives on the Upper East Side with her husband, over a brew at Java Girl.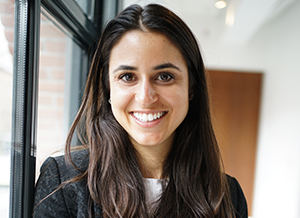 Describe Go Dash Dot
At Go Dash Dot, our ethos is simple: to create smart, sophisticated bags for the woman who does it all. Our collection of bags offers the perfect combination of fashion and function. With separate compartments for footwear, laptop, laundry pouch, cell phone, and additional pockets for all the necessities of life, the bag is machine washable. We believe you should always carry your independence.
What inspired this idea?
Go Dash Dot is the result of my quest for the perfect carryall bag. After starting my career in the fashion industry, I realized that if I wanted to work out, go to work, and see friends or family, my day had to start at 6 am end at 10 pm, and required a lot of stuff. But I hated having my shoes thrown in my bag next to my lunch, my dirty gym clothes on display, and my water bottle always opening in my bag. Based on a survey I took of over 100 women, and my personal experiences Go Dash Dot was born.
Where are the products sold? How can you buy it?
Go Dash Dot is sold online (godashdot.com), Neiman Marcus (neimanmarcus.com), Bergdorf Goodman (bergdorfgoodman.com), as well as boutiques, fitness studios, hotels, resorts, and spas across the country.
How do you determine the designs and styles?
My inspiration comes from major fashion houses. We look for trending silhouettes and fabrications and then redesign them to fit the Go Dash Dot aesthetic—fashionable, functional, yet timeless.
When did you realize Go Dash Dot was going to be a success?
I knew Go Dash Dot was going to work when I saw people reacting to the bags precisely the same way I did when I came up with the concept—immediately understanding the necessity of a bag like ours.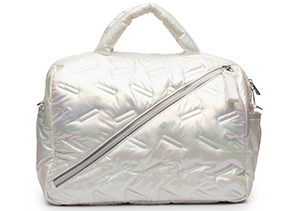 What have you learned so far in launching the company?
The most important lesson is to listen to the advice and opinions of others to assist in my decision making. As a young, female entrepreneur with minimal business experience, I often felt overwhelmed and underqualified to be making business decisions. But I have learned that no one knows Go Dash Dot better than me, and I am smarter than I think.
Where do you see the brand in five years?
In five years, Go Dash Dot will be a profitable omnichannel brand designing functional and fashionable bags for women, men, and children.
Who inspires you?
My team! My small but mighty team inspires me to bring my A-game to the office every day, and together we encourage each other to push Go Dash Dot to be more innovative, more creative, and more connected to our consumers.