ENTREPRENEUR'S CORNER
Jeff Leatham: Artistic Director/Author/Florist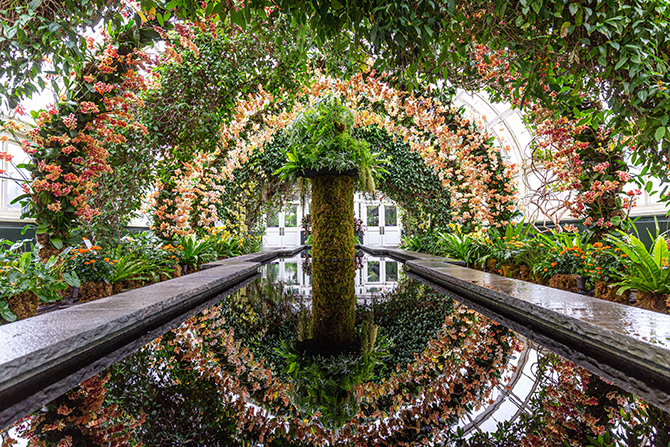 By Bailey Beckett
Color is the first and most important aspect of my work, always," said Jeff Leatham, on the eve of his exhibition Kaleidoscope at the New York Botanical Garden in February. "I want every gallery to be a different color experience for visitors as they move through them, like looking into a kaleidoscope."
Mission accomplished! Leatham's event, part of NYBG's 18th Annual Orchid Show (which runs through April 19th), earned rave reviews, including the New York Times, which cheered "February in the city is a notoriously depressing time. When it's not frigid and dark, it's wet and dim. But at this annual flower showcase in the Bronx, springtime seems within reach."
As part of the exhibit, Leatham filled every gallery of the Enid A. Haupt Conservatory with thousands of orchids, creating a "turn of the kaleidoscope" kind of experience. A Sunrise/Sunset Tunnel features arches of hanging orchids in shades of yellows, oranges, and reds, while he's filled the Hanging Baskets and Special Collections Gallery with a flood of green and white. Leatham worked for months with the Botanical Garden's senior curator of orchids, Marc Hachadourian, to create the exhibit, which also features a flower close to his heart: the Vanda Sunanda Jeff Leatham. That's right, it's named after him.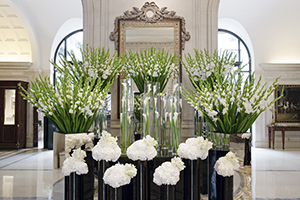 IN FULL BLOOM
Acclaim is nothing new to the artist, who has become known as the rock star florist with an envied clientele of stars, fashion brands, and five-star hotels. Tall, strikingly handsome, and with charisma off the charts, Leatham has all the makings of a celebrity himself, without the attitude. The Utah-native, who started his career as a model, is gracious, warm, self-deprecating and funny. A Hollywood anecdote is never far from his lips, but all in good fun. When you work with the likes of Oprah, Cher, the Kardashians, and Tina Turner, life is a bed of roses... err, orchids.
And that is the key to Leatham's success: fun. "I create lasting memories, and I put smiles on people's faces every day," he said. "That's the best part of my job, from when we do a huge installation, and people are amazed by the simplicity and beauty."
Leatham's success is a fairytale come true. After his modeling career ended, he went back to Los Angeles not sure what he would do next. A friend mentioned the Four Seasons Hotel in Beverly Hills was looking for help with their floral displays and Leatham, with nary a day of experience, threw his petals in the ring. "Before then, I had never touched a flower, never even wanted to work with flowers!" he said. To his great surprise, he was hired and began designing the hotel's lobby and public spaces. He began experimenting with positioning, color and style, and turned heads with his unexpected creations. "Four Seasons gave me that whole spectrum: I started making big, grand flower installations, so that helped me be the artist I am today."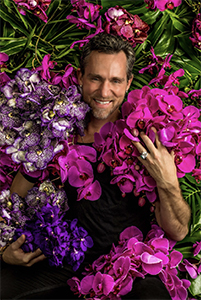 A NEW BEGINNING
Leatham's career exploded in 1999 when he was recruited to design the lobby of the George V Hotel Paris, which re-opened as a Four Seasons after a five-year renovation. His previous work had so impressed its new owner, Prince Alwaleed bin Talal of Saudi Arabia, who gave Leatham carte blanche to design the venerated Parisian palace as he saw fit. His work soon became the hotel's signature and provided the artist a global stage to showcase his many talents. He is known to use 13,000 stems a week and has an annual budget of $1.7 million per year (although some say it's virtually unlimited).
Leatham's work at the George V has become an attraction into itself. Scores of visitors walk through the hotel's revolving doors just to peek at his grand displays in the lobby, courtyard and public spaces. "I think that's what I want people to think of my work as timeless, bold statements of color and texture," he said. "And when I work there's a specific style: flowers leaning out the side of the vase, for example. I'm lucky as a designer to have a design that is characteristic to me and my personality. In fashion, you can look at Valentino and say, 'That's a Valentino red dress.' The fact that you can look at a style of flowers and say, 'That's Jeff Leatham,' makes me a lucky guy."
SIMPLICITY
The designer keeps everything clean, simple, and chic (known in the industry as the "Leatham Rules of 3"), which means bunching all of one type of flower, never mixing more than three types of flowers or colors and keeping everything monochromatic. "For me, the most important thing is just creating things and evolving, so you're never just staying stagnant," he says. "You always have to have your signature thing. I think it's just being your own person and your own artist, no matter what you do."
Leatham's work at the George V gave him a global stage to showcase his talents and opened doors to collaborations with brands like Balenciaga, Alexander McQueen, Dom Perignon, and Chanel. Also, he's worked with such famous names as Madonna, the Dalai Lama, and Chelsea Clinton whose wedding he designed. In 2014, he was awarded the prestigious Chevalier de l'Ordre des Arts et des Lettres, the highest honor for artists who have made a significant contribution to French culture given by the Minister of Culture. He has also created the floral design at Versailles, among other famous landmarks.
Leatham is also the author of three best-selling books, including Flowers by Jeff Leatham, Flowers by Design, and Jeff Leatham—Visionary Floral Art and Design. His designs have even expanded into the tabletop market with a line of gift- and barware aptly named The Jeff Leatham Collection, with Waterford. Later this year, look out for his first signature fragrance.
In 2016, Leatham had a homecoming of sorts when he added back to his portfolio the Four Seasons Hotel Los Angeles, which he directs in addition to the George V. He also has incorporated the Four Seasons Philadelphia at Comcast Center to his growing clientele.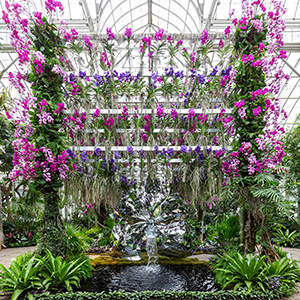 CREDIT TO HIS TEAM
Leatham spans the world with four offices in Paris, LA, Philadelphia, and China. We wondered, to what does he owe his success? Ever the modest one, Leatham credits those around him. "My team is everything to me," he says, noting the hashtag he created #TeamLeatham for social media. "I am nothing without my team. They make it possible for me to do all of this travel, they make all these beautiful things possible, and I have the most brilliant, talented team in the world."
He also is a big believer in loyalty. Even with a global profile, Leatham continues to fly to Paris once a month to design the George V. "A lot of people, when they achieve success at a young age, tend to take every offer that they get to grow their brand and do different things," he says. "The loyalty that I've had to Four Seasons and my clients has probably been the biggest secret to my success.
This is my 20th anniversary at the George V. People still say, 'I want to hire that guy who does the flowers in the lobby of that hotel in Paris.' They still say that, all these years later. Even if they don't know my name, they know where my flowers come from."
For more information on Jeff Leatham, visit jeffleathamflowers.com.