BONNIE COMLEY & STEWART F. LANE
How This Husband-And-Wife Team Have Made Broadway More Accessible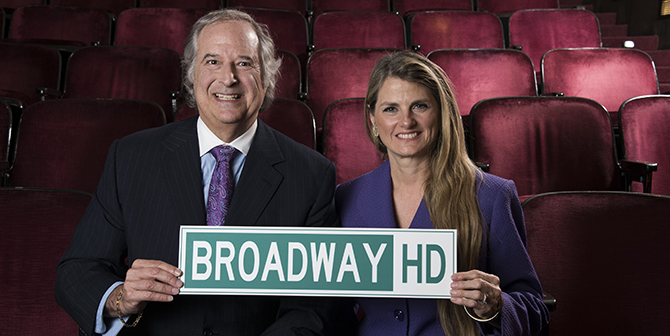 BroadwayHD's Stewart F. Lane and Bonnie Comley
By Patricia Canole
Broadway has always been the pinnacle of live entertainment, but on March 11th, all 41 theaters shut down in Times Square, followed by the touring Broadway theaters across the country and then theaters across the globe. Uncertainty remains as to when the curtains will rise again, but thanks to BroadwayHD, a media technology company, Broadway fans still have a way to watch full-length musicals and plays any time of day or night.
BroadwayHD, often described as the Netflix for Broadway, has more than ​300​ full-length, VOD (video on demand) recorded productions. Award-winning shows include Phantom of The Opera, 42nd Street, Kinky Boots, The King and I, Sound of Music, Cats, Les Misérables, Jesus Christ Superstar, Oklahoma, 42nd Street. There's also Cirque du Soleil, Riverdance, and Shakespeare. BroadwayHD is making Broadway accessible to the world through Apple TV, Chromecast, Roku, The BroadwayHD Channel on Amazon Prime, and at BroadwayHD.com.
Launched in 2015 by Tony Award winning producers, Bonnie Comley and Stewart F. Lane, BroadwayHD is proving to be a win-win for everyone who loves Broadway by serving theater fans and ensuring a strong audience for the future.
Recently, the couple joined New York Lifestyles to discuss their careers in the entertainment industry and their newest production BroadwayHD.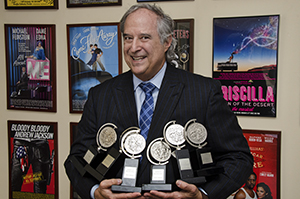 Stewart F. Lane with his six Tony Awards
Tell us about your background and what led to your career in acting and Tony Award-winning producing. When did you know you wanted to be in show business?
Stewart: I fell in love with the theater at an early age. When I was 11, I was invited to see my first Broadway show by my best friend Ricky, who unbeknownst to me was the son of a well-known performer, but I was not familiar with his father's career. When I went to see the show, it was an awesome experience; going into New York City, putting on a tie and jacket, and going to a beautiful Broadway theater. We were given a Playbill and a ticket with the name of the show. I was excited and pumped up. They marched us down the aisle to the front row, and the curtain goes up on a musical called Little Me, written by Neil Simon and Cy Coleman and starring my friend's father, Sid Caesar.
By sitting in the front row, I got to see a little bit of the action as actors prepared to go on stage. Then afterward, we went backstage, and there was Sid holding court with his friends and laughing and joking. I was inspired! I immediately fell in love with the theater. After that night, everything was geared to drama classes, speech classes, and the after-school theater club. All through high school, I was directing a show, or writing a show, or acting in a show.  In college, I majored in theater at Boston University. Upon graduation, I started doing summer stock and commercials and movies. In my late 20s, I wanted a little more stability, so I turned to producing.
At that time, in the late 1970s, no one wanted to be a producer. Broadway was struggling, and Times Square was considered a dangerous neighborhood at night. I started working as an assistant to Jimmy Nederlander and was reading scripts and learning about the business side of theater. Jimmy was a kind and generous mentor.
The first show I worked on with him was Whose Life Is It Anyway? a play that won a Tony for Tom Conti for Best Actor. I went on to do several other shows, and then came La Cage Au Folles. I won my first Tony with La Cage in 1984, which launched my career as a producer. Since then, I have produced over 40 Broadway shows, won six Tony Awards, Olivier Awards, Drama Desk, Drama League Awards and continue to look for the next great project to bring to Broadway!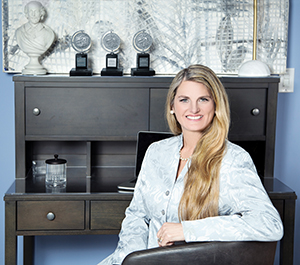 Bonnie Comley ©Annie Watt
Bonnie: As a theater producer, I was able to combine my business background with my love of theater. I started with co-producing several shows and then took the lead producer position in 2006 and won my first Tony Award with Jay Johnson in The Two & Only. To date, I have produced or co-produced 25 Broadway shows and won three Tony awards, and produced three West End shows and won an Olivier. I am currently developing a new musical using the songs of John Denver.
As a co-founder of BroadwayHD, what inspired you to create this streaming service.
Bonnie: The Broadway industry was booming. According to The Broadway League's statistics, the 2018-19 season attendance topped those of the ten professional New York and New Jersey sports teams combined, bringing in close to $2 billion in ticket sales and adding another $12.6 billion to the economy of New York City. Add another several billion for U.S. touring productions and international tours, and the global economic impact is staggering. And yet, with millions of tickets sold every year, there are still so many more people who never get to see the Broadway shows.
Filming the shows is very complicated because Broadway is entirely unionized, and it's costly. But about six years ago, things started lining up, and with the advancement of technology and the agreements we were able to negotiate with all unions. Broadway had an amazing growth rate for 30 years, and its appeal was greater than ever. The timing was right to start a streaming business with full-length Broadway shows. So, BroadwayHD was launched five years ago, and we are committed now, more than ever, to make theater accessible and easy to stream at home!
Stewart F. Lane and Bonnie Comley on stage at the Palace Theater
Starting any business, of course, can be difficult. Were there obstacles to overcome? Challenges?
Stewart: I love Broadway and live theater and wanted to share this experience with people around the world. Not everyone can get to see a Broadway show, so I wanted to bring the show to people in their homes, and with the Internet, this is now possible. Streaming technology allows consumption of theater anytime and anywhere, so theater fans have access and engagement opportunities 24/7. BroadwayHD is the only streaming service offering premium full-length stage plays and musicals. Subscribers have unlimited on-demand access to a library of more than 300 theater productions from Broadway and the West End, and every month we add new shows. Our motto: "If You Can't Get to Broadway, Get to BroadwayHD."
I was able to leverage our relationships with members of the Broadway community and negotiate deals with all the unions. As far as the technical and artistic challenges of filming the Broadway shows, we carefully select TV directors who love theater and want to respect the integrity of the stage director's vision. BroadwayHD stage captures beautifully shot theater with multiple high definition cameras; we pay special attention to the audio capture as well.
Bonnie: Stewart has been a theater owner for over 40 years and co-owns the famous Palace Theater with the Nederlander Organization. And we are both members of The Broadway League. Our first passion is for the live stage experience, so BroadwayHD's mission from inception was to be additive to the Broadway industry, to support and promote the stage shows. BroadwayHD provides streaming entertainment for the existing Broadway fans and to encourage the next generation of theater fans.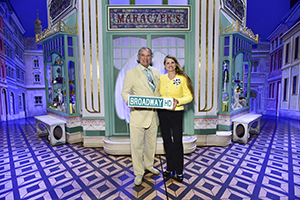 BroadwayHD: Stewart F. Lane & Bonnie Comley onstage at Roundabout Theatre Company
How do you obtain getting the licenses and the rights to stream the Broadway productions?
Stewart: As long-standing members of the theater community, we formed agreements with all 17 unions, guilds, and associations behind Broadway shows, so that show creators are compensated for filming. BroadwayHD has partnered with leading theater companies such as Roundabout Theatre Company, The Public Theater, Manhattan Theatre Club, The Geffen, and Lincoln Center for the Performing Arts and has filmed dozens of productions throughout the years. It's a very collaborative process. When a show makes its way to Broadway, there is a guaranteed level of quality. You might not like the story, but you can't argue with the quality of the production values.
Are there new productions you're adding for 2020, can you share what's in the pipeline?
Bonnie: Yes, indeed! Look for Pippin, Jesus Christ Superstar, Billy Elliot, The Last Five Years, On the Town, and Victor Victoria.
How often is BroadwayHD updated?
Bonnie: BroadwayHD adds new shows every week.
Would you stream an exclusive live production?
Stewart: BroadwayHD is in the Guinness World Records for the first live stream of a Broadway musical. We live-streamed She Loves Me from the Roundabout Theater Company's Studio 54 Theater. We have done about 10 live streams of shows. We learned, though, that our audience didn't care that the show was live-streamed. The important thing was that they had the convenience to stream the video on demand on their TV, computer, phone, or tablets any time of day or night.
How has working in the entertainment field helped in developing the concept?
Bonnie: Stewart has extensive knowledge of the history of theater. He has written three books on theater history and two books on how to produce for the theater. His reputation gave industry leaders a sense of confidence and level of trust that others from outside the community couldn't duplicate.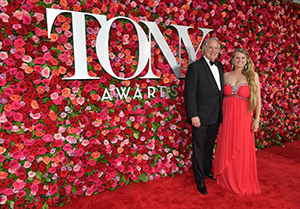 Tony Award Winners Stewart F. Lane and Bonnie Comley on the red carpet
As Tony Award-winning producers tell us how you select a project?
Stewart: First, we look to see whether it's an engaging story, an exciting story with empathetic characters. Then I look at the costs involved with trying to produce a show. I think everything begins and ends with: Is it good storytelling?
Which character from a Broadway production would best describe your personality and one you can relate to.
Stewart: I always liked Julian Marsh from 42nd Street. He had the energy and the tenacity and the focus to get the job done. I'd like to think of myself as Julian Marsh.
Looking back to when you first started in the entertainment business, what is the one thing you wish you knew then?
Stewart: There are easier ways to make a living! I'll tell you that.
For more information on BroadwayHD, visit www.broadwayhd.com.