MIRBEAU INN & SPA
Classic Comforts In Rhinebeck, NY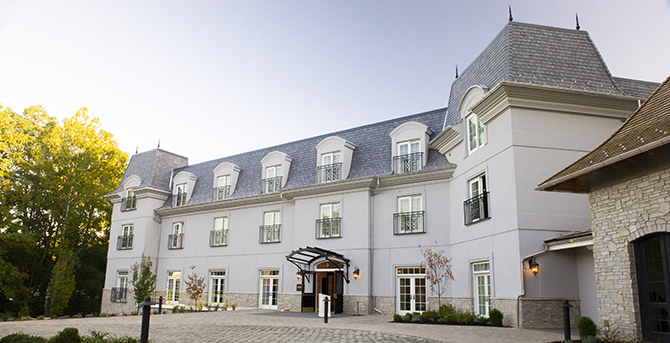 By Jeff & Stephanie Sylva
A getaway destination is a place to enjoy "classic comforts," a place to reconnect and regroup. A place of gracious hospitality where guests can let go and relax. And importantly—a site that is close to home. This vision of a getaway is what led Linda and Gary Dower to create the first Mirbeau Inn & Spa in their hometown of Skaneateles, NY, in the year 2000. In September 2019, the third Mirbeau Inn & Spa opened in the historic Village of Rhinebeck, NY, in the heart of the Hudson Valley—just a two-hour drive from New York City.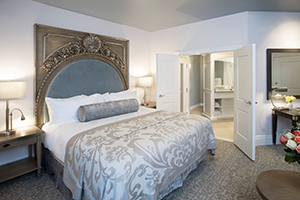 King Room
Mirbeau, loosely translated as "reflected beauty," is inspired in part by the soft light, warm colors, and introspective character found in the paintings of renowned French impressionist Claude Monet. This inspiration is apparent in the Inn's French chateau styling, which is immediately seen when you drive into the resort's cobblestoned courtyard, and in the interior design featuring recreations of Monet's work. Large gas fireplaces in the dining room and the adjoining library enhance the chateau-style ambiance. The Inn & Spa are artistically designed and present a warm and cozy feeling reflecting the Mirbeau philosophy of balancing life with wellness and indulgence.
Reminiscent of an Old-World chic Parisian hotel, the 50-room resort offers Signature rooms with one king-size bed or two queen beds, or a Luxurious Suite. The luxurious beds, made exclusively for Mirbeau and topped with plush comforters, promise a restful sleep and a perfect chance to re-balance. Located on a nightstand next to each bed is a "Zen machine," which incorporates an oil diffuser with a selection of white noise sounds. In addition to a cozy fireplace, each room offers oversized bathrooms with luxuriously tiled walk-in showers, claw-foot European-style soaking tubs, and double sinks.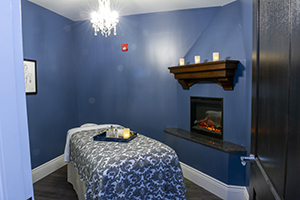 Spa Room
AN EXQUISITE SPA
The centerpiece and emotional heart of Mirbeau is the award-winning 12,000 square-foot Spa Mirbeau. The fourteen treatment rooms feature fireplaces and private sound systems. The men's and the women's changing rooms offer eucalyptus-infused steam rooms and Himalayan salt saunas. A tranquil Resting Area has a relaxing fireplace and unique meditation rock with flowing water creating the perfect Zen-like atmosphere. The Aqua Terrace is an outdoor oasis that includes a relaxing large hot spa pool with massage jets, waterfall, an oversized fireplace, and a food and service bar (open year-round).
The Spa treatment menu is one of the most extensive and indulgent that we have seen. In addition to traditional Swedish, deep-tissue, and aromatherapy massages, Mirbeau offers a variety of rejuvenating, indulgent treatments. Try the Signature Massage enhanced with a CBD Treatment. Calming and soothing effects of non-psychoactive CBD oil restore natural movement, eliminate chronic pain, improve your mood, and naturally promote restful sleep. Or, treat yourself to the Organic Radiance Facial where natural, organic, and raw ingredients help deep cleanse the skin of environmental pollutants.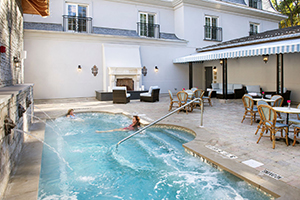 Aqua Terrace
Besides massages and facials, Spa Mirbeau offers groundbreaking BIOTEC Technology, which combines active ingredients with transformative touch. The ELEMIS BIOTEC Firm-a-Lift Treatment blends massage and sculpting galvanic technology. And if you want to target wrinkles, the ELEMIS BIOTEC Line Eraser Treatment firms and tones skin cells with stimulating microcurrent pulses.
A selection of Kur treatments, known to Europeans as the foundation of a traditional spa experience, is also offered. This centuries-old renewal ritual of exercise, proper nutrition, and care of face and body involves a soak in a jetted mineral bath for relaxation and balance. Spa Mirbeau also offers a variety of body treatments, hand & foot therapies, as well as a selection of treatments created specifically for men.
While at the Inn, continue your wellness at the Fitness Center, which contains state-of-the-art cardio equipment with individual televisions, and a variety of free-weight training equipment. A significant motion studio is where the Mirbeau fitness staff conducts a wide range of complimentary daily fitness and wellness classes, including various levels of yoga, barre, spin, boxing, Pilates, Tai Chi, and more.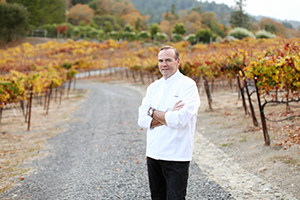 Chef Charlie Palmer
AROUND RHINEBECK
Since Rhinebeck sits in the center of the National Historic Landmark District, you can visit nine Hudson River Estates within easy proximity to the Inn.
Get out and stretch your legs with a scenic stroll over the Hudson River at the Walkway Over the Hudson in nearby Poughkeepsie, NY. Closer to Rhinebeck is the 120-acre park, Poets' Walk Park, offering relaxed walking paths in a beautiful landscape. Located in Rhinebeck is the Ferncliff Forest Game Refuge and Forest Preserve.
The Old Rhinebeck Aerodrome features over 50 antique aircraft and over 40 vintage vehicles from 1900-1940. Aerial demonstrations are conducted on weekends from mid-June through mid-October. Info: www.oldrhinebeck.org.
DINING PLEASURE
Dining at Mirbeau is a culinary treat, as one of the country's most highly regarded chefs, Charlie Palmer, has brought his signature "Progressive American" cuisine to the resort's restaurant, Willow. Although the dining room is elegantly appointed, do take advantage of the beautiful weather and dine on the outdoor patio, which overlooks a forested area bordered by willow trees. Chef Palmer looks to reinterpret classic European cooking using American artisanal products and small farm producers. "I called it Progressive American because every time I stepped in the kitchen, I felt things moving forward," says Palmer.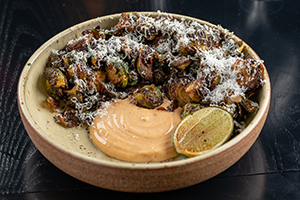 Chef Palmer's creative cooking style and his flair for business have led to his creation of an impressive roster of restaurants across the country. Classically trained at The Culinary Institute of America, Palmer is familiar with the Hudson Valley and looks to draw upon its agricultural heritage. Willow's menu features local and seasonal produce from multi-generational farms, emergent food artisans, and craft distillers and brewers. Consider a seafood dinner starting with Tuna Tartare with heirloom radish, avocado, and citrus-soy emulsion, or the exquisite Grilled Shelter Island Oysters with tarragon, parsley, lemon, and pancetta. Then enjoy the Icelandic Cod with risotto, lemon confit, fine herbs, and sautéed chanterelles or the Scottish Salmon with fennel, capers, and parsley-lemon vinaigrette – both cooked to perfection. Lighter fare is available at the Aqua Terrace, and Willow also offers a Bar Menu.
For more information on Mirbeau Inn & Spa, visit mirbeau.com.