THE ULTIMATE BUCKET LIST
13 Thrilling Experiences & Must-See Destinations
By Patricia Canole
If you're anything like me, then there is nothing better than waking up in a strange new place and enjoying the best adventures that are a world away from a regular routine. However, since we've had to hit pause on our travel plans, for the time being, it doesn't mean we're not still thinking about all the places we hope to get to sometime soon.
Travel fills our lives: from the hours we spend exploring the Internet for inspiration on where to visit or ways a place influences us long after we've left, from the food ideas we gather and the music choices we select.
So, with that in mind, here is a bucket list for your future adventures. Remember, you don't necessarily have to go far away to feel far away. So long as it's a place where you will feel inspired and, most importantly, a little more connected with the rest of the world.
OUTDOOR ENTHUSIAST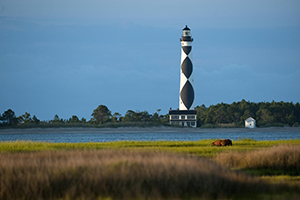 THE CRYSTAL COAST
North Carolina
Wild abandon awaits at Cape Lookout National Seashore, a remote national park—located along Southern Outer Banks. It offers escapists a 56-mile stretch of undeveloped shimmering beaches, renowned shelling (with miles of large unbroken conch shells), and spectacular views of wild horses roaming freely.
For more than 400 years, the wild horses have taken care of their young, frolicked on pristine deserted beaches, and foraged for food with not a saddle or fence in sight. Accessible only by boat, visitors make their way to the island by private vessel or ferry, and Captain George Aswald of Island Express Ferry Service is more than happy to dish most of his secrets to shelling, and where to best spot the horses during the ride. Info: crystalcoastnc.org/region/cape-lookout.
---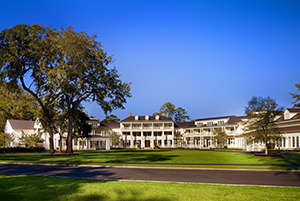 BLUFFTON
South Carolina
Nestled in a lush, 20,000-acre coastal nature preserve between Hilton Head Island and Savannah, luxury resort Montage Palmetto Bluff, charms its guests with a bounty of natural, historical, and cultural experiences indigenous to the South Carolina coast. Boasting 32 miles of riverfront, the maze of waterways is a wondrous playground for the Atlantic Bottlenose Dolphin, where guests of all ages can experience up-close interactions through sunrise kayaking, paddle boarding, and scenic dolphin boat tours. Alongside a recent partnership with the University of South Carolina at Beaufort—supporting the institution's Dolphin Research Program—Montage Palmetto Bluff strives to make a more significant difference in protecting its surrounding natural life and providing the ultimate must-visit destination for ecotourism. Info: montagehotels.com/palmettobluff.
---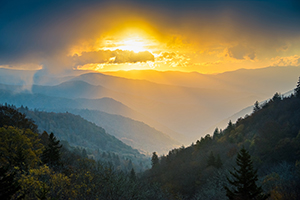 GREAT SMOKY MOUNTAINS
Gatlinburg, Tennessee
Nestled in the beautiful Smoky Mountains, Westgate Smoky Mountain Resort & Spa provides the ultimate immersion into the Great Outdoors through mountain meditation. The Resort combines Cherokee and modern-day meditation practices to allow guests to relax, take in that fresh mountain air, and become one with nature. Besides, Westgate Smoky Mountain also offers guided hikes into the Great Smoky Mountains National Park for the adventure-seekers.
---
ADVENTURE AWAITS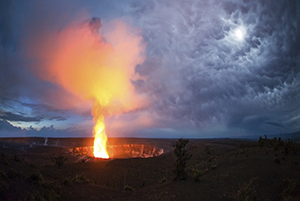 BIG ISLAND
Hawaii
The most ecologically diverse part of the Big Island is found in Hawaii Volcanoes National Park, located on the eastern side of the island. The park area is exposed to moisture-laden trade winds and extremes in rainfall; as a result, seven ecological life zones (seacoast, lowland, mid-elevation woodland, rainforest, upland forest, and woodland, subalpine and alpine) all flourish within the park's protected boundaries.
The best way to experience volcano country is on two wheels. Bike Volcano offers a Wine Tasting Bike Tour that takes you from the rim of Kilauea, the world's most active volcano, to the dramatic coastline. During the five-hour excursion, you'll be treated to panoramic views of the Ka'u Coast, where waves crash around a huge lava-formed archway and a molten lava shelf contuse to grow, thanks to constant volcanic activity. And you'll whiz along the mostly downhill 15-mile path through the rainforest, past volcanic steam vents, pit craters, and vast lava fields. After a picnic lunch overlooking the restless Pacific, you'll be escorted to a trail that cuts through a jungle of giant ferns and leads into the Thurston Lava Tube, a 30-foot-high, 450-foot-long tunnel formed by an underground lava flow. Then it's time to stop at the Volcano Winery to toast all this fantastic beauty. Info: bikevolcano.com.
---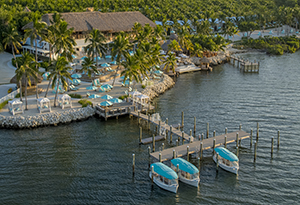 KEY LARGO
Florida What better way to dive into adventure than to explore the world's third-largest reef system in Key Largo. See coral and conch, old shipwrecks, and the most colorful marine life ever. For land pleasures, a stay at the adults-only Bungalows Key Largo will not disappoint. The recently opened all-inclusive provides elegance with a relaxed feel and is just 63 miles south of Miami. The boutique, waterfront oasis features 135 private bungalows dotted across the property's 12 acres, each featuring their bougainvillea-laden veranda with an oversized soaking tub and outdoor garden shower. Top amenities include a full fleet of boats—from electric Duffy boats and catamarans to sailboats—perfect for navigating the reef system, three taste-tempting restaurants, two on-site bars, 1,000-feet of shoreline laced with many beach cabanas, and a full-service Zen Garden Spa featuring a Himalayan salt room and eucalyptus steam. Info: bungalowskeylargo.com
---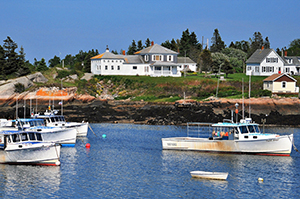 MOUNT DESERT ISLAND
Maine
Once the second home of America's wealthiest families, including the Rockefellers, Fords, and Astors, this isle is a laid-back yet sophisticated hideaway. The pleasures here are simple: Hike or bike in 47,000-acre Acadia National Park and stroll the main town of Bar Harbor and enjoy plenty of superb fresh-caught lobster.
In the park, drive the scenic Loop Road or cycle along the 54 miles of carriage roads and stone byways laid out by the Rockefeller family in 1913. Hit Bar Harbor and visit the Abbe Museum, which celebrates Maine's Native American heritage. Then browse in the many galleries and specialty shops, such as Island Artisans, that sell locally made pottery and jewelry. Once the sun sets, enjoy a cruise Frenchman's Bay aboard a four-mast schooner; then sample a few microbrews at local taverns, like Geddy's and the Dog & Pony Tavern with its lively beer garden. Info: visitmaine.com.
---
MUSIC PARADISE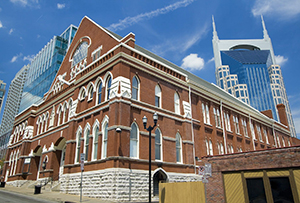 NASHVILLE
Tennessee
Nashville's reputation as the home of country music is legendary. So, a visit to this city for any music fan is often a spiritual journey to where the likes of Hank Williams, Johnny Cash, and Dolly Parton frequented many stages and music halls. It continues today with the city still creating incredible music at venues along Broadway and other spots. The granddaddy of them all, of course, is The Grand Ole Opry—often called the radio show that made country music famous—and has been around since 1925, where it took residence at Ryman Auditorium featuring many of the genre's most well-known artists. The show eventually moved its present-day location at the Grand Ole Opry House in 1974 and continues to fill seats. Other venues like the Bluebird Café is small in space but big on talent. Musicians and songwriters, including Garth Brooks and Taylor Swift have appeared on stage. Make a point to see Music Row, where recording companies sit tall and a visit to the original RCA Studio where Elvis Presley crooned a few tunes. And before leaving Music City, spend a day at The Country Music Hall of Fame. The extensive collections housed here cover the course of the genre's development, the birth of Nashville's legacy as Music. The HOF is home to rare audio recordings as well as a film theater and performance stage; check the event calendar to see what's playing. Info: visitmusiccity.com.
---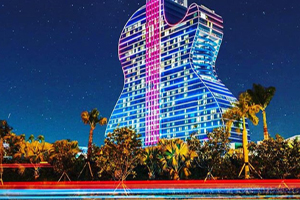 HOLLYWOOD
Florida
Live out your rock and roll dreams at the recently expanded Seminole Hard Rock Hotel & Casino Hollywood. The new integrated resort includes the world's first Guitar Hotel and seven-story Oasis Tower, overlooking a new pool lagoon. Designed to resemble back-to-back guitars, complete with guitar faces and brightly lit strings, The Guitar Hotel is an engineering masterpiece reaching 450 feet into the sky, outfitted with floor-to-ceiling glass panes. Additionally, the property unveiled an expanded gaming floor, new luxury spa and salon, 13.5 acres of the recreational waterscape, premier meeting and convention space, a 7,000-capacity Hard Rock Live entertainment venue, retail shops and more. Info: seminolehardrockhollywood.com.
---
REKINDLE ROMANCE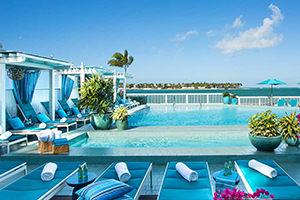 KEY WEST
Florida
Boasting a view that has captured the imaginations of iconic figures from Mark Twain in the 1800s to Tennessee Williams in the late 20th century, Key West will never grow old. Make time to watch sunsets on the pier, and when night falls, take in a margarita (or two). A romantic stay at Ocean Key Resort & Spa is another must. The luxurious oceanfront property located in the heart of Key West—provides an ideal escape for romantic revelers seeking to experience the Southernmost island's famed sunset celebrations. Overlooking the waters where the Gulf of Mexico meets the Atlantic Ocean, the resort captivates couples with 100 deluxe rooms and suites, breathtaking views that energize and inspire, full-service spa, live music and libations at Sunset Pier and waterfront dining at Hot Tin Roof. Info: oceankey.com.
---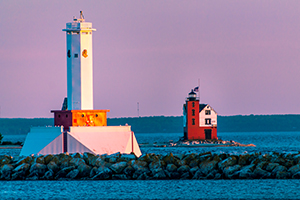 MACKINAC ISLAND
Michigan
Visiting this pint-sized spot in the Straits of Mackinac (where Lake Huron and Lake Michigan converge) is like stepping into a bygone era. Don't expect fast-food chains, street numbers, or even cars. Here, horse-and-buggy is the preferred method of transport, businesses are family-owned, and the pace is purposely slow, making it an ideal spot for romantics.
Sign up for a Mackinac Island Carriage Tour in the historic downtown as well as in the isle's forested interior. Rent a bike and pedal along the wildflower-lined trails in Mackinac Island State Park, with unique limestone formations like 150-foot Arch Rock. While in the park, stop by Fort Mackinac and learn about the island's history as a colonial fur-trading post. And be sure to partake in the iconic Grand Hotel's traditional afternoon tea with scones and finger sandwiches. For added pleasure, the hotel offers several options for live music, including the Terrace Room, where the Grand Hotel Orchestra performs. Info: mackinacislad.org.
---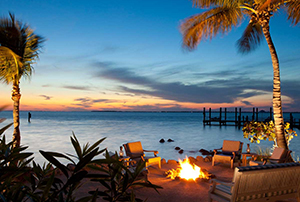 LITTLE TORCH KEY
Florida
Get lost in your own private island oasis. Hidden off the fabled coastline of the Florida Keys is America's only private island resort. Little Palm Island Resort & Spa, a four-acre, luxury tropical paradise, is so remote it's only accessible via boat or seaplane. A best-kept secret among U.S. presidents and celebrities alike, the resort recently reopened, unveiling a complete design makeover following a forced closure due to Hurricane Irma in 2017. The ultra-luxe resort now boasts features including 30 thatched-roof bungalow suites and a world-class spa with two-story atrium and carved architectural details. You'll also delight dining at the signature Dining Room restaurant, enhanced to encompass sweeping views of the ocean. Info: littlepalmisland.com.
---
WEEKEND GETAWAY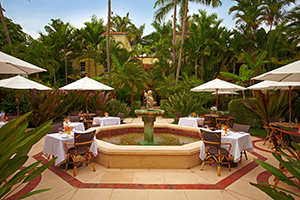 PALM BEACH
Florida
A playground of the ultra-rich since Henry Flagler founded the city in 1911. Palm Beach beckons visitors to its secluded shores, tony retailers, and world-class cultural venues. An excellent choice for weekend stay is the renowned Brazilian Court Hotel hidden amongst curtains of cascading bougainvillea. Across the threshold—a cloistered world unto itself with lush gardens, intricate courtyards, and a beautifully landscaped pool. Luxury and an air of Old Hollywood glamour permeate the property—from the intimate entry that smells of honeysuckle and the secluded alcoves concealing a treasure trove of secrets to the exclusive Brazilian Court Salon and world-renowned Chef Daniel Boulud's Cafe Boulud. Established as the epicenter of Palm Beach society and the beloved "home away from home" for locals and visitors alike, this escape is the ideal Palm Beach experience. Info: thebraziliancourt.com.
---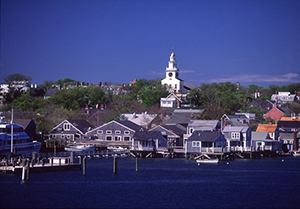 NANTUCKET
Massachusetts
Once among the busiest whaling ports in the world, Nantucket has long been a popular retreat for New Englanders. The island draws those who appreciate miles of coastline, historic cottages, cranberry bogs, and cobblestone streets.
Grab a bike, and peddle to best beaches: Jetties Beach, near the quaint Nantucket town and the south shore beaches of Surfside and Madaket, which are best at sunset. Check out the 46-foot sperm whale skeleton and the impressive scrimshaw collection at The New Bedford Whaling Museum. And don't leave the island without purchasing a handwoven, ivory-scented cane basket, called the Nantucket Lightship Basket. Join the crowd of Rose and Crown for dancing (they also host karaoke) or perhaps take in The Chicken Box to catch live music—everything from jazz and blues to rock and reggae. Info: massvacation.com.