THE LATEST IN HOME DESIGN
Versatility Is The Keyword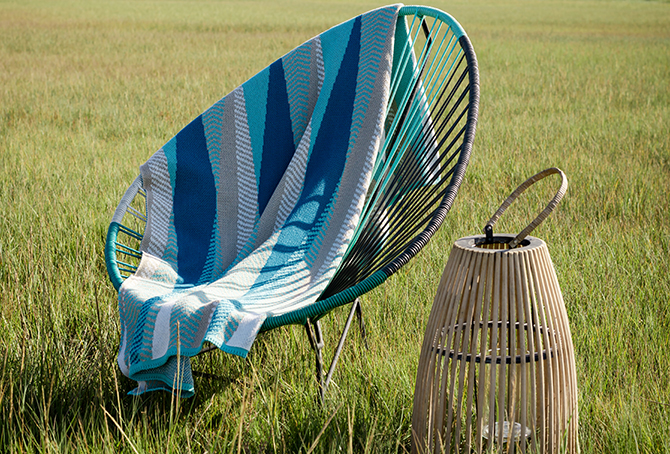 By Stacy Garcia
With the ever-changing seasons and home décor trends, the possibilities are endless when it comes to interior design and the products that we choose to fill our spaces!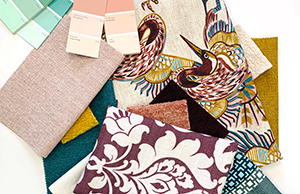 With warmer days upon us, I've been pulling inspiration for various products, projects, and collaborations from a slew of colors, environments, textures, locations, and beyond! Versatility in the home is crucial and as an interior designer collaborating with amazing brands including Crypton Home Fabric, IMAX Worldwide Home, and TileBar, my desire to design products that will bring joy and function to the home is ever evolving.
Throughout my journey and career, I've found the importance of staying inspired by other leaders and movers and shakers in the community, and I feel as though this is so important for all business owners and entrepreneurs alike! One of my all-time favorite icons is Donna Karan for her global reach, namesake brand, and signature aesthetic that we all know and love today. Another significant influence of mine has been Iris Apfel as she continues to reinvent herself and express originality through her style.
BEAUTY IS EVERYWHERE
To bring even greater outside inspiration into my business and designs, our latest collections are representative of the pure beauty that we encounter every day. I often find that you don't have to look far and wide to see the beauty that can carry you through life!
For example, I've found such lovely simplicity in organic shapes free of rigidity yet structurally rich in form. My Voluminous Nature home accessory collection for IMAX Worldwide Home takes on a light, natural appeal full of movement—something you can find in your everyday surroundings. Reminiscent of cellular structure and coral reefs, the pieces within this collection take note of the sensitive state of the natural environment and exhibits the desire for sustainability. If natural materials and organic shapes inspire you, look to bring items into your home that are representative of these things.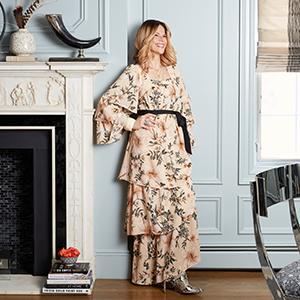 A RELAXING AMBIANCE
There is also beauty in appreciating the touch and feel of the items in our home. In a fast-paced, instantaneous, and technology-saturated world, we are continually searching to add comfort back into our environments. Bridging the gap between the digital and physical, I've always found it essential to re-integrate the human-touch into our home products, allowing for a newfound acceptance through sensual, yet streamlined and curved silhouettes. I'm beyond inspired by pastel colors paired with jewel tones and smooth finishes providing a positive, tangible sense of contentment. If your space needs relaxing and easy-to-the-touch items, I highly suggest filling your space with these elements. They will keep you grounded.
There's nothing I quite love more than natural materials, organic shapes, and earthy motifs. I've spent a lot of my time recently trying to reconnect with nature, which has also inspired my designs. This trend is all about developing a sense of tactility and warmth in a space, and I think that it will continue to grow in popularity! Driven by a muted color palette with shades of sophisticated gray, warm beige, and earthy brown, elements such as stone, tree trunks, and knotted roots are lovely additions to the home this season.
During the warmer months, I also find beauty in the sophistication of the Old World with a playful twist. For instance, flourishing florals, pin-straight stripes, and poignant plaids reign as they are transformed into a modern expression of an everlasting aesthetic. With a nod to a time of opulence, beauty lies within the details: think finely crafted jacquards, intricately laid flooring, decorative millwork, and traditional motifs that are timeless and classic with a contemporary edge.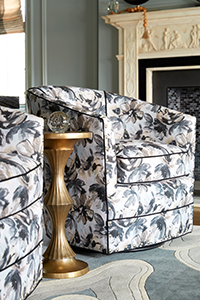 A QUICK REFRESH
If you're looking to give your home a quick refresh for the season, I recommend taking those favorite vases out of the cabinet and treating yourself to fresh-cut blooms. Also, don't forget to think in color! Look for colorful accents like vases and bowls as an inexpensive way to infuse your space with vibrant hues. Lastly, you can swap out the heavy pillows, throws, and rugs for light accents: simple white sheets, a lightweight throw, and woven rugs in a soft palette.
Additionally, with outdoor living at an all-time high this season, finding new and exciting ways to create family-friendly spaces that seamlessly flow from the interior to the exterior is crucial. Having a large family, I know a thing or two about creating a home that is the center of your life. I am currently redoing my own outdoor space to capture a more cohesive indoor/outdoor feel. As inspiration typically carries into my work, I will be utilizing this space to implement my upcoming collection with Klaussner Outdoor launching later this year.
With a home base in New York, my team and I are continuously looking to push the boundaries in design globally, and my journey thus far has been a dynamic one, full of adventures. If there is one thing that I feel comfortable doing, it is becoming inspired and bringing joy to the comfort of home through beautifully made products!
For more information on Stacy Garcia, visit stacygarcia.com.