LIFE & STYLE
Beat The Heat Edition
By Griffin Miller
While indoor-living has its advantages (all-day pajamas; binge-watching reality shows; guilt-free noshing), outside summer beckons, and who are we to ignore its siren's song? Precautions? Always. Especially as we head to the Hamptons, Central Park, and indulge (warily) in dining al fresco. Thus, I give you my Editorial picks for Summer 2020, whether you are poolside, patio chic, or revamping your inner sanctum into a sunny paradise. It is all good!
---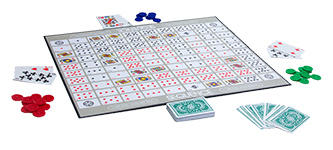 GAME CHANGER
Bored board gamers—i.e., those of us whose desire to Pass Go, land a triple-word score or sacrifice yet another pawn—it is time to indulge in Sequence. This addictive family-friendly diversion involves cards, chips, and strategy for two to 12 players (7 and up). Since it landed on our patio table, my husband and I have become obsessed. Highly recommended for player types willing to confront some very wild Jacks in their quest to form a Sequence. Info: jaxgames.com
---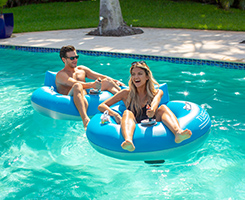 TUBING WITH THE PERKS
Should your personal safety zone allow for a large outdoor swimming pool—already an excellent plus—prepare to be wowed by PoolCandy's Tube Runner, an ingenious motorized float with a 3-blade propeller and 360-degree control. Assemble multiple Tubes and a fearless group ready to tackle a lake, pond, river, or Olympic-sized pool, and you can expect a game of bumper floats with madcap button-pushing. Or you can cruise along at a relaxing pace anywhere you like – your choice. 
Info: poolcandy.net.
---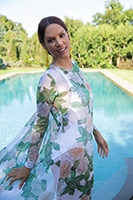 FASHION FORWARD
Ditch the sweats, and oversized tees, the world (cautiously) awaits, so why not greet it in a little something to brighten the season? For some time now, I've had my eye on Ala von Auersperg's awesome resort wear, and what better time than now to give in to my flights of fashion, even if only for virtual brunches or lounging about? Which brings me to the Rachel Poncho in Gardenia. One sleeve, one glorious flutter of lightweight mesh draping the other arm and pairing it with a swimsuit or matching items from the collection. Info: alavonauersperg.com.
---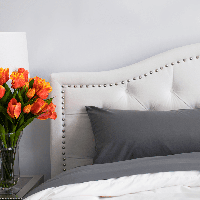 REST ASSURED
One thing about quarantine: you spend more time in bed reading, sleeping, working, streaming, etc. Sometimes, though, you can't get comfy or fall asleep. Too hot. Too sweaty. Too tangled up. PeachSkinSheets has solved such heat and renegade sheet predicaments with panache and a smart, super soft fabric that jettisons moisture and stays cool. I give them bonus points for fitted sheets that don't slip off the mattress and a staggering number of color choices. This reckless sleeper is falling in love with falling asleep. Info:peachskinsheets.com.
---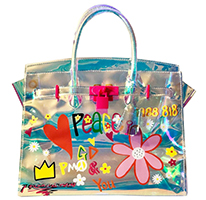 PEACE & PLENTY
Haight-Ashbury. Flower Power. Peter Max. Free Love, Twiggy. The 60s are back, baby, yeah! The look was catnip to jet setters back then, and now—thanks to the ingenious minds at Be Clear Handbags—there's the Peace + Love Graffiti Tote, bringing back the look, feel and zeitgeist of iconic yesterday. As for today, germs are not an issue: wipe down your bag with alcohol and done. Plus, should you wish to turn tote to crossbody, no problem: the website offers a way neat selection of straps. Info: beclearhandbags.com. 
---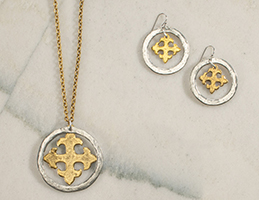 DESIGNING WOMAN
The masterminds behind handcrafted jewelry dazzle me with their artistry, none more than Juli, aka the creative force behind Julio Designs. With an eye for the unique, she has created line after line of statement necklaces, bracelets, and earrings. Having been to Malta, I was drawn to Juli's use of the Maltese cross in several of her pieces, only to learn she has made a study of world crosses for their design elements. The Maltese Cross Hoop Earrings (as shown with matching necklace) are compliment-generating favorites—both in person and on Zoom. Next stop, bracelets! Info: juliodesigns.com.
---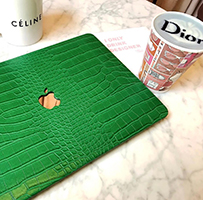 JUST IN CASE
Wondering what trendy Apple laptops are wearing this season, whether on the road, working from home, or braving socially distanced boardrooms? I have got this one: Chic Geeks' Emerald Faux Crocodile MacBook Case. The classiest of greens with tactile allure, this 100 percent cruelty-free cover is a must have for any one ready to stand out in a crowd of Apple laptops with ho-hum covers or (for shame!) none at all. I am so ready to join the ranks. Traditionalist Alert: the Faux Crocodile case also comes in black.  Info: chicgeeks.com.
---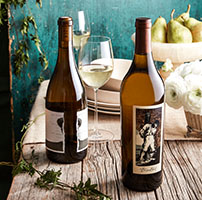 SIPPING LIKE THE STARS
The provocative name, Prisoner Wine Company, and ominous labels are only the prequels to this intriguing line of wines with a celebrity following. The A-listers who have pledged Prisoner allegiance include J-Law, Kendall Jenner, Erik Harris, and Maggie Gyllenhaal. And since it's summer when white wine rules, Prisoner's "The Snitch" and "Blindfold", with their Chardonnay base deftly melded with select varietals, are a superstar in their own right. I am sold—make that a devoted fan—as is Lady Gaga, who shares my passion for Blindfold. Info:theprisonerwinecompany.com.
---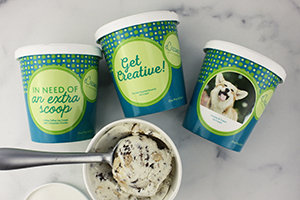 SWEET DREAMS ARE MADE OF THIS
I do not lightly use the term Divine Decadence, but here I sit, passionately involved with a pint of eCreamery's Mint Cookie Crunch ice cream. Connoisseur-worthy, custom churned, and hand-packed, it is a bewitching take on my favorite flavor. But there is more. You can choose your flavor(s) from an extensive menu, or you can customize, for the ice cream recipe of your dreams. Either way, you can print a message or photo onto the on the pints—all delivered to your door in frozen splendor. Info: ecreamery.com.
---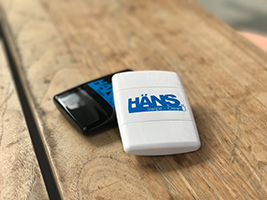 CLEAN SWEEP
Eric Buterbaugh Los Angeles
Speaking of laptops—not to mention Smartphones, tablets, fitness trackers, and any other techno gizmos that rock your life—microbes, bacteria, and miscellaneous yuck are making their electronic lives a living hell and compromising your health. Thankfully, there is a portable savior to be had: HÄNS Swipe. This pocket-sized lifesaver boasts both an Antimicrobial Cleaning side (applies solution; is refillable to last ad infinitum), and an Antibacterial Polishing side (removes residue, polishes, and is washable). Seriously, we need this. Info: hans-swipe.com