Celebrate Summertime
at the Montreal Beach Resort in Cape May, NJ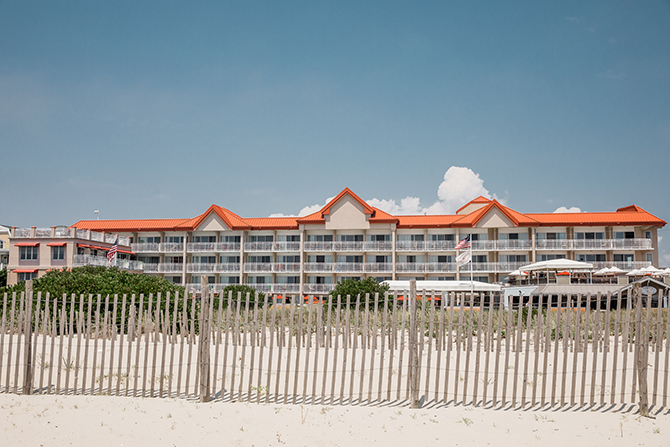 Sweet vacation memories are filled with sun-drenched beach days, sea shell collecting, walking along the water's edge, sunbathing in oceanside cabanas, salty breezes, crashing waves and vacationing at a resort that generations have called their Jersey Shore home.  
Standing prominently along the Atlantic coastline at Madison Avenue in Cape May, the Montreal Beach Resort, which has been lovingly owned and maintained by three generations of the Hirsch Family, offers getaways that are relaxing, rejuvenating, safe and clean.
While reopening for the summer of 2020 was gradual, co-principal Larry Hirsch reports that summer fun is going strong at the resort.
"We've been part of the Cape May community for over 50 years, with a long-time tradition of treating customers like members of our family. It's that relationship with our guests that has assisted us with a smooth and busy summer season thus far," explained Hirsch. "People are loving the opportunity to get out and enjoy some relaxation in a safe, serene place like Cape May."
While vacation sun, fun and relaxation remain paramount at the resort, changes are in place to make sure everyone stays safe. All staff members are wearing masks and guests are required to do the same in on-site public spaces. Sanitizing stations are located in high-traffic areas throughout the hotel along with markers spaced six feet apart at the front desk, pool area and restaurant.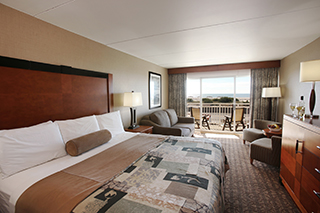 Pristine Accommodations
The resort's latest safety and sanitation practices above and beyond their already-extensive room cleaning process place special emphasis on frequently touched surfaces. High-touch areas such as door knobs and handles, light switches, clocks, kitchen equipment, bath and shower fixtures, remote controls, thermostats, furniture handles, arm rests, chair backs and more are thoroughly sanitized before and during each guest's stay.
Housekeeping staff wear face coverings and gloves; for the safety of all parties, guests are asked to vacate the room while it is being cleaned.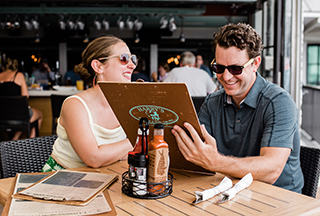 Harry's Ocean Bar & Grille
The Montreal Beach Resort's on-site Restaurant, Harry's Ocean Bar & Grille, is a Cape May 'must-do' and a great place to enjoy dining. Harry's is celebrating its 10th season with outdoor dining and entertainment, to the excitement of locals and guests alike.
Already known for its patio and rooftop deck for outdoor dining and entertainment, Harry's quickly adjusted to the state's outdoor dining requirements. Tables were regrouped at six feet apart; signs and floor markers to reinforce distancing by staff and guests were posted; and dining options were adjusted. Due to the limited number of tables, the restaurant seats guests on the downstairs outdoor patio and the rooftop deck on a first come, first served/waitlist basis. Waiting guests can order a beverage to enjoy across the street along the beachfront or at the newly placed picnic tables in the parking lot. Takeout service is also in full swing. Guests can order from the outdoor takeout area and take their meals home or enjoy them at the picnic tables.
Guests are turning out in a big way to enjoy fun, camaraderie, nightly entertainment and the great menu that Harry's is known for.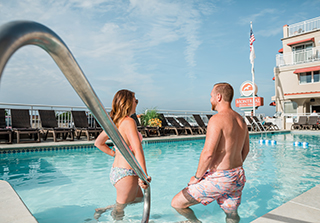 Swimming Pool
Guests are welcome to enjoy the Resort's sparkling pool, which offers amazing shoreline views. Guests are required to wear a mask when not in the pool; sanitize their hands prior to entering the pool area; maintain six feet of distance from other non-family/friends; and due to limited seating at the pool, limit their time there to one hour.
The Montreal Beach Club – Beach Service Open to Guests & the Public
Cape May beaches are open for visitors to enjoy and so is the Montreal Beach Club. One of only a few such exclusive beach clubs on the Jersey Shore, the Montreal Beach Club takes beach days to a whole new level. Located directly on the beach in front of the Resort, this exclusive span of Cape May sand features luxurious private cabanas, umbrellas, beach chairs and attendants to look after your every need. Available seasonally, the Montreal Beach Club welcomes both resort guests and visitors.
Want to experience the amazing menu items from Harry's Ocean Bar & Grille with your feet in the sand? With food and drink delivery, hungry beachgoers can enjoy chairside beach service directly from Harry's.
All chairs, umbrellas and cabanas are sanitized after each use.
The Wine Cellar at Harry's – Cape May's Only Oceanfront Liquor Store
Staffed with friendly and knowledgeable employees, The Wine Cellar prides itself on supplying delightful and tempting libations. Browse an incredible selection of wines from not only New Jersey, but around the world. The Wine Cellar at Harry's features an impressive selection of domestic, imported and craft beers, as well as a wide array of popular liquors and spirits. The Wine Cellar offers the classics along with an ever-changing landscape of new products, specials and recommendations. Whether you are planning a large party or an intimate dinner, the team at The Wine Cellar can help you choose the perfect beverages for your event. Special orders are also available by request for any of those hard-to-find items. Patrons and employees must wear masks while in the store.
The Montreal Beach Resort provides the perfect setting in the historic Victorian seaside community of Cape May, and is close to many popular attractions including the Cape May Lighthouse, Cape May Point State Park, Cape May Winery, Turdo Vineyards, the Cape May County Park and Zoo, the Cape May Bird Observatory, the Washington Street Mall and many more.
For more information or to make reservations, call toll-free (800) 525-7011 or visit https://www.montrealbeachresort.com/contact/ to receive frequent email updates from the Montreal Beach Resort.