★
ON-Line Exclusive
★
Seeing Green
Reaping A Harvest In Brooklyn
By Bailey Beckett
When the coronavirus hit, people turned to fitness to occupy the days, many found food delivery Apps to be a new obsession while the greater majority turned to Netflix. During the worst of the pandemic, when many industries stopped cold, two creative talents looked to microgreenery for their Act II.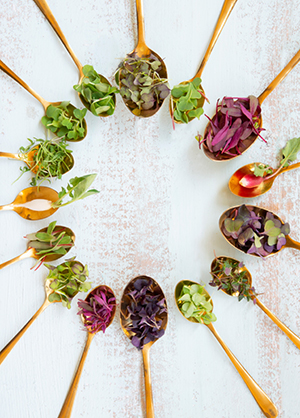 As a make-up artist and photographer/journalist, Claudia Lake and Benjamin Kabin felt the shutdown profoundly: marketing, movie, and media content creation all but disappeared, forcing thousands of artists in those communities to either wait for things to resume or find alternative work. Lake and Kabin chose the latter, but their unexpected choice raised eyebrows: a microgreenery—in Brooklyn! Hardly the harvest kind of landscape. The two found they could create the same type of produce: Purple radish, speckled pea, broccoli, kohlrabi, chives, cress, cilantro, and salad mixes that include red acre cabbage, kale, arugula, and mustard—in a home-based greenery they would come to call Newtown Creek Farms.
Within a few months, the two proved everyone wrong: they are consistently selling out their greens. New York Lifestyles sat down with Lake (one of the most respected make-up artists whose work can be seen in fashion spreads, advertisements, and TV) and Kabin (a well-known journalist and content creator) to find out more.
What is the purpose of Newtown Creek Farms?
CL: We use organic and sustainable practices to grow microgreens for fine dining restaurants in New York City.
What are you doing differently than others?
BK: Our microgreens are grown indoors using organic and sustainable methods. This allows us to tailor every aspect of the growing process to each individual crop. Light, water, temperature, and airflow are monitored and fine-tuned to grow a consistently outstanding product.
CL: Most growers who provide fresh food for New York aren't in town. We are hyper-local and travel less than five miles to deliver to most of our customers.
Why is Brooklyn so unique to microgreeneries? 
BK: Brooklyn is vast and has a ton of food production and manufacturers. While most greeneries are on rooftops and in gardens, we are indoors, making us a year-round farm which is quite unique. Why Brooklyn? Well, Brooklyn is a unique and creative borough.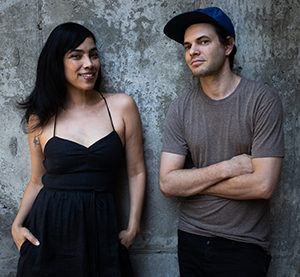 Describe the growth process.
CL: Some microgreens reach maturity in as little as 10 days meaning we are constantly harvesting and planting. The growing process is similar to most farming; we plant the seeds on trays and ensure that they have the proper amount of moisture to begin the process of breaking out and turning into seedlings. Once they're strong enough, we move the trays into the light and continue to water and monitor the microgreens until they're ready to harvest.
What do two creatives have to add to microgreeneries?
BK: Claudia is a makeup artist/fine artist who also comes from a long line of food lovers and purveyors. Her father is a retired chef and her maternal grandmother owned restaurants and grocery stores in NYC.
CL: Our love for the city, its food, and the arts give us a colorful and tasty mix of plants. Our combined understanding of food and artistic aesthetics helps us understand what chefs want and need.
For more information on Newtown Creek Farms, visit newtowncreekfarms.com.