New York State Fall Foliage 2020
Best Places For A Weekend Getaway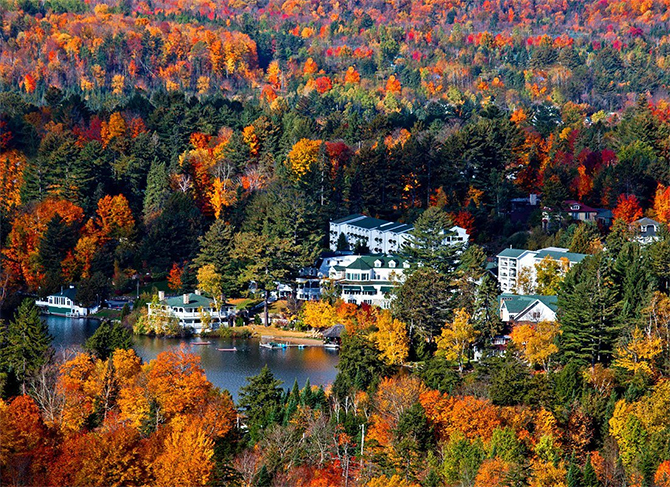 By Patricia Canole
Come autumn, the Northeast transforms into a riot of red, orange, and yellow hues as the abundance of trees change colors and leaves blanket the ground. This makes for a time to explore the great outdoors. So popular is this annual pilgrimage to see the autumn foliage that it has its very own verb—leaf peep.
From short road trips in the Hudson Valley to longer weekend escapes to the Adirondacks and beyond, leaf-peeping opportunities abound around the state. It's nice to take in those rich autumnal landscapes from the comfort of one of the best hotels for foliage views in the state. Here, our picks of what to see and do for fall foliage in the Empire State.
ADIRONDACKS
Winding your way through scenic byways of the Adirondacks' six million acres during the peak of leaf-peeping season offers breathtaking mountain views. One of the best ways to experience this majestic region's stunning vistas is to take a spin in the mountains! A good introduction is a drive along The Whiteface Memorial Veteran's Memorial Highway is a five-mile toll road with views of the Adirondack High Peaks, open through October 14th. After a day of exploration, stroll along cozy mountain villages. There are several regions in this area.
Outdoor adventurers can hike, climb, mountain bike, and canoe amidst colorful fall foliage. Head to breathtaking Ausable Chasm, where naturally formed sandstone aging back 500 million years, creates a memorable backdrop for a fall excursion. Make sure to take a family float tour through the Grand Flume and Whirlpool basin. For hikers, the 46 High Peaks mountaintops will thrill at a 4,000-feet elevation, making this wilderness area one of the most popular in the Northeast during fall for leaf peepers in search of expansive scenery. For the family, head to The Adirondack Experience in Blue Mountain Lake, which provides a complete history and immersive activities of the region, from learning about the wildlife and viewing Native American art to writing on a slate tablet in a one-room schoolhouse and feeding trout.
Mountain or Whiteface Mountain, both skiing areas that offer downhill mountain biking in early fall. You'll maneuver down maintained trails during peak foliage season. For those who don't want to experience the twists and turns, both mountains offer scenic rides in gondolas—the Scenic Skyride at Gore and the Cloudsplitter Skyride at Whiteface—or on ski lifts weekends through mid-October as well. Info: visitadirondacks.com.
Here, two areas we highly recommend. 

• Lake Placid Region Fall in Lake Placid is all about days bathed in the fiery glow of foliage: pumpkin orange, flaming red, and sunshiny yellow. Fall days spent here in the beautiful, fresh air, surrounded by glorious colors covering the mountains, are unlike anything else. Revel in the scents and sounds of forest trails, the sparkling shine of Mirror Lake, and a picnic-perfect park. Part of Lake Placid's beauty is that you don't have to go far to find fresh air, natural solitude, and opportunities to stretch your legs and feel great. This is the place to rejuvenate your body and mind amid the crisp crackle of falling leaves and golden light. Loosen up because it's time to kick your perfect fall day into high gear—literally. Visit the Olympic Museum, an homage to the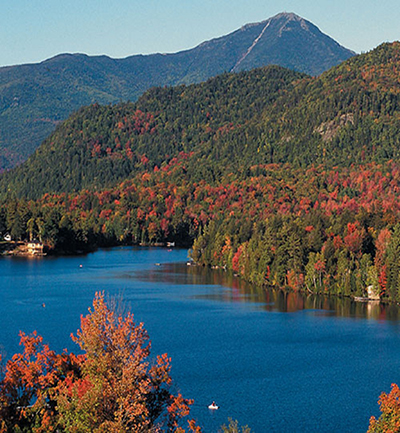 1932 and 1980 Winter Olympics, both held in Lake Placid. Race like an athlete at the Lake Placid Bobsled Experience or take in panoramic views of the High Peaks at the top of the Jumping Complex.
Rent a mountain bike from High Peaks Cyclery and hit the local trails. They'll suit you up with everything you need, and they can point you toward tons of beginner trails to explore. While the surrounding mountains lend themselves to epic riding, there are also plenty of wide, well-groomed trails with only moderate elevation change to be found. The Craig Wood Trails in Lake Placid or the Hardy Road Trails in nearby Wilmington are great places to start. As you gain speed peddling past the red, orange, and yellow leaves, the colors will become a beautiful blur blazing like fire in your peripheral vision. Enjoy the swish and crunch of fallen leaves on the trail as your tires roll through. It's far from your basic fall experience, but it might just become one of your new favorites!
After an eventful but perfect fall day, you're probably hungry. Freshen up and hit Main Street Lake Placid for a very satisfying and delicious meal. From house-smoked barbecue to authentic Italian, casual Americana, and creatively crafted local cuisine, the chefs of Lake Placid put their all into making your dining experience as exceptional as the rest of your Adirondack experience.
Info: lakeplacid.com.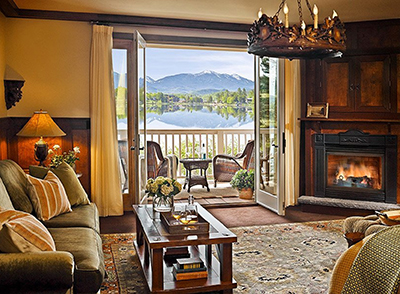 Best Stay The Mirror Lake Inn & Spa boosts your senses, providing an extraordinary experience for the body, mind, and palate. You'll soon find that it treats your needs as unique and accommodates you in personalized ways. Mirror Lake Inn's track record of excellence includes the AAA Four-Diamond rating for more than two decades. The beautifully appointed rooms and suites afford first-class amenities and fabulous views with whirlpool baths and fireplaces. The inn offers the finest cuisine and impeccable service with Instagram-worthy sights at The View for its fine dining featuring creative comfort foods prepared with slow-cooking methods. The Cottage offers a cozy neighborhood-style bar, waterfront deck, and menu with pub-style favorites. The resort treats each guest's needs as  
unique and accommodates them in personalized ways. This attitude, along with gracious service and attention to detail, is at the inn's heart. The concierge desk arranges all on and offsite activities, such as yoga, rainy day activities, world-class fly fishing, and customized guided outdoor adventures.
Info: mirrorlakeinn.com.
• Lake George Region This town, the most populous and most commercial in the area, sits on a 32-mile jewel of a lake ringed by mountains with dozens of state-owned islands. Of historic interest is Fort William Henry, a reconstructed 235-year-old fort with displays of muskets, cannons, and other war relics. No visit is complete without a sightseeing trip on Lake George and a dinner, jazz or moonlight cruise. For an eagle's eye view of the lake, take Route 9 half a mile south to Prospect Mountain State Parkway. At the end of a 5-mile climb up the 2,100-foot mountain is a view of the southern Adirondack Mountains and the picture-worthy upper Hudson Valley.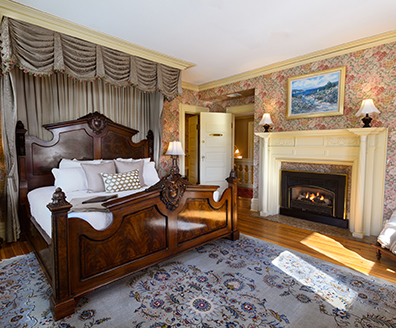 When the temperatures begin to dip, and the leaves begin to change, thirsty beer drinkers and lovers of German culture begin to search out Oktoberfest events. Lively Oktoberfest celebrations can be found in October throughout the Lake George Area. From downtown block parties to local craft breweries, October in the Lake George Area is covered in beer.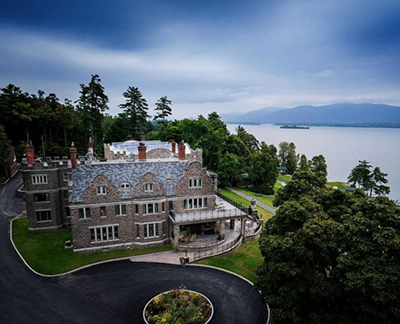 For Halloween enjoyment, head on over to Fright Fest, the scariest event in the Lake George area. Six Flags Great Escape & Hurricane Harbor's annual event will have you shaking in your boots! Once the sun goes down, zombies and ghouls invade the park, and no place is safe from the scares. The fear factor is cranked up after 5 pm when fright-filled scare zones are located throughout the park, frightening shows last all evening, roaming hordes of terrifying creatures are set to scare around every turn. Info: visitlakegeorge.com.
Best Stay The Inn at Erlowest prides itself, as most historic inns do, on its civilized luxurious past. Antique furnishings and paint-thickened woods and bustling catering staff add a Downton Abbey-ish meme.
Built in 1898, the inn offers stunning suites, exquisite dining, all overlooking the lake and mountains. The mansion includes three dining rooms and a fine dining restaurant. Every suite includes Frette robes, TVs with DVD players, and many other luxurious amenities. The names of the one-of-a-kind rooms are drawn from the 12-foot tall stained-glass window that welcomes all guests up to the inn's main staircase. Info: theinnaterlowest.com.
COLUMBIA
A visit to Columbia County can be as relaxing or stimulating as one desires. Miles of country roads take you through expansive breathtaking vistas where one can leave the city behind and embrace the countryside either by car or bike. There is culture, history, recreation, antiques, unique boutiques, farm markets, and apple orchards to high-flying adventure parks. Art lovers can enjoy galleries, studios, and an open-air sculpture garden showcasing artists' works from around the world. A must-see is an architectural masterpiece, Olana State Historic Site. In the 1870s, Hudson River School artist Frederic Church built this 37-room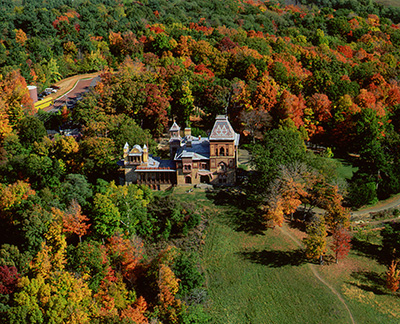 Moorish-style castle atop a hill with panoramic valley and river vistas. Architect Calvert Vaux came up with the house's design, to which the artist applied his eclectic touches. The interior is an extravaganza of tile and stone, carved screens, Persian rugs, and paintings, including some by Church. About 4 miles south of Hudson, the house is open for guided tours, which run about 45 minutes; reservations are strongly suggested.
Don't miss Martin Van Buren National Historic Site, the home of the eighth president of the U.S. The mansion is also where Van Buren managed two presidential campaigns and entertained politicians and celebrities during the turbulent 1840s and 1850s. And for action-packed thrills, there's Catamount Adventure Park. Here, you'll find an aerial forest adventure with 2,000-foot zip line courses. Naturally, this activity will build up an appetite for some delicious dining. Regional farms supply award-winning chefs with the freshest ingredients to create tantalizing dishes that make your taste buds dance. Stop by Chatham Brewing for some of the state's finest selection of beers brewed in the British tradition—using the best hops and malts available. Or for a better sampling of the best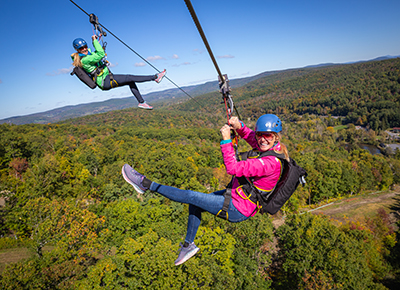 Columbia County has to offer, travel the Scenic Sips Craft Beverage Tour, and savor the flavor of hand-crafted beers, spirits, wines, and ciders. Whether it be a casual cafe, vintage diner, fine dining restaurant, tasting room, or a fabulous cocktail lounge designed to delight the senses, Columbia County has them all. Take your pick! Info: columbiacountytourism.org.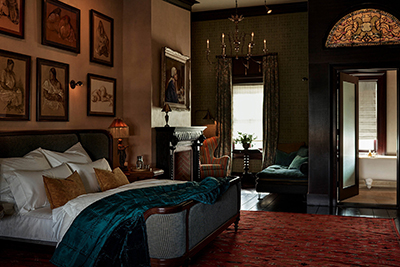 Best Stay Make your reservation at The Maker, an 11-room hotel consisting of a collection of renovated early-20th-century buildings. It's the culmination of a five-year labor of love by owners Lev Glazman and Alina Roytberg (who founded the skin-care line Fresh in 1991) and Damien Janowicz, their business partner. In 2016, the trio opened the beloved bakery and café Bartlett House, in the neighboring town of Ghent. With The Maker, the concept is rooted in the arts: the guest rooms celebrate cultural pursuits ranging from literature to architecture and gardening. The result is an eclectic mix that embodies the town's quirky spirit. It's also meant to be a meeting place for locals, with a
restaurant, café, and lounge that spotlights the seasonal bounty produced by surrounding farms. 
Info: maker.com.
DUTCHESS
Enjoying time outdoors is ideal in nearby Dutchess County. Where else can you enjoy nature's bursts of color and take advantage of the gifts harvest season brings? Historic sites like Vanderbilt Mansion National Historic Site in Hyde Park and Staatsburgh State Historic Site in Staatsburg offer magnificent views inviting visitors to stroll their grounds or bring a picnic to enjoy while admiring the changing trees. Take in the foliage from an island on the Hudson after a short boat ride from Beacon to Pollepel, the home of Bannerman Castle (advanced reservation required, tours available through October).
For a vantage point like no other, the Walkway Over the Hudson in Poughkeepsie is one-of-a-kind. The longest, elevated pedestrian bridge in the world is a former railroad bridge built in 1888, now open to anyone to loves a walk or to bike. Enjoy a breathtaking perspective of the Hudson River valley. Panoramic views can also be seen atop the fire towers at Ferncliff Forest in Rhinebeck, Breakneck Ridge in Beacon, and Thompson Pond Preserve in Pine Plains.
Of course, there's a bounty of other activities to discover in Dutchess. Apple orchards are plentiful. Pick-your-own experiences include Fishkill Farms (advanced reservation required), Greig Farm, and Mead Orchards. If you'd rather stay on terra firma, shop the farmer's markets and roadside stands.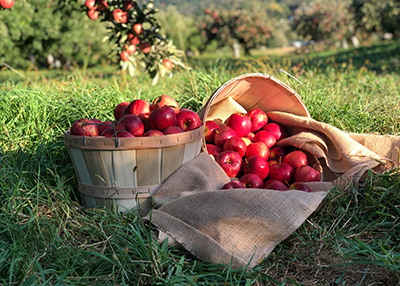 Info: dutchesstourism.com.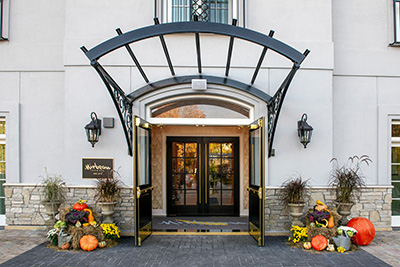 Best Stay A short two hours from Manhattan by car in the heart of New York's Hudson Valley, Mirbeau Inn & Spa Rhinebeck is located on nearly three secluded acres. The 50-room property is just a short jaunt from the specialty shops, flourishing food scene, and Rhinebeck›s art culture›s historic center. (For those who prefer to take the train, the property is just minutes from the Rhinecliff-Kingston station.) The property was designed to bring balance to modern living, with gracious accommodations, and a 12,000-square-foot spa (a highlight of the property). Guests will find a European-style resting area, aqua terrace with a thermal pool, eucalyptus-infused steam room, Himalayan salt saunas, and the latest in fitness equipment. At the signature Willow by Charlie Palmer, you'll find cuisine sourced to represent the region's agricultural heritage
and showcases the team's dedication to progressive American cuisine. Featuring local and seasonal produce from multi-generational farms, food artisans, and craft distillers, the restaurant is open for breakfast, lunch, and dinner. Info: mirbeau.com.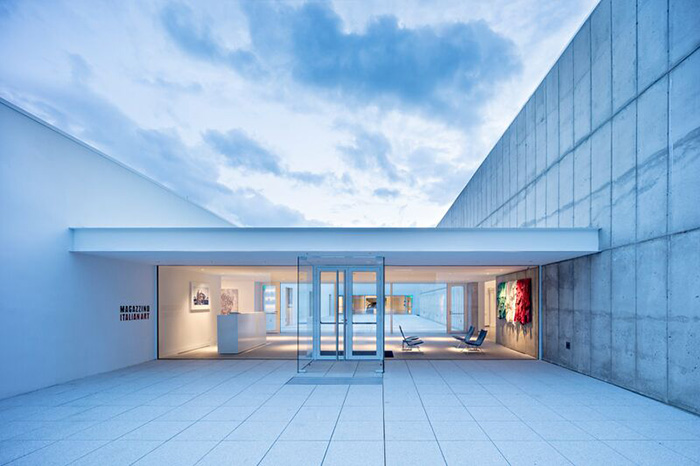 PUTNAM
Nestled between the Hudson River and the Connecticut state line, Putnam County offers an abundance of adventures and experiences to suit every lifestyle. Putnam is a mighty treasure of crystal-clear lakes, well-maintained hiking trails, historic sites, art, and cultural venues, all surrounded by dining to fit every taste and palate. Putnam is just an hour away from Manhattan with five Metro-North stops, making day trips hassle-free and easy. Create a day trip or stay for a weekend; Putnam is the perfect place to relax and unwind.
Begin your trip at the beautifully restored Neoclassical mansion Boscobel. Built between 1804 and 1808, Boscobel was originally the dream house of Loyalists Elizabeth and States Dyckman. Boscobel's interiors display one of the finest collections of New York furniture from the Federal period, and the grounds offer a magnificent view of the mighty Hudson River. A short 3 miles from Boscobel is Magazzino Italian Art. Meaning "warehouse" in Italian, Magazzino was co-founded by Nancy Olnick and Giorgio Spanu. The 20,000 square-foot museum, designed by Spanish architect Miguel Quismondo, opened its doors in 2017, creating a new cultural hub and community resource within the Hudson Valley. The nonprofit museum serves as an advocate for
Italian artists as it celebrates the range of their creative practices from Arte Povera to the present. A visit to Manitoga is next on the itinerary. Located in Garrison, New York, approximately one hour north of New York City, Manitoga is the former home and 75-acre woodland garden of American industrial designer Russel Wright (1904-1976). Manitoga is a National Historic Landmark, an Affiliate Site of the National Trust for Historic Preservation. It is one of the few 20th-century modern homes with original landscape open to the public. Head east on Route 301 and at your leisure, explore Stone Crop Gardens, Glynwood Farm, Fahnestock State Park, and Chuang Yen Monastery, which is home to the largest indoor statue of Buddha in the Western Hemisphere.
Whether you seek the majestic beauty of the Hudson River or the rustic tranquility of farm life, it's always the perfect time to explore the many farmer's markets and dining establishments. Head to Florrie Kaye's in Carmel, where you'll be transported back in time to a place of elegance without the hustle and bustle of today. Enjoy Traditional Afternoon Tea or a bite of English Fare. The menu has something for everyone. Info: putnamcountyny.com.
Best Stay Putnam County's newest boutique hotel is The Abbey Inn & Spa, located on top of the historic Fort Hill. With its 42 guest rooms, Mediterranean-styled restaurant, and spa, it's a gem on the Hudson. The existing historic building was formerly the convent of the Episcopal Sisters of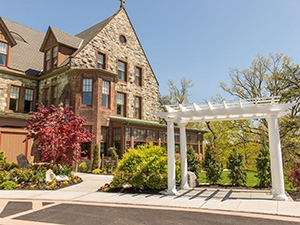 Saint Mary's and repurposed with luxury accommodations. With a $22 million renovation budget, the design is contemporary with preserved granite and bricks from the former convent. The spa offers just four treatment rooms, thereby giving each guest a rejuvenating experience—good for the body and soul. Info: theabbeyinn.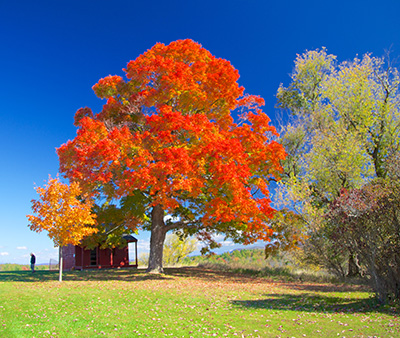 SARATOGA
Family fun is closer than you think. You'll find great outdoor spaces, parks, hiking, outdoor dining, one-of-a-kind boutiques and so much more in Saratoga County and, of course, vibrant fall foliage which will add color to all your adventures. 
Saratoga's three state parks and Saratoga National Historical Park offer beautiful scenery, plenty of trails and outdoor recreation opportunities while also providing visitors ample space for socially distanced activities. The national park is known as the turning point of the American Revolution. Visit the grounds where American heroes defeated the British. History comes alive through the park's self-guided tour road, interpretive trails and majestic overlooks boasting vibrant colors of the season.
Another way to explore autumn is on the water, a guaranteed way to delight the senses. Enjoy kayaking, boating or even take a chartered cruise on Saratoga Lake. You may also want to boat or take a scenic drive around the Great Sacandaga Lake. The Hudson River, which flows along the northern border of Saratoga county, offers an unforgettable outdoor adventure. Visit Hudson Crossing Park to launch your kayak, enjoy nature trails or have a picnic while taking in the views.
In between activities, don't forget fall is also a great time to visit the farmer's markets or a u-pick farm for apples, pumpkins, and your favorite fall specialties. You can also taste a myriad of natural mineral springs dotted throughout Downtown Saratoga and the Saratoga Spa State Park, a unique experience you will only find here.
Whether you're an avid outdoor enthusiast or you just want to relax and unplug, Saratoga is the place to be this fall. Enjoy award-winning restaurants, casual eateries, great coffee shops and cuisines from around the world. Outdoor dining is popular along Saratoga's lovely tree-lined, downtown streets brimming with one-of-a-kind boutiques and galleries. Charming inns, bed and breakfasts and hotels make for a spectacular getaway anytime. Info: ilovesaratoga.us.
Best Stay Neo-classical Italianate architecture, and a grand staircase set the magical scene for a memorable stay at The Adelphi Hotel. Featuring eclectic, modern touches and unmatched hospitality, this boutique retreat affords a once-in-a-lifetime experience.
When you first walk through its impressive entrance, it's easy to cast yourself back to the old-world grandeur of 1877. This was when New York's elite would take the waters at the natural springs or enjoy a spot of people-watching at the horse races. Once the sun sets, it's time to savor the finest modern and traditional cuisine at The Blue Hen or Salt & Char. Be sure to stop by Morrissey's for an after-dinner drink. Then it's time to rest easy and relax in your elegant room, where a minimalist, modern aesthetic subtly enhances the original features. Info: adelphihotel.com.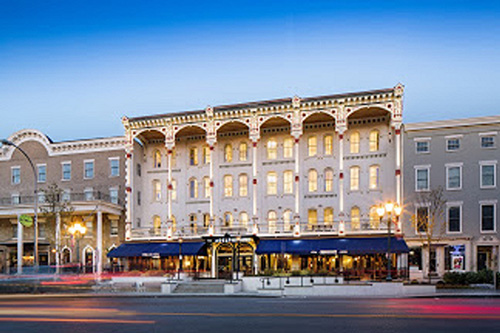 ULSTER
Ulster County is known as a four-season playground, but autumn is the best! We dare you to find another place on Earth that so completely embodies the spirit of the season, from the harvest bounties of u-pick farms and the innovative flavors conjured by exceptional chefs, to haunted hayrides through the evocative landscape that inspired The Legend of Sleepy Hollow. The dense foliage that blankets the Mid-Hudson Valley and the adjacent Catskills is a wonder any time of the year, but fall is particularly special to witness a kaleidoscope of brilliant earth tones that emerge from the pines, oaks, maples, and hemlocks that dot the landscape along with shrubs of huckleberry and blueberry.
While in Ulster, experience the best fly fishing in the U.S. Author Mark Twain and presidents Herbert Hoover and Jimmy Carter have spent many an afternoon angling for trout.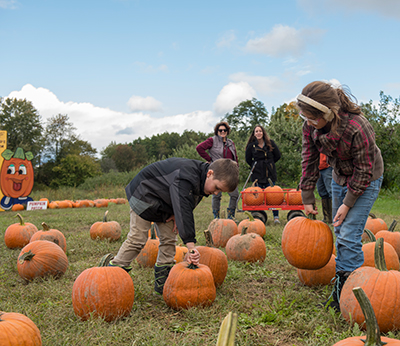 Ulster is home to family farms teeming with orchards and so much more. Pick your own produce straight from the source, find that perfect pumpkin for carving or baking, sip fresh apple cider, or take a spooky hayride with the little ones.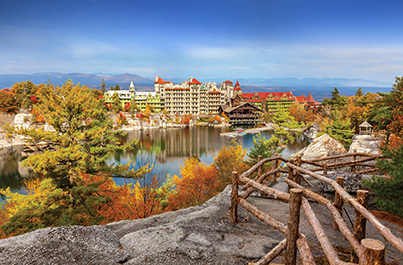 Nature lovers can take in the beauty with two scenic drives that are so beautiful they've been officially designated as such: the Catskill Mountains Scenic Byway and the Shawangunk Mountains Scenic Byway. Info: ulstercountyalive.com
Best Stay The castle-like Mohonk Mountain House resort in New Paltz is a leaf-peeper's dream. Nestled in close to 1,200 acres and surrounded by the Shawangunk Mountains, one of New York State's most scenic regions—especially this time of year. Touted as one of the best hotels in Northeast, Mohonk has hosted many notables since its founding in 1869, including John D. Rockefeller and presidents Teddy Roosevelt, Chester A. Arthur, and Bill Clinton. After taking in the gorgeous views, hit the hiking trails, kayak on the lake, go horseback riding, or even rock climbing. Kickback on the porch in a rocker and take in the natural beauty. Info: mohonk.com.
WESTCHESTER
Starting just 30 minutes north of Manhattan, set between the Hudson River and Long Island Sound, Westchester County has so much to offer families, couples, and solo travelers eager to enjoy the crisp fall weather and celebrate the season.
Travelers can explore the well-shaded climbs of Westchester, which feature some of the best hiking trails in the state. For example, Mianus River Gorge Preserve in Bedford is a trail that looms 40 feet above the Mianus River. Despite the exhilarating view, the hike is easy and perfect for the whole family. At Croton Gorge Park in Cortlandt, an easy two-mile hike includes the New Croton Dam's gorgeous vistas and its autumnal color palette. Other nature preserves and parks for fall foliage include: including Greenburgh Nature Center, Edith G. Read Wildlife Sanctuary, Rockefeller State Park, Tarrytown RiverWalk, and more.
While there's nothing like a brisk fall stroll, the County offers a next-level leaf-peeping opportunity: a helicopter tour soaring over the Hudson Valley. This bird's-eye view of Westchester County's colorful foliage is made during a Wings Air helicopter ride. Info: visitwestchesterny.com.
Best Stay Past white-steeple churches, meandering stone walls, and horse paddocks, the Bedford Post Inn approaches a weekend escape with equal parts romance and relaxation. Owned by Richard Gere, this Relais & Châteaux property feels intimate with just eight rooms in soothing palettes of white, black, cream, and taupe. King rooms boast fireplaces and cozy terraces, but we like the Queen Deluxe—where exposed beams frame the plush beds from the original 18th-century structure. No matter which room you choose, oversized bathrooms have intricate marble-mosaic floors; walk-in, dual-head showers; and clawfoot tubs. Stays include complimentary classes at the inn's Yoga Loft, a soaring space with cathedral ceilings and sunlight pouring through glass-paned French doors. After, consider an in-room massage or grab a map and a bike from the inn to explore nearby Ward Pound Ridge Reservation's 4,300 acres. At 5 pm, complimentary wine and charcuterie are served in the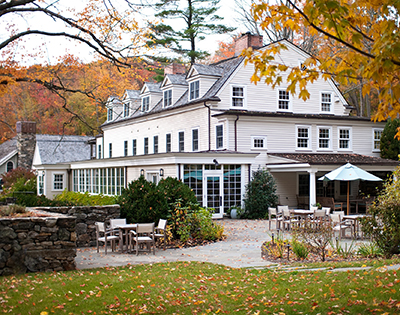 cozy, book-lined library. Then, proceed downstairs to Bedford Post's Italian farmhouse restaurant, which draws well-heeled locals seeking supple, fresh pasta, and full-bodied red wines from the cellar. (If the weather allows, take a nightcap outside to the cozy stone firepit.) The next morning, treat yourselves to a decadent brunch of caramel-apple-topped Dutch pancakes at The Barn. Info: bedfordinnpost.com.