OMNIUM
A Bold New Circus
By Lisa B. Lewis, Founder & Artistic/Executive Director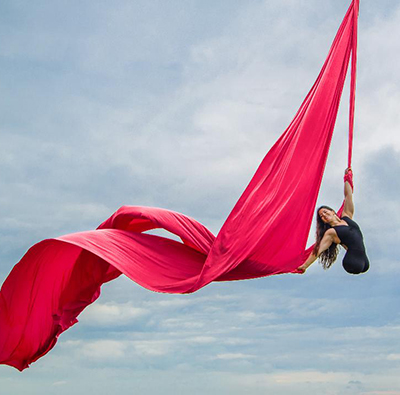 Omnium is a unique, visionary project that is breaking new ground in the world of circus entertainment. It will be the first fully diverse and inclusive circus company in the country. Our mission is to enrich empathy among people of all races, colors, ethnicities, and abilities creating opportunities and building healthier communities through shared positive experiences among the millions of people of all ages who enjoy the circus. 
Our artists are all experienced and gifted circus performers. We are Black, Hispanic, Asian, Caucasian, LGBTQ. We are young and old, highly trained, talented, and multi-skilled. We use a wheelchair, are Deaf, or blind. We grew up in different countries, have different families, and speak different languages. We have come together through different journeys, collaborating to create a jaw-dropping audience experience. Diversity is our strength
One in four people in this country has a disability. Full access and inclusion are provided for our audience at every single performance, both online and live, including American Sign Language (ASL), Audio Description, Closed Captioning and Simple Language. Once we go live after the pandemic, we will add reduced sensory seating, tactile experiences, and an additional calming area. The circus is an artform fabulous in its independence of language, thereby inclusive of non-English speakers.
A CIRCUS FOR ALL
One of my earliest memories from a career in the circus was experiencing a group of Deaf teens whose joyful faces lit up the entire arena when a clown performing for them used ASL. I knew at that moment that the circus can reach the heart of all people. This became my lifelong personal quest.
Before the current pandemic, I was the Director of Community Programs and sales for the Big Apple Circus. For many years, I had the honor to witness the joy of families who were able to share a rare positive bonding experience together and not have to leave any member home. The smiles from kids who rarely smiled and the unified laughter peeling from thousands of different souls, as beautiful as this was, it was never enough. Joy should be accessible all the time to all people, not only on certain days. Children of all ages deserve to be inspired by someone in whom they can see themselves reflected. As the pandemic hit and larger companies folded their tent flaps, there arose an opportunity to create. Omnium is a team of incredibly dedicated professionals whose mission is to take that first step on our journey to make the world a better place through the universal icon of the circus.
Through extraordinary, comprehensively diverse, and inclusive entertainment, we create a space where people from different walks of life can experience wonder, laughter, and joy together and celebrate that which unites us in humanity. Laughter is for everyone.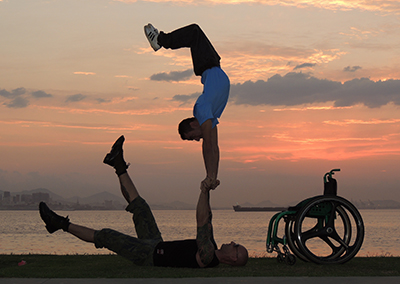 RAISE THE TENT
We are so excited to offer Omnium's Virtual Showcase: A Bold New Circus on December 12, 2020, at 5 pm. Tickets are available through our website OmniumCircus.org.
If you are able and so moved, please join us in our "raise the tent" campaign. With your support, we hope to transition from virtual to post-pandemic and welcome you all live into our state of the art, climate-controlled tent. Join us in unlocking a visionary world of opportunity for all audiences, artists, staff, vendors, and mostly—children of all ages!
See you all on December 12th for some well-deserved holiday joy!