ON THE SMALL SCREEN
By Jenny Peters
Because of the pandemic, many A-list, Oscar-contending movies are either sitting out 2020 completely or (in many cases) heading directly to streaming. So, you'll notice that many of our small-screen choices for the last two months of this dismal year are films, rather than ongoing TV series.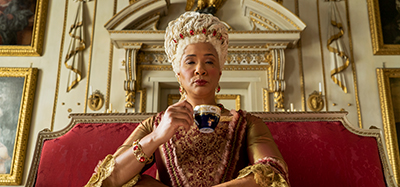 BIG STARS ON YOUR SMALL SCREENS
BRIDGERTON
Netflix
Shonda Rhimes made a huge deal to bring Shondaland, her TV production company, to Netflix; this is their first foray into that deal. Bridgerton comes from Chris Van Dusen, known for his work on Scandal and Grey's Anatomy, and is adapted from the novels by Julia Quinn. This comic drama takes place in high society during the Regency period in England (think the 1800s) and features a diverse cast that includes Julie Andrews..

COME AWAY
Relativity Films/On Demand
Angelina Jolie and David Oyelowo lead the cast in this fanciful tale that mixes Alice in Wonderland and Peter Pan. Their children (Keira Chansa and Reece Yates) love letting their imaginations run wild in this very English 18th-century tale of adventure, magic and much more. Michael Caine and Derek Jacobi also co-star, giving this PG-rated flick quite a pedigree.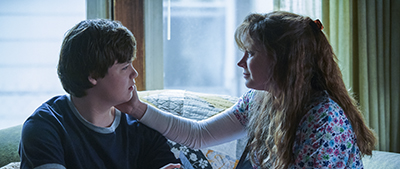 HILLBILLY ELEGY
Netflix
Amy Adams and Glenn Close star in director Ron Howard's adaptation of J. D. Vance's best-selling memoir of his family's Appalachian roots. Between them, those two powerhouse actors have 13 Oscar nominations and not one win; the buzz in Hollywood is that both are leading contenders yet again for their work in this R-rated emotional drama. Gabriel Basso stars as J. D. and is all grown up from his role as one of the kids in Super 8.

MA RAINEY'S BLACK BOTTOM
Netflix
Oscar winner Viola Davis stars as blues legend Ma Rainey in this music-filled adaptation of August Wilson's play. Set in 1920s Chicago, the dynamo supporting cast is led by Chadwick Boseman, in his last screen role before his untimely death. That bittersweet fact makes the blues that imbue this R-rated film hit just a bit closer to the heart than usual.

THE MIDNIGHT SKY
Netflix
George Clooney produced, directed and stars in this cautionary post-apocalyptic story of survival, both on earth and in space. He's one of the earth's sole survivors, a scientist bent on stopping a space exploration team from returning to a battered planet. Felicity Jones co-stars as the astronaut he must convince to change course in this gripping PG-13-rated futuristic thriller.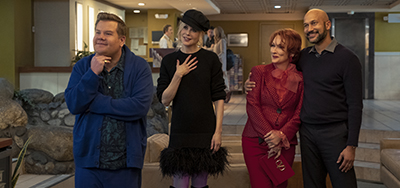 THE PROM
Netflix
The cast of this wacky musical comedy helmed by Ryan Murphy reads like a who's who of Hollywood. Oscar winners Meryl Streep and Nicole Kidman lead the pack of madcap players in this PG-13-rated farce and are joined by James Corden, Kerry Washington, Tracey Ullman, Keegan-Michael Key and Mary Kay Place. They're all in for a prom night that no one will ever forget.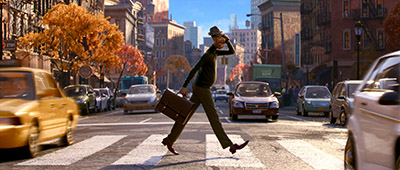 SOUL
Disney+
Two-time Oscar winner Pete Docter once again takes the reins as the writer-director of Pixar's latest animated adventure, Soul. Having given the world Monsters, Inc., Up, and Inside Out, it seems pretty certain that this tale of Joe, a musician who's lost his mojo, is going to make both adults and kids fall in love with him (as voiced by Oscar winner Jamie Foxx). Also starring Tina Fey, Angela Bassett, Quest Love, and Phylicia Rashad.

THE STAND
CBS All Access
One epic nine-episode mini-series arrives to the small screen in December, as Stephen King's classic post-pandemic story returns in an all-new take to the novel published in 1978. Painfully timely, this time out Oscar winner Whoopi Goldberg leads the cast, which also features James Marsden, Alexander Skarsgaard, and Amber Heard.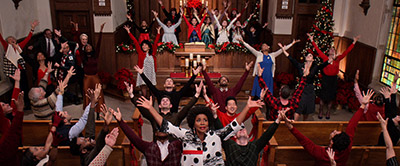 HOLIDAY MUSICAL DELIGHTS
DOLLY PARTON'S CHRISTMAS ON THE SQUARE
Netflix
Christmas in 2020 may be very different than other years for many of us, but Dolly Parton wants to make sure that everyone has a holly jolly holiday experience. She's written 14 original songs for this brand-new Christmas tale, and she also co-stars, along with Christine Baranski, Jenifer Lewis, and Treat Williams. Debbie Allen directed and choreographed this musical journey, too.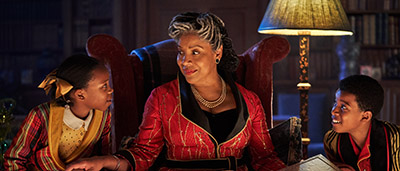 JINGLE JANGLE: A CHRISTMAS JOURNEY
Netflix
Combine the acting talents of Oscar winner Forest Whitaker, Tony Award winner Anika Noni Rose, Grammy winner Ricky Martin, and Emmy winner Keegan-Michael Key with all-new original songs from EGOT (Emmy, Grammy, Oscar, and Tony winner) phenom John Legend and the result is Jingle Jangle. Set in a timeless town and following the trials and tribulations of a famed toymaker, this musical fantasy flick is a must-see for the entire family.