LIFE & STYLE
Holiday Gift Guide 2020
By Griffin Miller
The season of good cheer is finally is upon us and I can't help but feel the song "We Need a Little Christmas" (from the musical Mame) is all kinds of 2020 poignant, especially the lyrics, "And We Need a Little Snappy/Happy Ever After/Need a Little Christmas Now."
So grab some eggnog and join me as I run holiday amok, starting with Hanukkah on December 10th. Christmas (I think you know this one by heart), and Kwanzaa on the 26th. And while we're on the subject of partridges in pear trees and dreidels spinning their way to chocolate coins, let's remember to binge on favorite holiday flicks, embrace the warmth of family and good friends, shop for amazing presents (just turn the page to get started), and ring in a most Happy Ever After New Year!
While evening bags are sized for credit card, lipstick and phone, day bags are way bigger. Make that, were. Due to shorter jaunts and more at home time, "less is more" is now key. Still, we have stuff. Marcher's Pia and customizable Petite Pia clutches to the en vogue rescue! Exquisite lines, European leather, posh linings, and space+ for essentials make Pia a knockout must-have. Do not hesitate to gift and/or treasure—truly a five-star find!
Info: marcherstudio.com.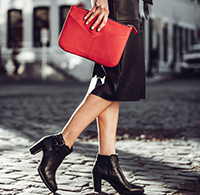 Looking for an ingenious way to dazzle Mom or your BFF? Consider the limited-edition Spa Girl Spritzer Set featuring a 750ML bottle of Spa Girl Cocktails Vodka, a 375ML bottle of St-Germain Elderflower Liqueur, and a 1-liter crystal carafe. As for the cocktail itself, this mixologist dream drink—crisply decadent, bubbles included—is free from excessive sugar, carbs, and calories. Even the presentation is beguiling—all in all, the whole package. Cheers!
Info: spagirlcocktails.com.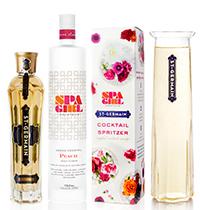 To steal from Monty Python: "And now for something completely different…" Moonglow Jewelry's belief that every moment has a moon. The site even helps you find the moon phase that matches a special date corresponding to several stunning pieces. My wedding anniversary led me to Lovers in the Locket necklace (two Swarovski crystals wrapped in a circle of rose gold). In short, expect to find a piece that unlocks a meaningful memory. Info: moonglow.com.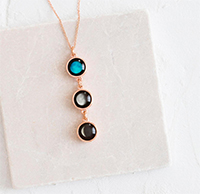 Even though Piccolina's Trailblazer Tees were originally created "For Little Ones Who Dream Big," their inspirational artistry now comes in adult sizes and if your nice list includes a mom, grandma, teacher, etc., you'll so want to explore this wearable portrait collection celebrating historic female visionaries like Harriet Tubman, Rosa Parks, Eleanor Roosevelt, Jane Goodall, Maya Angelou and Ruth Bader Ginsburg. Extra points if you go for mommy & me tees!
Info: piccolinakids.com.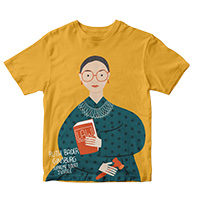 The Buzz: The Ricoh Theta SC2 360-degree camera is pegged to be a white-hot seller this holiday season. The Reasons: It's user-friendly (not just for pros and perfectionists), high-performance, high-res and adaptable. Also, it's sharable, with rapid wireless transfer. All this in a lithe, hand-held body with multi-functional display. The tech info is well laid out on the website and I urge you to check out Face Mode, Night View, and Lens-by-Lens Exposure. Info: theta360.com.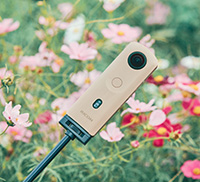 When it comes to shaving, it appears the 1800s were well ahead of the 2000s. To wit, instead of clunky, eco-dubious aerosol cans, savvy retro dudes simply lathered up a shave bar (by hand or brush) and zingo! It's razor time. Unwrapped Life Shave Bars have brought back this compact cost-saving item (1 bar equals 3 canisters) and the end result is an amazing combo of close, clean shave, and hydrated skin. Two thumbs up! Info: uwrappedlife.com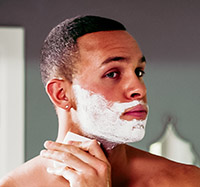 Patio Chef Update: Cuisinart's Deluxe 20-Piece Grill Set gives pros and wannabes the wherewithal to razzle-dazzle guests with steaks, hot dogs, vegan burgers, corn-on-the-cob, or any other sizzling idea/recipe on the menu. Smartly organized with state-of-the-barbecue panache, the sleek storage case boasts stainless steel tongs, spatula, skewers and more, including a show-stopping digital fork with LED light for dining when the sun goes down. Info: cuisinart.com.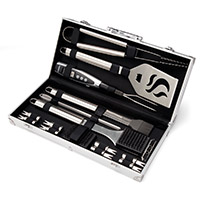 Since rain, wind, and snow seem to retain their forecast status every winter, an umbrella that's wind-resistant and keeps both downpours and snowflakes at bay is imperative. Should it come backpack-size, all the better. The Weatherman Travel Umbrella checks off every box and even provides the techno-fab Weatherman Droplet, an optional Bluetooth tracker with in-app maps to track strays. Lost umbrellas? Fugetaboutit.
Info: weathermanumbrella.com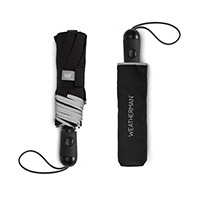 Wristwatch fanatics are a restless bunch, scouring shops and the Internet for vintage and cutting edge. My latest find, the Thomas Felice Modern Art Collection, marks a singular melding of the artistic and practical. A gallery of interchangeable bands adds colorful panache to a quartet of watch faces named "Art," "Craft," "Abstract," and "Picasso". Said to be inspired by New York City, these timepieces absolutely capture the city's vibe! Info: thomasfelice.com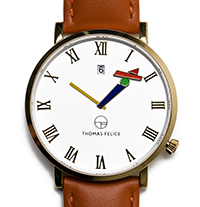 TWO MUCH
OF A GOOD THING
If your laptop isn't multitasking, you totally need SideTrak. Seriously, how did we manage to survive without this staggeringly awesome portable monitor technology that turns a measly one-screen matrix into a two-screen power force that doubles workspace and kicks excessive document overlap to the curb. Sleek and lightweight, SideTrak now comes in a Swivel version that allows it to rotate horizontally or vertically. Wish list complete. Info: sidetrak.com